Up the porch steps and through the front door, an intriguing aroma dances in the air. Wafts of savory meat, potatoes, cheese, and butter swirl around the inn, making mouths water and stomachs growl. 
With a spatula in one hand and a mixing bowl in the other, Shawnie works her cooking magic to take guests on a culinary trip across the Atlantic to Austria — a special place in the hearts of both of our innkeepers. 
If you didn't know, Willy was born in Austria, so he and Shawnie love bringing the country's traditional foods to 1900 Inn on Montford, making breakfast time delicious and giving guests something unique to taste. These hearty dishes are the perfect wintertime treat with comfort and flavor packed in every bite. 
If you're coming for a visit this holiday season, enjoy these decadent classics from Shawnie herself, but if you can't make it up to Asheville, we want you to be able to share in the experience from your own home. Grab your apron and closest frying pan and enjoy a little taste of Austria from our breakfast table to yours.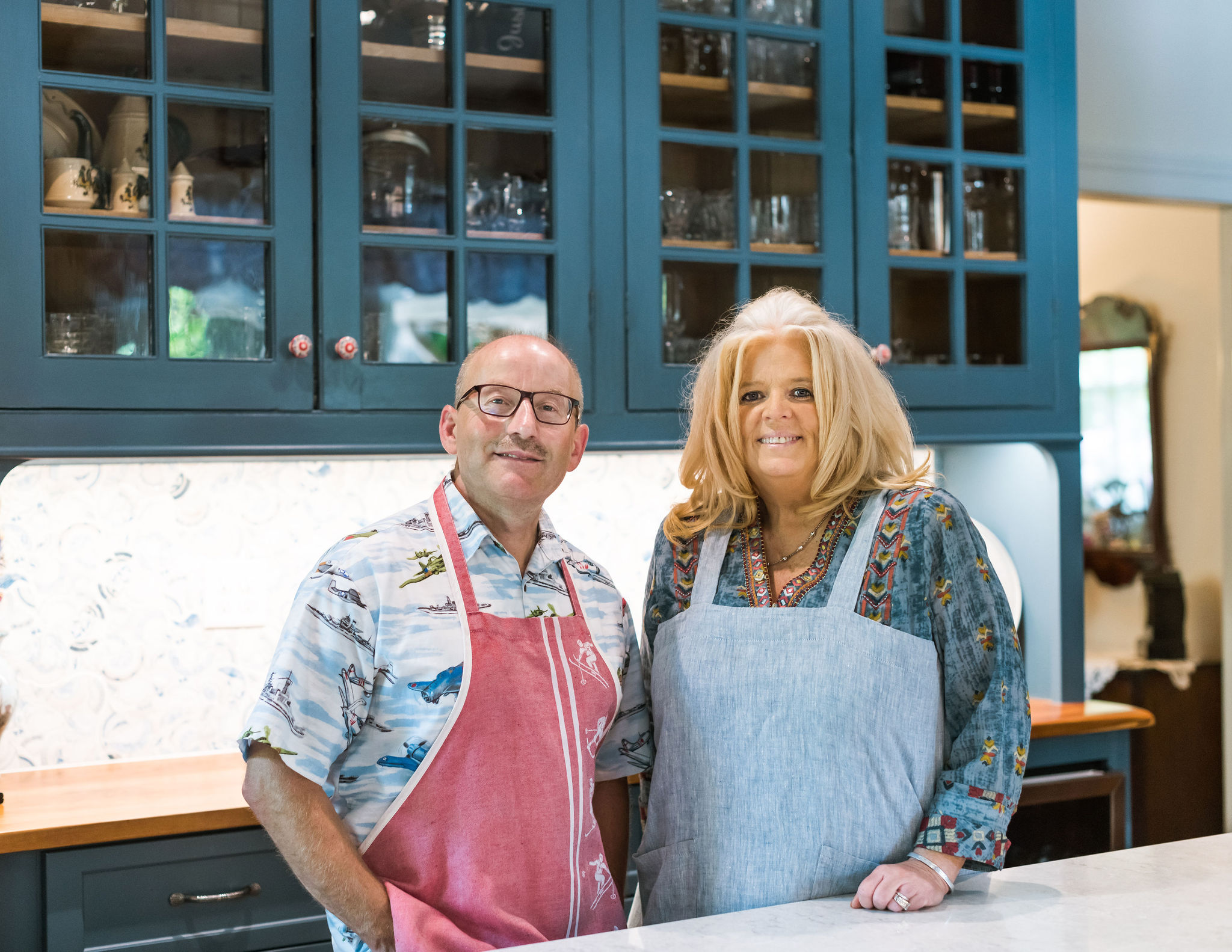 Spätzle: Homemade Austrian Dumplings
Savory dumplings that taste like Christmas with a little punch.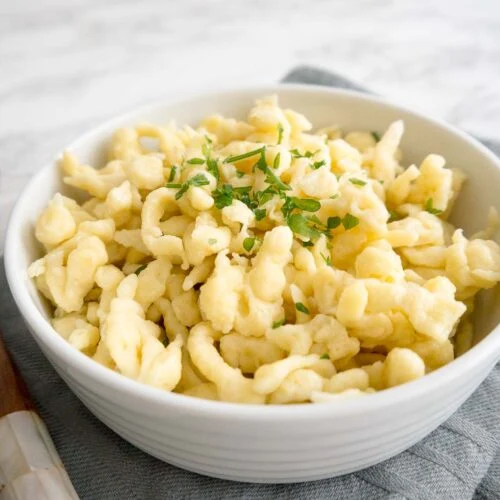 Photo credit: Plated Cravings
Ingredients
1 cup all-purpose flour

¼ cup milk

¼ teaspoon nutmeg

1 pinch freshly ground white pepper

½ teaspoon salt

2 tablespoons butter

1 gallon of hot water
Instructions
Mix together flour, salt, white pepper, and nutmeg. Beat eggs well, and add alternately with the milk and dry ingredients. Mix until smooth.

Press dough through Sp

ätzle maker* or a large holed sieve or metal grater. (See below for Shawnie's preferred gadget.)

Bring a large pot of water briefly to a boil, add a pinch of salt and then reduce heat. The water should simmer throughout the whole process. Cook Spätzle for about 2-3 minutes until they float back to the surface then remove them and drain well.

The options of what you can do with the Spätzle are varied from just adding butter and parsley to applesauce.The big favorite in our home is the Käsespätzle!
*A word about Spätzle makers, I've tried lots of gadgets and this one is the easiest. Some of Willy's Tantes can make them with no gadget, just a cutting board and hot liquid! The item is very sturdy and I do like how well it fits my existing pot.
Käsespätzle: Austrian-Style Macaroni & Cheese 
A comfort dish that's served all over Austria's alpine region and tastes especially good after a walk in crisp mountain air.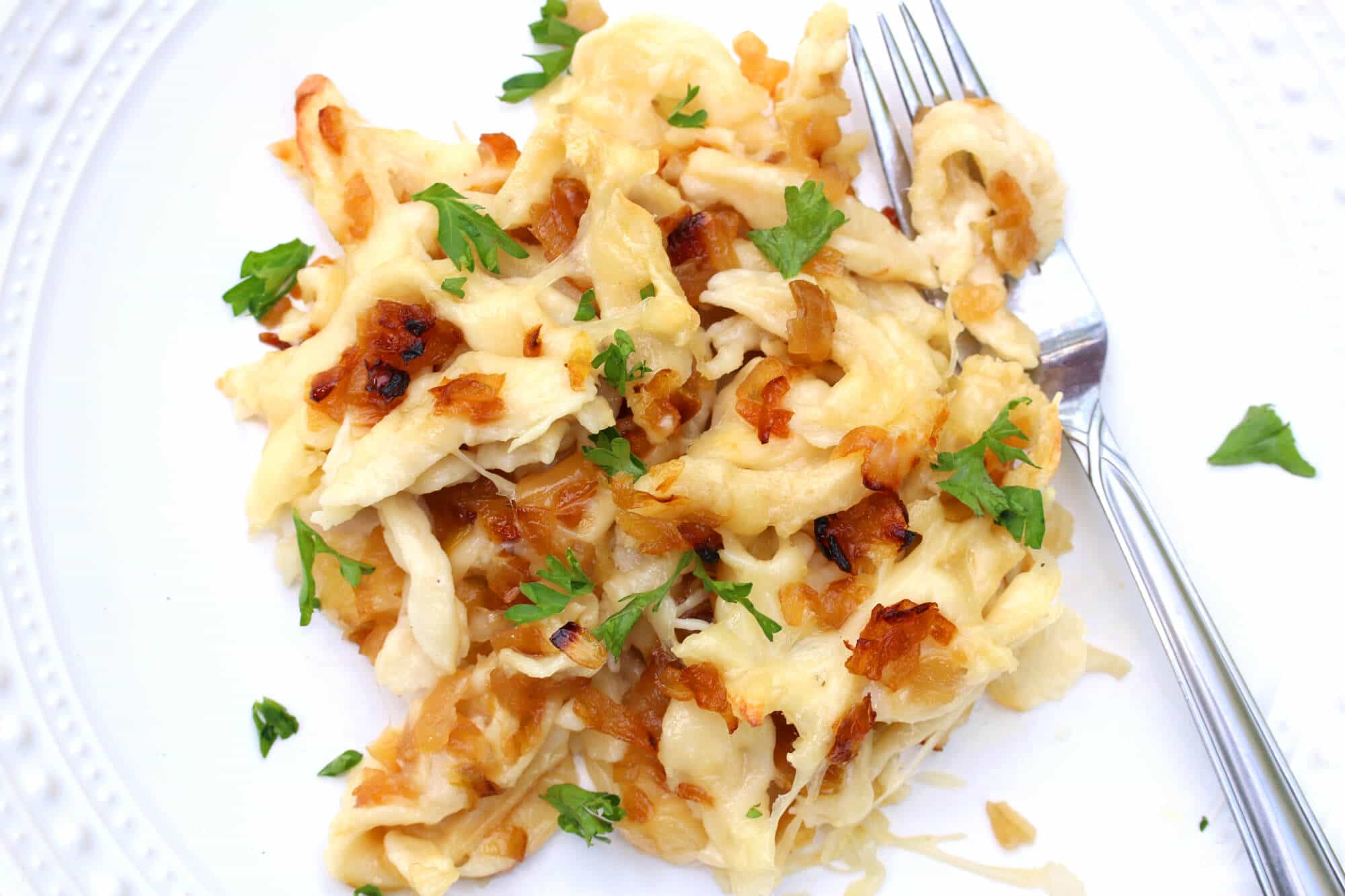 Photo credit: The Daring Gourmet
Ingredients
1 batch of pre-made Spätzle

(detailed instructions previous)

5 – 7 oz cheese, grated

(Emmenthaler, Gruyere or similar)
For the onions
70 g / 3 oz butter

2 mid-sized onions, cut into rings

or minced – your preference
Instructions
See detailed instructions for spätzle.
Heat the butter in a frying pan over low to medium heat, add onions, and let them slowly gain a golden brown color. Don't let them get too dark, as they tend to become bitter. Drain on a paper towel and then set aside.

Melt 1-2 tbsp of butter, and add Spätzle to the pot. Shake the pot a few times to evenly distribute the butter, then add the grated cheese and mix well. 

Now, simply add the browned onions and chopped chives on top and serve.
Tiroler Gröstel (South Tyrolean Hash)
This traditional breakfast is a great way to use up items in the fridge and pantry. Nothing goes to waste and it's delicious!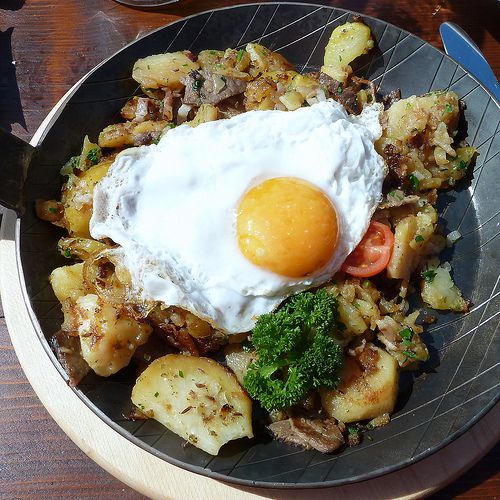 Photo credit: The Spruce Eats
Ingredients
1-1/2 pounds potatoes

1 large onion

1/2 to 3/4 pound sausage, ham, or

bacon

2 tablespoons oil

2 tablespoons unsalted butter, or

as needed

Salt, to taste

Freshly ground black pepper, to

taste

1 tablespoon chopped parsley

4 large eggs or more depending on

how many you'd like
Instructions
Cook, peel, and cool or refrigerate the potatoes. These can be leftovers or be cooked on purpose, earlier in the day or the day before using. Cut the potato into 1/4-inch-thick slices.

Precook the sausage, bacon, or slice the ham into ½ inch squares (or so).

Chop onion finely. Heat 1 tablespoon of oil in a large pan and brown the onion. Remove from pan.

Heat 1 tablespoon oil and 1 tablespoon butter in the pan and add the potatoes. Brown one side without stirring, then flip, add the meat/pork and onions to the pan and season with salt, and ground black pepper.

Continue browning until heated through and crispy (cook's choice of when they are done), stirring or flipping as needed. Add oil or butter as necessary.

In another pan fry eggs in butter.

Serve hash with fried egg on top, sprinkled with parsley
French Tartiflette
Willy and I fell in love with the French Tartiflette while traveling in the mountains of France. It's a traditional side dish, but we've added a sunny side up egg to make it breakfast!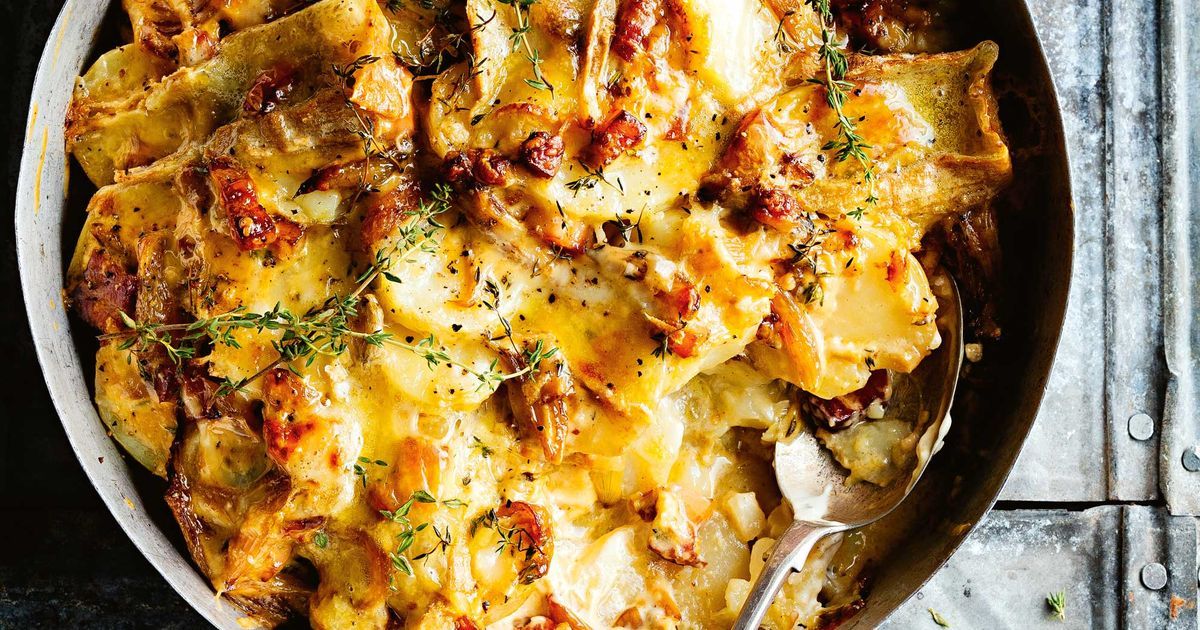 Photo credit: https://www.taste.com.au/recipes/tartiflette-2/sjnfp3hm
Ingredients
3 large potatoes peeled and sliced

7 slices of bacon, chopped

1 tablespoon of butter

1 large onion minced

¼ cup of wine

2 tablespoons crème fraiche (sour cream can be substituted)

1 (8 oz) round of Reblochon cheese

1 pinch salt and ground black pepper to taste

4 large eggs or more depending on how many you'd like
Instructions
Bring a large pot of salted water to a boil over high heat. Add the potatoes, then reduce heat to medium-low, cover, and simmer until tender, about 20 minutes. Drain and allow to steam dry for a minute or two.

Preheat an oven to 425 degrees F (220 degrees C). Grease an 8-inch square baking dish.

Stir-fry bacon in a skillet over medium high heat for about 5 minutes. Remove bacon; pour off bacon fat. In the same skillet, melt the butter, add onions, and cook and stir until the onions are translucent, about 5 minutes. Return the bacon to the pan, add the wine, and simmer until most of the wine has evaporated. Remove from heat.

Place 1/2 of the potatoes into the prepared dish; then spread 1/2 of the bacon mixture over the potatoes. Layer in the remaining potatoes, then spread the creme fraiche over them. Add the remaining half of the bacon mixture. Cut the rind from the Reblochon, cut it into thin slices, and layer the slices evenly over the top of the casserole.

Bake in the preheated oven until the cheese is melted and a bit brown, about 15 minutes. Season to taste with salt and pepper and serve hot.

In another pan, fry eggs in butter.

Serve hash with fried egg on top, sprinkled with parsley
Serving tip: We use a biscuit cutter with a handle to make circles of goodness for plating. We add the sunny side up egg right on top and garnish with some chives.
Want to experience breakfast at 1900 Inn on Montford?
Join us for a delicious homemade breakfast every morning during your stay at our Asheville bed and breakfast. Enjoy beautiful mountain views, craft breweries, and an eclectic food scene while we take care of you. Book your visit today!