PAWfect and Relaxing
As a traveling pup, I have stayed at many hotels and dog-friendly lodging. This by far is the best place for a dog to stay! Not only did they prep my room with a bowl of water and towels (special for me), I had a patio to lounge on while my pawents got ready for the day. Not to mention all of the walks that Willy the owner told us about (especially ones with water so I don't get too hot).
After my long walks, I would come back to my room (William Morris) and lay on the cold floor and snore! The room was quiet and not a lot of noise to spook me while my pawents went out to dinner. My favorite part of the whole trip was watching my people eat breakfast on the porch and watching music on Saturday.
Also, Shawnie made me a fresh dog biscuit and that really was the ultimate treat to this wonderful stay! Will definitely be having my owner's book here again.
hanging with hatcher
A lovely stay at a special place!
I had a lovely 3-night get-away at 1900 Inn on Montford. Willy and Shawnie are gracious hosts and the property is beautiful and relaxing. My pup came along and we were well set in the Rossetti, one of the dog-friendly suites.
The private garden and deluxe shower and tub are some of its highlights. The location of the inn is fantastic, minutes to downtown in the charming and historic Montford neighborhood. It's great for dog walks and there are several restaurants just blocks away. The hosts are great with tips for the attractions in the area and what you've probably already read about the breakfasts and cookies is true — they're delish! I was able to arrange for a massage in my suite. Overall my entire stay was a great experience and a welcome break. Treat yourself here!
W1685YVsuzannek
Just not long enough!
My Wife and I recently stayed in the Cloisters Suite at the 1900 Inn of Montford and had an amazing time. Willy and Shawnie made us feel so welcomed and the room was amazing. The three course breakfast each morning was above and beyond. Something different each morning and not your average hum drum breakfast. Also, let's not forget Shawnie's homemade cookies throughout the day. On our arrival, we were greeted by the Conceriege, Christine, who showed us around our suite. Also greeting us were fresh flowers, Asheville chocolates and champagne…. Wow! They also have Saturday evening porch music with coffee, wine and craft beers, so much fun. This is a first class Bed and Breakfast that we highly recommend. The title of my testimonial is , didn't want to leave and that is how my Wife and I judge a vacation getaway. If you don't want to leave, then you know it was the right choice.
Jimmy and Vicki Grady
Wow! Love 1900 Inn on Montford!
Wow! Recently stayed at 1900 Inn on Montford and this is on my list as a destination now, along with the actual town of Asheville. From breakfast in the morning (3 courses!) to the updated bathrooms (which they are known for!) to the porch music (great musicians!) on early Saturday evening you will love the inn and the owners. Oh, and don't forget to have a cookie or two……or more from the sunroom…always homemade by Shawnie. You will not find a better cookie anywhere. Both Shawnie and Willy provide a level of service and hospitality that you will remember long after your stay. You will leave looking at your calendar planning your next visit to 1900 Inn on Montford! I am already planning to go back in July!
Val T.
The best decision we've ever made
There are a number of lovely B&Bs in Asheville, many with strong ties to the rich history of the town. If all you're looking for is a place to sleep, any of them will do. But if you're looking for an incredible experience with superb breakfasts and amazing attention to detail, stay at the 1900 Inn on Montford. Our small business Knitrino hosted a knitting retreat in Asheville that was held across a number of B&Bs in the area, and the very best decision we made was adding 1900 Inn on Montford to the lineup. Willy & Shawnie were incredible, like adding a full team to our tiny staff of 2! They coordinated so many things that were well outside the purview of innkeepers, from making sure we had plenty of excellent wine and beer at our opening night party, to introducing us to local chefs, scheduling porch music to align with our party, and even making a stencil from our logo for the powdered sugar that was dusted on breakfast. They accommodated our every request and even accommodated things we couldn't have asked for. When we didn't have a gluten-free option for our dessert the second night (at a DIFFERENT venue) they whipped up a batch of gluten-free cookies for us, to which one guest proclaimed "This is the best cookie I've ever eaten!" The inn itself is exquisite, with large comfortable beds and stunning bathrooms. The breakfasts are outstanding. But hands-down the best part of the 1900 Inn on Montford is the innkeepers–they're the reason we'll come back!
Alison Y.
Excellent!!
We had a wonderful experience at 1900 Inn on Montford. The hosts, Shawnie and Willy, went above and beyond for everything! They literally rescued us a couple times… a family member in our party unfortunately got sick during our stay and Willy swiftly helped by washing some of our personal items without hesitation. He did not express any burden for this extra task at all- so kind and thoughtful. We also came underdressed for a cold spell– he lent us jackets! Life saver!
The property is very cozy and our beds/sheets were outstanding. The top floor of the house was our room which, had two bedrooms- very quiet and private. The bathroom was updated, clean, and huge. The home itself is gorgeous with lots of character. The refreshments they kept stocked- such as waters, soda, tea, coffee, and fresh cookies was a nice touch. (My husband tried every fresh baked cookie!! They are delicious.) The breakfast was amazing- fresh, timely, and generous portions. An added bonus for us, Willy let us play with and pet his chocolate lab while we there. I would highly recommend this property. Thank you Shawnie, Willy, and Clementine!
The Perfect Getaway!
We spent our anniversary weekend at the Inn on Montford and our stay was incredible! We live in the area and wanted a place to get away for the weekend and this was the perfect place. Very cozy, inviting, and so comfortable we felt like we were staying with family and we almost forgot we were staying locally. Willy & Shawnie were so welcoming and did I mention the breakfast!?! What amazing meals they prepared to start our day and home made cookies every evening to welcome us home from our daily adventures. They helped us celebrate our anniversary with wine and chocolates! Will definitely come back!
Tim C.
Exceptional in every way
No matter how I critique our stay….the room, the staff, the communication prior to and during our stay, the amenities, the Saturday night music, the food or location….we found the Inn on Montford to be exceptional in every way. When you factor the service you receive into the "bottom line", the Inn on Montford is a tremendous value proposition. We would definitely consider another stay if we return to Asheville.
Steve R.
Best little getaway off the Blue Ridge Parkway!
This place has it all! Located in a beautiful historic neighborhood with a couple great restaurants in walking distance you can't go wrong with the 1900 inn! The hosts are amazing and they even treated us to a surprise treat for our anniversary celebration upon arrival. The daily breakfasts were delicious and thoughtfully put together and they even included a daily homemade treat for my dog! They are the ultimate pet friendly stay which is a huge bonus for us. The Rossetti room was immaculate, beautiful and cozy. We felt welcomed but also given plenty of privacy. The shower and bath alone are worth booking a stay here. Love this place, love the keepers, love the neighborhood and would love to come back!
Emily
No doubt this is the place to stay in Asheville
Well appointed, updated, immaculate room/ delicious brunch with accommodations for GF and V dietary restrictions and comfortable bedding./A variety of home made cookies always available along with refreshments/White and Red wine served for happy hour! Welcomed with sincerity and warmth! Best B & B we have ever stayed in! No need to look anywhere else if planning a trip to Asheville.
mom3gram3
Treated Like Family
The inn is beautiful. We stayed in the carriage house. It was an exceptional room with great ambiance and a very home-like feel. Shawnie and Willie are exceptional hosts, making every experience better than expected. The breakfasts were 5 star, Shawnie's cookies are amazing and the daily socials at 6pm with the other guests felt like we had known each other for years, not to mention the concert level performances by the musicians on Saturday! I cannot think of another B&B experience that comes close to staying with Shawnie and Willie at 1900. A truly wonderful anniversary experience. We will most certainly be back. Thank you for such a wonderful experience!
Ken N.
Best hospitality ever
We visited this Inn in early November and enjoyed every detail. Willie and Shawnie were such great hosts but felt like friends immediately. We stayed in the Rosetti suite which is located in the carriage house a few steps away from the Inn It was amazing! I loved the bubble jacuzzi and my husband used the steam shower after ours hikes. The breakfasts and cookies are amazing. They also have Expresso machines fir guests to use. Loved our stay and will be back. Thanks again
Enchanting and warm environment
We went with another couple to visit the Biltmore Estate. While the estate was good, I enjoyed our time here the most. All the rooms were so inviting to just cozy up. We stayed in Zelda's Retreat which was fabulous. Loved the jacuzzi, heated bathroom floors, steam shower. Everything was there that we needed or wanted. Definitely would stay there again if in Asheville. But one of the best parts is that Shawnee and Willy made us feel so special with their cookies and treats. They cooked us fabulous 3- course breakfast each morning. Every B & B could learn from them how to treat their guests!
Phyl R.
Great Experience
Just returned from a long weekend at 1900 Inn on Montfort. It was a reunion trip to spend time with my cousin, and Shawnie and Willy (the owners) truly helped make it a wonderful trip. They assisted us with where to eat, what to do, and places to see. All of their recommendations were much-appreciated, and we didn't have a single forgettable experience. We enjoyed delicious breakfasts (which included breakfast dessert😋), and delectable homemade cookies that were available for "anytime" snacking. The bluegrass music on Saturdays at 6:00 definitely contributes to the regional mountain experience, and is worth scheduling your dining around! The 1900 Inn on Montfort was the perfect backdrop to a weekend of reminiscing, catching up, and spending quality time together! —-Shawnie and Willy: Thank you so much for your very kind hospitality (including your responsiveness when we locked ourselves out). I don't think that I ever saw either one of you without a smile on your face, including the lockout rescue!😬🤣 We thoroughly enjoyed our time with you, and the coziness and sense of home that you have provided for patrons was perfect for sharing family stories and creating new memories. We wish you all of the best!
trvlr817
Just Stay Here
We only left the room for one hour to go to Jettie Rays Oyster House (yum). The Zelda suite had it all. Loved the outdoor area and the private entrance. The ginger molasses cookie was the best ever! Breakfast in bed was DREAMY. My husband and I want to make it an annual tradition!!
Quest
Relaxing, Beautiful and Friendly
What a beautiful weekend getaway we had at the Inn on Montford!! From the moment we drove up the beautifully landscape drive, to being greeted in the yard by Aaron, every detail was thoughtfully curated. Aaron took the time to share the wonderful details of this historical home and encouraged us to enjoy the delicious homemade cookies and local coffee that was available 24/7. Our room was very comfortable and being a sheet snob, I have to brag on the luxurious, silky soft sheets. They felt wonderful after a fun day of exploring Asheville. Willy and Shawnie are such gracious hosts and incredibly wonderful cooks. I mean, who gets homemade, gourmet dessert for breakfast daily? Sooo yummy!! And the combination of ingredients in each day's breakfast entrees was uniquely delicious…and the breezy, sunny front porch was the perfect setting to start the day. What a wonderful treat on Saturday evening to enjoy some incredibly talented locals sharing their musical talents unrehearsed and heartfelt…all while sipping a glass of chilled wine or beer. Overall wonderful stay at the Inn on Montford!!
Phyllis and Greg Johnson
Wonderful Inn
We spent our mini honeymoon at 1900 Inn on Montford. Such a beautiful, peaceful retreat. Breakfasts were awesome!!! Willie is so welcoming. We made new friends while sitting in the library in the mornings enjoying a coffee…and cookies. Will so visit this Inn again when we find ourselves in Ashville again.
Carmen Drake Gordon
This is Why
The 1900 Inn on Montford is why my husband and I choose to stay at Bed and Breakfasts. Our experience could not have been better – the location of the Inn, the comfort of the room, the deliciousness of the breakfast and extra treats, the toe tappin music on the porch… but most of all the camaraderie with our hosts and other guests. This stay wrapped up a 10 day anniversary trip, and it could not have ended on a higher note. Thank you, Willie and Shawnie, for your extra efforts to make our stay so memorable. Well done!
Cindy G.
Another amazing stay!
Willy and Shawnie are the best Inn Keepers out there. Their attention to detail is amazing. We are both vegan and they always create the best 3 course breakfasts. We love enjoying breakfast on their front porch and be able to chat with the other guests. We also love how they shop local to support their Inn. We have now stayed in 2 different rooms with this latest time being the William Morris room. The rooms are all great, but the bathrooms are beyond words. It sounds funny how we always rave about the bathrooms, but you have to experience them first hand. You will not be disappointed. The Inn is close to the downtown area with all of Asheville's restaurants, breweries and shopping. I guess one of the best things I can say is…"We will be back again."
Doug S.
A Beautiful Escape
We stayed in the William Morris room for a long weekend, April 22-24, 2002. I've hesitated to write this review because my words cannot do the experience justice. From the first contact with Aaron, the Concierge, the commitment to detail was fantastic. Willy and Shawnee are amazing hosts; they make sure that you have everything you could possibly need. We were pleasantly surprised when we saw the room, as it was so private and peaceful. We had our own gated courtyard, where we were able to enjoy a hand delivered, homemade breakfast. The breakfasts were delicious, and the highlight was the Swedish Cream with Raspberry that Willy created. Shawnie has her own cookies at your disposal in the main house's sunroom. I suggest smuggling a few back to your room for a late night snack. The main house has beautiful original floors, a well stocked library, a spacious dining room, the fore mentioned sunroom with a drinks fridge and state of the art coffee machines. Aaron was kind enough to tell us the history of the home. He also is a go- to for recommendations for activities and dining in the area. The weekend we stayed was absolutely gorgeous, so we took full advantage of walking the Montford neighborhood. April is blooming season, and there was no shortage of Cherry Blossom trees and flowers all through the area. It's a peaceful, friendly area. Saturday evening, from 6-7 is music on the porch (weather permitting). We were fortunate and were able to attend the social hour. Aaron was busy keeping everyone topped up with drinks, and the musicians were amazing!
I'm sure I've missed mentioning several points, but the gist is that this is a wonderful place to stay. Do not hesitate to book a vacation here,
Maura and Steve Noonan
Fantastic Inn and Hosts!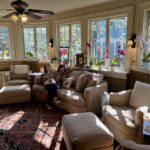 We were overwhelmed by the sensational Inn when we arrived and our stay only got better each day! Every detail of our room (William Morris), breakfast, Saturday Music and guidebook was exceptional. Our favorite room was the sun room for reading and relaxing after a day exploring Ashville. Hot or cold drinks and home-made cookies to die for were always a welcome finish to our busy days. As our first visit to Ashville, Willie & Shawnie were the perfect hosts with great advice for making the best of each adventure from shopping, Biltmore, River Arts or hiking. Their dining recommendations were spot on, although we never believed we'd be hungry again after each day's unbelivable 3 course breakfast! We can't wait to come back and share the Inn with our friends!
Mark & Theresa Strong
WE LOVED IT!
Positively memorable in all respects, a stand-out bed and breakfast offering thoughtful amenities, comfortable and relaxing elegance and a centralized location to everything Ashville! Three course breakfasts were delectable, impeccably presented and creative renditions well beyond the norm. Freshly baked cookies, commercial coffee units set up in a sun-filled side room and other treats further satiated travelers. We stayed in the Fitzgerald Room, which depicted high-end comfort, a bathroom that will knock your socks off, and featured incredible attention to detail, robes, chocolate, beverages, fireplace…! Cannot forget to mention the full bluegrass band playing for an hour in the entry upon our Saturday night arrival, what FUN! Also enjoyed decorative aspects within the inn, including touches of the arts disbursed throughout. We have stayed at many bed and breakfasts over the years, but this one rises to the TOP!
Diane JC
Lovely experience
My wife and I went for an anniversary getaway and stayed in the Thomas Wolfe room. The Inn proofed to be luxurious and relaxing, from the house to the food to the hosts, all lovely. We felt very cared for.
The happy hours and Saturday music were quite quaint, too.
We will be back:)
rmccloy
5/5
I stayed at 1900 Inn on Montford to celebrate my birthday about 8 or 9 months ago. I was a little nervous as this was first time staying at a bed and breakfast. It was a solo trip for me and usually I think of B and Bs as mainly for couples or groups. But the owners are super friendly made me feel like I was at home. Being welcomed to birthday balloons upon check in was a thoughtful touch. They host a lovely breakfast and an evening reception with complimentary cocktails. As a coffee lover I enjoyed the all day access to the coffee machine in the main building. Unfortunately, I wasn't able to partake in listening to the band since I stayed on a non weekend day. The lodging is in ideal area for an easy quick drive to some of breweries, Biltmore, and other attractions. My only regret was that I couldn't stay longer than 2 nights.
Tiffany Gibson
Romantic and unforgettable
My husband and I celebrated our 20 year anniversary here along with and our furry son. We stayed in the William Morris room with it's beautiful courtyard, fantastic tub, sinful shower and wonderful fireplace. Willie and Shawnie and Aaron were top notch! Friendly, attentive and considerate! The Inn itself is AHmazing, but add the outstanding service, the delicious breakfasts, the yummy cookies, coffee, complimentary drinks, personal touches, the wonderful library, history of the area, quiet wonderful neighborhood, proximity to everything you would want to do and you have a combination that can't be beat by anyone. We fell in love with this Inn and the wonderful folks that make it what it is. It's now hard to imagine staying anywhere else. It was hard to leave and we hope to return soon. Truly an unforgettable and romantic experience. Thank you Willie and Shawnie for everything!
Bill and Dawn Albrecht
Best experience of all our travels at a B&B
We visited Asheville during Christmas to enjoy the area and see the beautiful Biltmore Estate. We decided to book with Willie and Shawnie after viewing their lovely property on the web but when we arrived we were blown away by the inn and the welcome we received. The exceptional service continued throughout our whole stay. The inn was sparkling clean and decorated beautifully. Our room was most comfortable and the home itself made you feel cozy and warm. There was always coffee available and delicious homemade cookies by Shawnie. The breakfast was amazing!!! Willie did an awesome job and by the time we left, which we could have stayed longer, we felt like old friends. I was able to work in the parlor in the early mornings before anyone woke and Willie had coffee ready and a smile. It felt like home.
This is everything you are looking for in a B&B and more. We loved it so much we have booked for our anniversary in July and will be making another winter trip before Spring. I highly recommend you stay at 1900 on Montford if you are looking for class and style coupled with southern hospitality. You will get it here!
Thank you both for an unforgettable experience and we shall see you soon!
Robert & Torri Gayle
Simply the Best
What can I say…This is the 2nd time myself and my husband have stayed here under the current owners, Willy and Shawnie and it is nothing short of outstanding! From the house, to the rooms, to the 3 course breakfasts, the great conversations and the welcoming atmosphere this place is UNBEATABLE! We have stayed at many B&Bs in the US and nothing compares to the 1900 Inn on Montford! A huge thank you to Willy and Shawnie for making the experience above and beyond in every way! If there was a program to learn how operate a Bed and Breakfast, Willy and Shawnie should write the curriculum! We feel so lucky to have found this place and will never stay anywhere else in Asheville! If you are going to Asheville, look no further as the 1900 Inn on Montford is everything and more of what you are looking for in a B&B!
Hope Brillhart
Exquisite Service
I just wanted to take a minute and circle back to you all and sincerely thank you both for such a great time we were fortunate enough to experience at your place. From Willy greeting us so warmly when we arrived, to the exquisite service we experienced throughout our stay, to the flexibility of allowing Erika, our daughter, to experience one of your incredible breakfasts. I have been to a lot of places where service was emphasized but your place made it so personal it stood out as exemplary. I sure hope we get the opportunity to return someday. Thanks again for such a memorable time last week.
Alan
Lovely home
Shawnee and Willy are superb hosts. Their home is lovely. The rooms are exquisite and the breakfast is delicious. The location of the inn is great as it's under a mile walk to historic Asheville and you walk by three restaurants in the Montford area. Will definitely stay here again,
Sightseer213678
Luxurious accommodations!
Amenities galore! Comfy bedding on a fabulous bed, whirlpool tub, steam shower and a delicious breakfast served to us every morning on our private patio! Did I mention cappuccino machine in sun room of the main house? That too!! Definitely a return visit is in our future!!!
horsesarethebest
A Perfect B&B!
Absolutely lovely. The Inn is so warm and inviting, the homemade cookies amazing and you can't beat a relaxing cup of coffee or glass or three of wine on the front porch. The owners are such welcoming hosts. We wouldn't consider looking anywhere else when we come back.
Mark Q
Really wonderful bed and breakfast with outstanding hospitality & amenities
We stayed at 1900 Inn on Montford for a babymoon this past weekend based on a recommendation from a coworker. Let me tell you, it did not disappoint. Shawnie, Willy and Stacey were gracious hosts and went above and beyond to make sure we were comfortable and felt welcome. The 3 course breakfasts were absolutely amazing, especially the chocolate croissant and tiramisu. Also, the happy hour with bluegrass music and beverages was so much fun. We really enjoyed making our own cappuccinos using the gourmet coffee maker and eating a lot of fresh baked cookies as well. When we left, Shawnie and Willy even gave us a very thoughtful gift for our baby. We will definitely be back to visit them and appreciate such a great experience.
Will T
WARNING
WARNING: Do not stay here unless you love daily, world-class, three course breakfasts, gourmet cookies and beverages all day, wine in the evening, exceptionally comfortable rooms in an historic and beautiful house, and gregarious, caring, fun, and funny Inn Keepers. Remember before you make any reservations you are at risk of having one of the most enjoyable and memorable experiences of your life. Reserve with caution!
Be sure to also note that this location is nestled into lush, green, beautiful hills on the edge of an historic, arts filled, active city with outstanding restaurants on every block. This location is also within driving distance of many of the small, active, and memorable towns in the area that themselves are full of more activities than you can image. Be careful! You may find more peace, beauty, and fun than you are imagining possible!
Paul H
Amazing Visit
We had the greatest experience at the 1900 Inn on Montford. We booked the whole Inn for our guest for our small wedding. Willy and Shawnie were amazing and went above and beyond to make sure we had a great visit. Everything about our stay was wonderful. The breakfast every day was DELICIOUS. Everyone who stayed with us has asked to go back at least once a year to have fun all over again! We can't wait to go back!
Mary S
Another wonderful return to 1900 Inn on Montfort
Have visited the inn many times and keep coming back because we are made to feel like we are at home. They are so welcoming to us and our dog. We always stay in the dog friendly carriage house rooms and they are beyond beautiful and worth it. For those rooms, the breakfasts are delivered to your room each morning which is so convenient and I prefer it since I am not an early riser. The food is delicious. They always have fresh baked cookies in the inn daily and you are encouraged to take your fill. Daily social hour with cocktails is still going on as best as possible while adhering to covid rules. The inn is convenient and centrally located within walking distance to several great restaurants and the owners are always willing to help with suggestions for food or activities if you are short on ideas. Highly recommend!!!!!
Danielle D
My new favorite B&B!
We had such a wonderful stay with Shawnie and Willy. Amazing house, food (especially the chocolate croissant), room and hospitality! They go above and beyond to make your stay special. We will definitely be staying with them next time we're in town and will most likely make a special trip just to stay there again!!
Amanda & Danielle
A much welcomed change of scenery
My boyfriend and I had the most wonderful, restful, 6 night stay at the 1900 Inn on Montford. Willy and Shawnie are fabulous hosts! We were missing Mardi Gras in New Orleans—they made us the cutest breakfast on Mardi Gras day with Willy's Waffles with Mardi Gras colored whipped cream! It was the sweetest little detail. So thoughtful! We stayed in the Rossetti room, which is as beautiful as pictured, with a shower and jacuzzi tub sent from heaven. Comfy bed, cozy sheets, a warm fire place…I didn't intend to sleep as much as I did, but I guess I needed it! Pure luxury. We brought our dog with us and this room was perfect—he had a little courtyard to himself to explore and go potty. They even had little dog bowls in the room (thank goodness because I forgot his at home!). The Inn is very convenient to downtown. Even during the slow season, we were always able to find an Uber into town to go check out all the beer Asheville has to offer. Our two favorite restaurants were Curate and Jargon, both of which were listed in the convenient online guest book provided by the inn. Willy actually suggested Jargon to us while we were chatting after the Saturday music/wine social hour. And wow…holy steak tartare…Jargon was fabulous! Curate was also unbelievable. Speaking of the Saturday social hour—be sure to include that in your plans! We also booked a 90 minute couples massage with the Inn. The therapists were wonderful, and come right to you. I'd recommend taking advantage of this! This was our first stay at a Bed and Breakfast, and we were completely spoiled by The 1900 Inn on Montford. If you have the opportunity to stay here—do it. You won't be disappointed! Thank you again Shawnie and Willy for everything! Your attention to detail is unparalleled—y'all were clearly destined to do what you do! We hope to come back again!
Rachel W.
Wonderful cozy stay!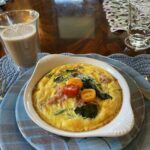 My husband and I loved our weekend stay! We got to share a weekend alone without our precious baby, and they made it so relaxing and cozy for us. The breakfast was amazing! It includes 3 courses- a fruit dish, a savory, and a sweet. My husband LOVED the homemade angel food with raspberry cream. Everything was super clean, with hand sanitizer and disinfectant wipes all around for your peace of mind. The fridge downstairs was always stocked with waters and sodas, and the espresso machine was my favorite!
The cookies that Shawney made were excellent, we definitely over indulged in those! We will most definitely be back in the future!
Emily S.
Amazing honeymoon!
We spent a few days of our honeymoon in October here and it was incredible!! Shawnee and Willie are the most gracious hosts and made our stay even more memorable. Prior to our arrival, they upgraded us to The Cloisters and that suite is AMAZING! The breakfasts were incredible and we were so spoiled having them delivered to our room each morning. Shawnee's cookies in the refreshment area are delicious!
My older daughter is saying Asheville is her top choice for her residency next year, and if she matches, we will definitely be visiting 1900 Inn on Montford many times! Thank you Shawnee and Willie!
Susan H
Great stay!
What a wonderful experience we had this weekend. We were greeted upon arrival, our room was upgraded, and breakfast each morning was carefully crafted and delicious. We thoroughly enjoyed our stay and would highly recommend to all.
Missy A
AMAZING babymoon
My husband and I visited 1900 Inn on Montford for our babymoon and had a wonderful time!! It was our first stay at a B&B and we weren't too sure what to expect. We were blown away! The inn is close to town but far enough away that it is quiet and relaxing outside on the main porch or your private porch. We stayed in the William Morris room. We picked this room because of the privacy and the luxury amenities! The steam shower and the jetted bathtub is where this pregnant mama spent most of her time! The breakfast the Shawnie made and delivered us was SO good and unique. They even take special requests and substitutions! If you like coffee and cookies (who doesn't?!) You have to use their fancy coffee machine and have a delicious homemade cookie! The perfect snack. Before you hit the town Saturday, you HAVE to stay to hear the live music and drink wine/beer/sparkling water with the other guests. It was one of the highlights of our trip! Willie and Shawnie also had great recommendations for things to do and places to eat, don't be afraid to ask them anything! They are so personable and accommodating! Did I mention the bed?? I slept so good in the amazing bed and high quality sheets. It was hard to get out of bed! If you are looking for a place to go and relax and just be with your partner this is THE place to go. Willie and Shawnie even sent us home with gifts for us and our baby girl! We cannot wait to come back someday soon, thank you for such a great stay!!
Karen P
"Great Asheville Getaway"
From the Welcome received upon your arrival, to the scrumptious three course breakfast prepared with all fresh ingredients, Shawnie & Willie aim to please! Great facility with a great staff! My wife and I look forward to our return visit soon!
Edward H wrote a review Nov 2019
Great Stay!
The owners have thought of everything! Snacks and beverages in the day room. Excellent breakfast 2 days in a row! Decorating fabulous; comfortable bed, suite perfect especially the bathroom. Lots of storage for clothing and shopping. Great location to explore the area for eating, shopping and site seeing.
LisaK wrote a review Nov 2019
Fantastic time
Location was perfect , holiday decorations festive and extensive inside and out. Very quiet at night as well.Couldn't ask for more accommodating innkeepers, Willie and Shawnee! Breakfasts were amazing every day, and delivered to our cottage, hot ! Doggie treats for our dogs from local dog bakery and so much more! The Rossetti was beautiful , very clean and had everything we needed! Looking forward to returning next trip to Asheville.
obgirl2 wrote a review Nov 2019
Holiday Spirit
What a great place to put you in the holiday mode! My son and daughter-in-law live in this neighborhood so this summer while visiting them we checked out the numerous B&B's. This was the 4th one we visited and I knew instantly it's the one I wanted to stay during the Thanksgiving weekend. Willy and Shawnee invited us in with open arms. The Inn was beautifully decorated for Christmas and our room was super nice. The extra touches like fresh flowers and towel heaters in the bathroom were so nice. The three course breakfast was absolutely delicious! You can tell the innkeepers put a lot of effort and thought into preparing a delectable meal. We came back on Saturday evening to listen to the bluegrass musicians and they were delightful! Sunday morning before departing, we talked to Willy and Shawnee in their kitchen and they truly are down to earth and perfect innkeepers! Thank you for a great stay!
Bit S wrote a review Dec 5
An excellent experience at this beautiful and friendly inn!
We loved our stay at the Inn in Zelda's Retreat! The innkeepers were wonderful–friendly, helpful and always willing to extend themselves. It is a beautiful, spacious and well-maintained house, close enough to everything without being directly in the center of town. We highly recommend a stay here! You can believe the website–we found all to be as described.
Earl
What a place!!
I can't say enough about this inn!! Shawnee and Willy, the Innkeepers are so hospitable, and knowledgeable about the area. The breakfasts were absolutely delicious! The Friday and Saturday night porch socials with wine, beer, and live Bluegrass Music were great fun. The beds have amazingly soft sheets adding to the all around coziness of the inn.An day walk to town. Stay here!!!
pennelaine
Wow, Exceeded Expectations
Wow, 1900 Inn on Montford totally exceeded our expectations. We frequently travel to Asheville, and have stayed at many of the notable hotels. The Inn is most definitely my favorite. During this visit, we stayed in the Rossetti Room of the Carriage House, while traveling with a small dog. What makes 1900 Inn on Montford exceptional? Welcoming … comfortable … spacious … gorgeous historical home on a historical street … conveniently located … walking distance to downtown but away from the chaos. The breakfast, coffee and drink bar, and afternoon snacks were amazing. Our dog was welcomed with a goodie basket, which included a yummy dog cookie. Our backyard patio was a relaxing, serene and private oasis. A rare and unique discovery. I can't wait to return. Note: A forgotten item was mailed to us without needing to ask. So much appreciated.
Ellen H
AWESOME
If you want to feel special this is the place to go, you will not want to leave! We stayed in the Cloister room it's Amazing you will not want to leave the room except for the meet & greet evening and Saturdays night fantastic music. There is know words for the amazing breakfast Shawnie & Willy are the best! Trust me this will be a place you'll keep going back to, I know I will…DS
Diana Smith
Happy gluten-free guests
We feel relaxed, pampered and well fed after only 3 nights at IOM. Shawnie and Willie are the perfect Inn-keepers and owners. Enjoyed the 3 course gourmet gluten free breakfasts, social hour every evening and the fun porch music on Saturdays. Expert accommodation of our gluten allergies. House is located in quiet, historic Montford district within walking distance of downtown Asheville and even closer to excellent neighborhood restaurants. We loved the local hiking on the Rattlesnake Lodge trail, the River Arts District and live music at Isis. Definitely returning.
Robin and Don
Fabulous B&B!!
Our daughter and her husband stay here every time they visit the mainland from Hawaii. So on our way to Sapphire Valley, we decided to see what was so special about this inn. It was a magical weekend! The location is beautiful, quiet and peaceful. You are away from the bustle of downtown, yet close enough to walk there. The home is so welcoming with a huge front porch where breakfast is served. Our room was so cozy and the sheets felt like whipped cream! You can purchase them through the innkeepers, Shawnee and Willie, who have the personalities to make perfect innkeepers. You feel like you are at your home away from home!! The three course breakfasts are mouthwatering and you really can skip lunch and have an early dinner to beat the crowds. If you are considering a visit to Asheville, Inn on Montford is hands down the ONLY place you should consider staying. They are a four diamond inn and you will understand right away why. From wonderful toiletries, heated towel racks, amazing coffee/espresso/cappuccino, the list goes on. It may be a tad over your budget but splurge and stay here. I promise you will be glad you did and will figure out a way to come back again! Thank you Willie and Shawnee for a magical visit to Asheville!!
mls_479
Will Be Back!
Have stayed at Grove Park Inn; Biltmore, Grand Bohemian and others, but this experience trumps them all! Inn Keepers make you feel like family; breakfast and afternoon reception outstanding; rooms are stylish with OTT features (especially enjoyed jacuzzi tub & steam shower). We were made to feel welcomed and special, especially Lucy, our Lab. Shawnie and Willie know Asheville well and made some wonderful restaurant and sight seeing recs. Could go on but will wait until my return visit, which hopefully will not be long.
SGS
THE best way to adopt Asheville!
To be honest, we're not big fans of Bed and Breakfasts…anywhere. But since we've been coming to Asheville for 25 years now, we've always explored the neighborhoods each time we visit. Montford has it all…you can walk to great restaurants now, or walk right into the city to your favorite place or brewery. This place hooked us after I saw the pictures of the bluegrass trio playing on the front porch. The home is top notch and laid out perfectly. We rooms are big and they invested in amazing bathrooms. You won't be complaining about the showers at this place, instead, you'll take notes. Great experience, would return, and probably, the only B&B we'll ever visit 🙂
Doug P
We absolutely loved it!
Willie & Shawnee, the owners of IOM, have created a B&B that surpassed our expectations in every way — the room we stayed in (the Cloisters in the Carriage house) was like a small cottage with every comfort + tons of charm: a big comfy bed, a glass walled shower the size of a room (rainfall shower head, wall jets, and a steam room feature), 2 fireplaces, dish tv (with two flat screened tvs), and the absolute luxury of having our breakfast delivered to our room every morning, promptly at 9:15 with fresh cut fruit, tasty egg concoctions, + some decadent & delicious baked treat, which we got to eat in our own private garden! Just as wonderful was their kindness to our little 8lb dog, who would jump & wag her tail as Shawnee showed up every morning with dog treats from the Three Dog Bakery in town. Plus, they had a small bluegrass concert on the porch on Saturday at sunset that was just wonderful. We were sorry when it was time to leave and hope to plan a return visit next year!
Amy B
Stayed there July 12 & 13th 2019
We were treated like royalty – warmly greeted by owners Willie & Shawnee – a supremely comfortable room (the Fitzgerald Room) – & amazing freshly-cooked & prepared breakfasts! When we entered the room we were greeted with celebratory balloons, a fruit & cracker plate, & champagne – it was our 50th anniversary! Thank you both so much for your warm & hospitable attention.
Joe & Robyn
Incomparable Hospitality!
This was my second stay at 1900 Inn on Montford, and my first under the current owners. The location is amazing – walking distance to downtown while being out of the hustle and bustle of the weekend tourist crowd. The hospitality is out of this world. Delectable breakfast, friendly guests, accommodating owners, and the music on the porch. . . It felt like we were staying with family. And the family you actually want to stay with, not those other ones. Can't not wait to return!
sglanville77
Vacation
I can't say enough about this place. From the moment we walked into the inn we were greeted with a smile and kindness. The breakfast each morning was so special and amazing, the food is fabulous. You are so close to everything you need in Asheville you can walk to great restaurants. Absolutely fell in love with everything about this Inn!!
Tanna M
1900 out of 1900!
If there was a rating scale that went up to 1900, the 1900 Inn on Montford would score it! My girlfriend and I visited for 3 nights over Memorial Day weekend 2019. Stayed in the Fitzgerald room, which had a great blend of historic and modern (aka the spectacular bathroom!) features. Breakfast each morning was awesome, featuring a delightful 3 courses. Hosts Shawnie and Willy were wonderful and made us feel very welcome. (Willy is an avid cyclist, and joined me on a ride up to and on the Blue Ridge Parkway!). The entire property is beautiful. Hospitality top-notch. Complimentary wines were served on the front porch each evening during the social hour from 6-7. On Saturday there was even a local band that played for us! Will definitely come back.
Randy S.
Would not think to stay anywhere else in Asheville!!!
Where do I start… This place is fabulous! From the amazing Fitzgerald room, to the wonderful breakfasts made by Shawnie, the great conversations with Willie, the beautiful home, the great espresso maker and the closeness to town, this place is unbeatable! Thank you so much to our great hosts, Shawnie and Willie. From the moment we came they were nothing, but friendly, helpful and kind. We arrived on a Saturday and they were having an acoustic band on the huge porch that evening with free wine and beer for all guests. We told Shawnie that we may not be able to attend because we were there to visit with family and were planning on meeting them that evening. Shawnie asked us to bring them over so they too, could enjoy the music and refreshments which was just above and beyond! The Fitzgerald room was spacious, charming and quiet. The bed and linens make for a perfect night of sleep. The bathroom was unbelievable! From the roomy triangular-shaped whirlpool tub to the overhead rain shower it was like bathing in heaven! Oh, and the breakfasts! They were like heaven, too! Shawnie is a great cook and Willie a fabulous server who paid attention to our every need. We even got to have breakfast on the wonderful porch each morning. Who knew breakfast could be that good! I have nothing, but oodles of positive feedback to give about the 1900 Inn on Montford and it's owners! We will be coming, again and can't think of any place we would rather stay!
Hope577
Great property, great location, great hospitality
Just stayed this week at the Cloisters room. Very comfortable and spacious. Great with dogs too. Less than a mile from downtown in a great little tree lined street and neighborhood. Owners are outstanding and the food is excellent. Thank you for the hospitality
Danny O
Wonderfully relaxed stay
We recently stayed in the Edith Wharton room for 3 nights at the Inn, and we felt like we were home the entire time. The convenience of the special coffee machine in the sunroom, along with the "TO DIE FOR COOKIES!!" added to our experience. Willy and Shawnie were perfect hosts. I also enjoyed the social hour and getting to know the other guests. The Inn is conveniently located near the Biltmore Estate where we spent most of our visit. The trip was a wonderful experience nd I would recommend this Inn to anyone!
diane anderson
Best B&B ever!!
I loved the ambience and meals!! The staff was very warm and welcoming and went above and beyond to satisfy. Very comfortable and cozy. quaint and beautiful decor!! Best chefs and excellent food and drinks. Nice wine hour each night. Definitely 5 star and worth the money!
michelle f
Great weekend!
My wife booked the weekend for our anniversary. What a nice surprise from the moment we arrived late, Willy greeted us outside and showed us everything we needed to know. Great coffee machine, great breakfast spacious rooms. We met several other couples and they loved it as well. Shawnee and Willy are wonderful hosts. Thanks for a wonderful stay. Highly recommend 1900 Inn at Montfort.
Darryl B
Hospitality, Luxury, and the Cookies!
We enjoyed a magical Christmas holiday at The Inn on Montford.
Willy and Shawnie understand that a perfect stay is made up of all the little things, so they pay attention to every detail.
We stayed in the Cloisters and loved sitting by the fireplace, the huge steam shower, and the comfortable bed with the BEST sheets ever!
Hearty and delicious breakfasts served in the elegant dining room prepared us for each day of adventuring in Asheville, or reading in the study!
The Saturday night music reception was exceptional. I found myself smiling through the entire performance.
Finally, the cookies. In the sun room there are magical jars of never ending homemade cookies and a Jura espresso machine. I tried to replicate the cookies when I got home, but so far I have not been successful. I guess I'll need to return for a little more research!
I can't wait to return!
Angie Burris
Absolutely Charming!
Just a fabulous place to stay! Rooms are amazing and the morning breakfasts are outstanding! Willie and his wife are fantastic! They are incredibly knowledgeable and you could not ask for better hostess's ! Simply a great place!
Paul and Kim H - Oct 5, 2018
Like visiting Friends
This was a return trip after many years and it was as delightful with the new owners as with the last! Great Amenities and the most delicious breakfasts! We had a nice wet bar area in the carriage house & soaks in the Jetted Tub. We thoroughly enjoyed the Sat. evening music on the porch. Wonderful neighborhood & such a lovely place to unwind.
earthwalker1017 - Oct 4, 2018
Southern Hospitality Extraordinaire
We recently stayed at the Inn on Montford and were truly blown away! Shawnee and Willy exceeded all expectations! From the morning breakfast to the daily "front porch social", and the absolutely amazing rooms we couldn't have asked for anything better!
We will be back!!
daleloriann - Oct 13, 2018
Mini vacation in Asheville
My husband and I met friends from CT. for a mini vacation in Asheville!
We couldn't have chosen a more lovely Bed and Breakfast, than The Inn on Montford!
The inn was beautifully decorated for Christmas and the rooms were wonderful with gas fireplaces and the BEST sheets, ever!
Willie and Shawnie were the perfect hosts, with helpful tips for our stay in Asheville and delish breakfasts each morning!
We will definitely be back!
MelindaW257 - Dec 7, 2018
Enchanted Christmas at 1900 Inn
My parents and I spent 3 nights at this majestic inn for Christmas, 2018. From the moment we arrived, it felt like home. My grandmother passed away this year and my mother did not want to spend Christmas doing our normal routine, so we decided to spend our holiday in Asheville, NC. When we arrived, I was pleasantly surprised to find the Inn was just as beautiful, if not more so, than the photos online. Every inch was decorated for the holidays. The O'Henry room was so cozy, warm and inviting that I found it hard to leave each morning. I had my own fireplace and a gorgeous and spacious private bathroom. The bed was incredibly comfortable and every night of sleep was perfect peace.
I'd like to particularly thank the owners for their incredible sensitivity to my food allergies. From the welcoming GF White Choc Macadamia Nut cookies to an individualized breakfast every morning, they made sure I was well fed with heavenly omelets, quiches, muffins and other delights. I can't thank them enough for making Christmas so special for my family this year. Much love. We will be back soon!!
April M - Jan 12, 2019