Make your Asheville dream elopement a reality
Eloping at the Inn on Montford is ideal for you if you want…
Getting married to feel less like putting on a show, and more about just the two of you

To focus 100% on making memories with your sweetheart, rather than organizing a bunch of details

A super relaxing and cozy getaway where you can tuck away (or venture out) on exactly your own terms

An intimate spot for your ceremony that's also a gorgeous backdrop for photos

To let go, feel pampered, fully enjoy yourself, and trust the details will be lovingly taken care of by someone else (that's us!)

To experience Western North Carolina, from Asheville's tasty food scene to one of our region's gorgeous waterfalls.
What's included in the Elopement Package at the Inn on Montford?
 

Officiant and civil ceremony for two (plus a couple of guests) with your choice of beautiful locations on Inn grounds. Popular spots are outside in our gardens (weather permitting), our spacious front porch, and the foyer in front of our fireplace.

Two (or more, up to you!) nights lodging in our historic Arts and Crafts style Inn. Choose from any of our spacious, luxurious rooms — either in the main house or in one of our Carriage House Rooms.

Our location just north of downtown Asheville is perfect for strolls with your sweetheart, whether you meander through historic Montford or head into the heart of the city to enjoy one of our many farm to table restaurants.

A three course breakfast every morning, made in house, with local ingredients: fresh fruit, a savory course, and baked dessert… delivered straight to your room if you'd like.

Fresh local flowers for your bouquet, plus a boutonniere.

Mini artisan

 

wedding cake

, locally baked and served on a pedestal.

A chilled bottle of champagne… on a silver tray! Crystal glasses included, of course.

Afternoon snacks for when you return from your afternoon of exploring. (Including fresh baked cookies and espresso, a favorite of many of our guests.)

Several beautiful backdrops to choose from if you're getting elopement photos taken. (Ask us, we'd love to connect you with our favorite local photographers.)

A tiny custom reception to celebrate the big day!

If your stay includes a Saturday, you're in luck. Everyone raves about the weekly live music on the front porch. You'll want to grab a drink and enjoy live heritage tunes while you mingle with the other guests.

You can also opt for upgrades like our

 

in-room massages, local chocolates, and even more flowers!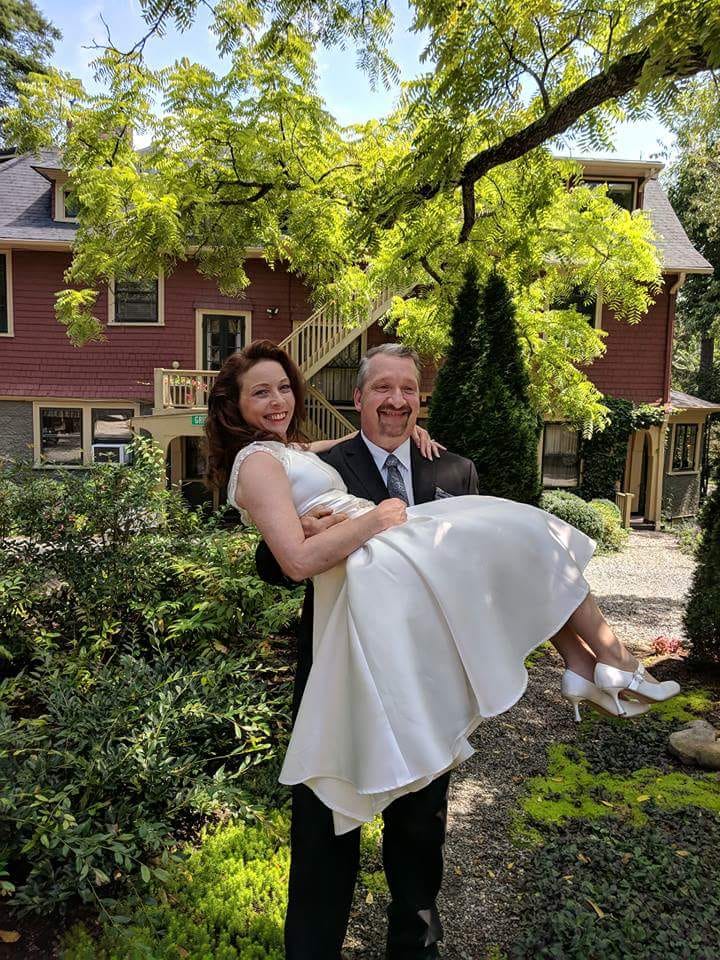 Our location is perfect for eloping in Asheville
Just outside of the western NC mountains, the "Paris of the South" is the ideal spot for your tiny ceremony and getaway — scenic, romantic, and with just enough "city" to celebrate in style. 
Make sure you carve out time for a drive just outside of Asheville along the Blue Ridge Parkway. Picnic on mountain-side overlooks. Drink in stunning sunsets. Soak in the biodiversity the western NC mountains are known for up close — while you hike one of the many public trails.
From our buzzing farm-to-table food scene to the breathtaking waterfalls scattered across the region, you're in for a real treat.
Now that you've decided on Asheville, you're looking for the perfect bed and breakfast where you can relax and just be with your partner. You deserve to unwind in luxury without getting lost in logistics.
After all, part of why you're eloping is that you want getting married to be about celebrating just the two of you — without the hoopla of family and guest lists and figuring out how to feed everyone.
Our Elopement Package is a two person wedding at the Inn on Montford — it's ideal for the couple who wants a small, intimate experience in a relaxed atmosphere, but who also wants their special day to be unforgettable.
"I know we told you in person, but we wanted to thank you again for turning our wedding dreams into reality. This really was more than anything we could have ever imagined. Thank you so much for your thoughtullness and warmth. We definitely left a piece of our hearts with you at the Inn. We will be seeing you again most definitely. We're so glad to have found something and someone so special as you and the 1900 Inn. We love you." – The Temples
Ready to book your dream elopement?
Call us to reserve your room or ask us anything: 1-800-254-9569.