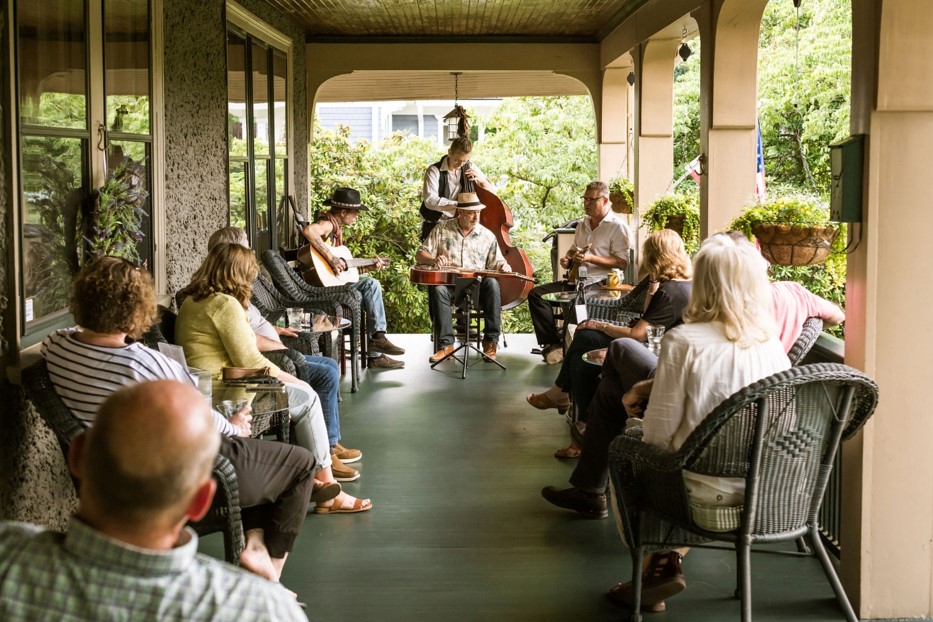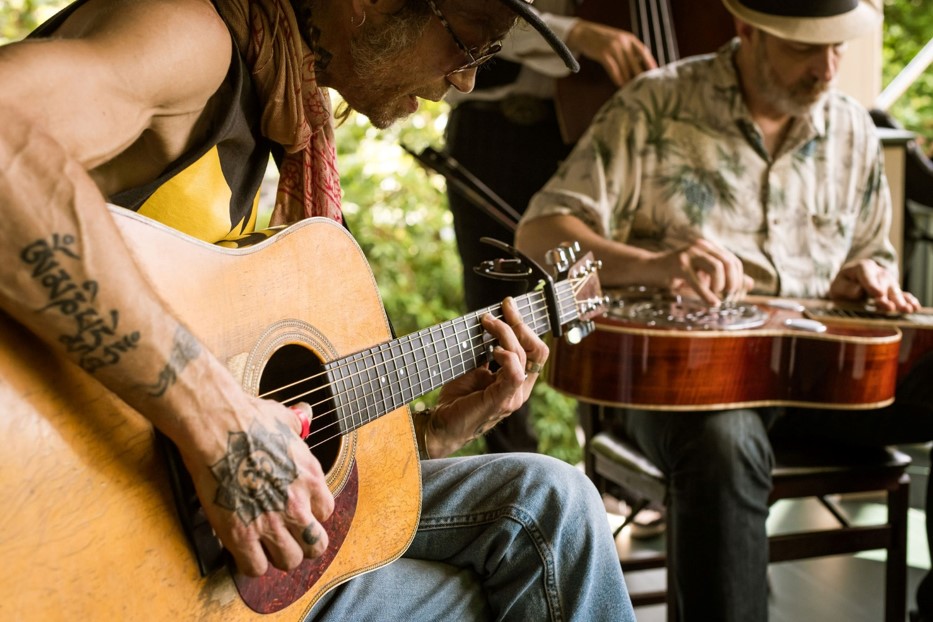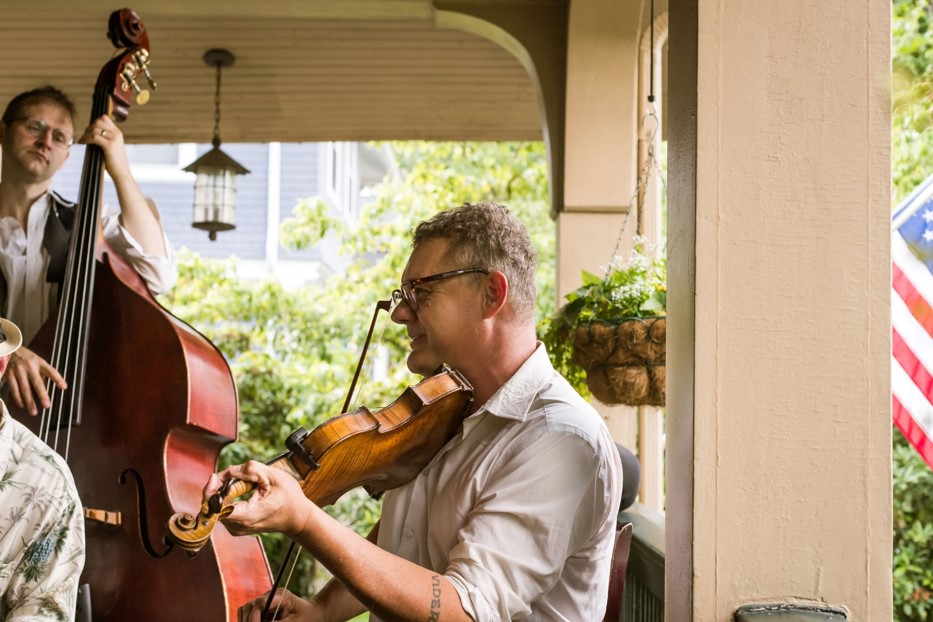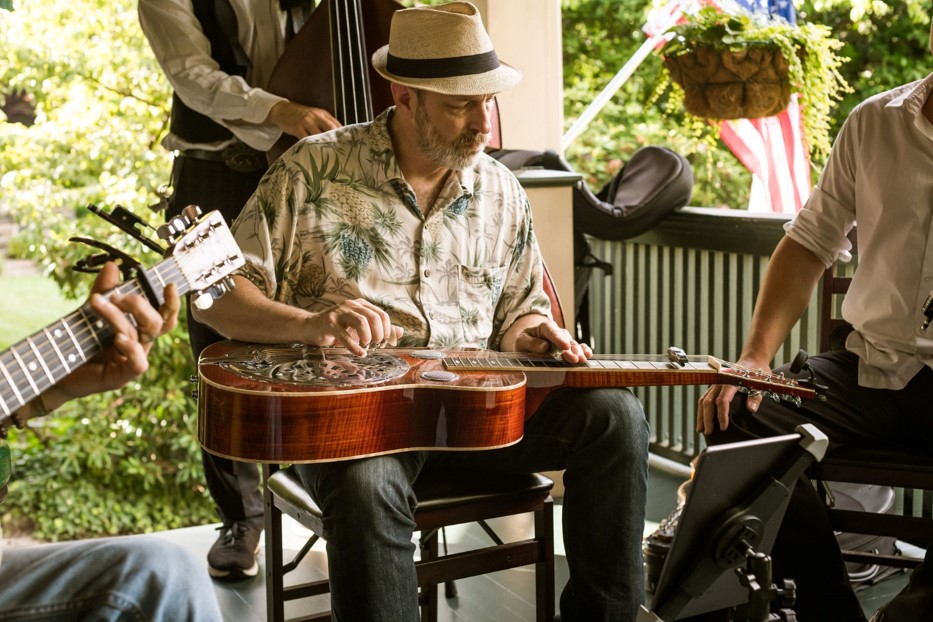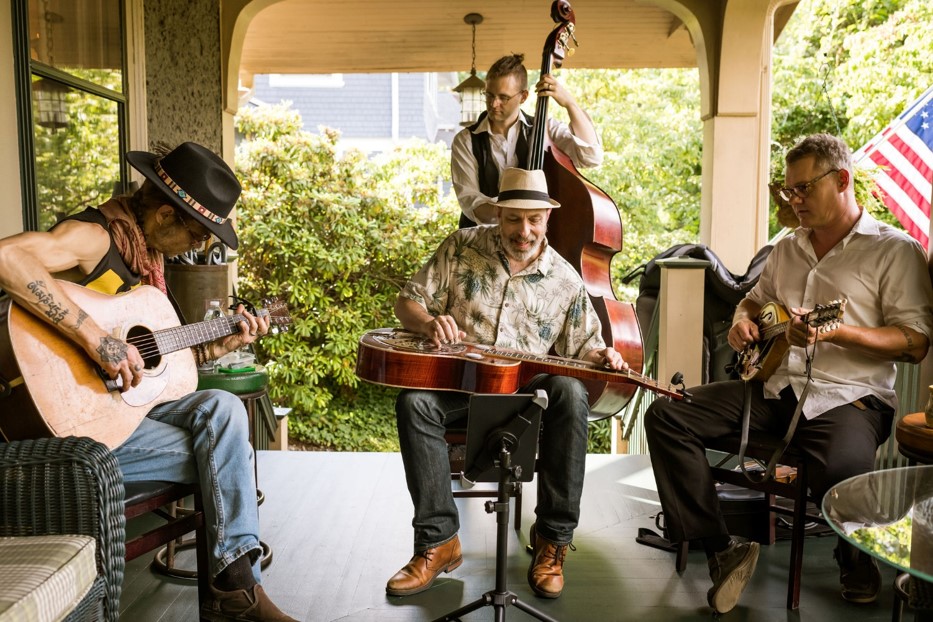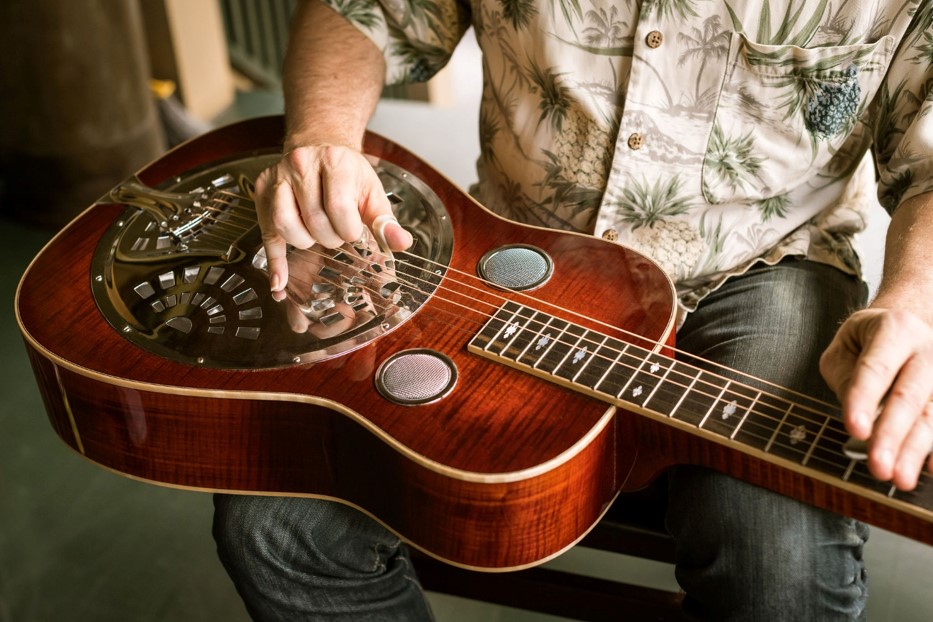 Weekly on Saturdays from 6-7 pm
Imagine: The sun is fading and your Asheville Saturday of exploring is slowly shifting into an evening of live mountain music. Welcome to 1900 Inn on Montford, your opportunity to experience mountain music like a local. Let us paint a picture of what each and every Saturday night looks like from our front porch.
Asheville has been gaining traction as a hotspot for American music for decades and is the home of many heritage musicians who offer a mix of bluegrass, folk, and country. We love leaning into our local Asheville music scene and invite any musically-minded travelers to join us in dancing to our Saturday happy hour filled with wine, beer, sparkling water, and of course live music. 
When we first visited the inn, we listened to the live music ourselves as we sipped and sang into our Saturday night. It was intimate. It was full of life. And it was surely a tradition we wanted to keep alive. For over 15 years, we have invited guests and locals to come join and enjoy live tunes on our expansive front porch. (Yes, it's a social-distancing-approved activity!)
As music-lovers ourselves, we find it important to introduce the deep-seated local music of the mountains to our guests as it brings a full-circle feel to each and every Beer City experience. 
What to expect?
From toe-tapping to joining in on a yodel to wiping a teary eye after a soulful serenade, we love watching our guests let the music hit them. We'll fill your glass and you'll settle into your spot on the front porch as the songful social hour starts at 6:00 PM. When the weather gets colder, and as social distancing guidelines allow, we take the party into the front foyer and invite guests to cuddle by the fireplace as the musicians play.
With the nation's longest-running folk festival, we're proud of the musicians that tie our city together.
Ben Scales, local dobro player and guitarist, makes the magic happen every Saturday evening. He is our lead musician and our go-to for anyone searching for a wedding officiant. Week to week, Ben puts together the group that will play. To date, our porch and foyer have been blessed by the melodies and rhythms of about 40 different local artists. Here is a sample of our frequent fliers:
Emmeline Scales | Fiddle, Ukulele, Voice – Our concierge who doubles as a musician, writing and producing her own music.

Aaron "Woody" Woods | Guitar – Woody has had experiences as a solo artist opening for the Marshall Tucker Band and has also played with the Sufi Brothers, Custard Pie, and Hollywood Red. He calls Asheville his home but bounces between the mountains and New Orleans, having played at the New Orleans Jazz and Heritage Festival.

Marty and Don Lewis | String Instruments – Their father Ralph Lewis played with Bill Monroe, who is considered the "Father of Bluegrass."  Marty and Don have played at the Grand Ole Opry and HeeHaw and are well versed with any string instrument!

Andy Pond | Banjo and Mandolin – One of the

Pond Brothers

, a local group who created the self-dubbed genre of "Bluegrasstafari". 

Paul "Tall Paul" Leech | Bass – Plays with the Sufi Brothers, an Asheville born-and-bred duo famous for improvising sets.

Jason Krekel | Mandolin and Fiddle – His father played with Jimmy Buffet.  Jason's main musical projects are the

Krektones

, the

Sufi Brothers

, and

Krekel and Whoa

. In addition, he plays Americana fusion with Snake Oil Medicine Show and old-time hot jazz with the

Firecracker Jazz Band

.

Rob Parks | Bass and Guitar – Played with Bobby Hicks, a Grammy Award winning American bluegrass fiddler.

Dan Ullom | Mandolin and Fiddle – Hailing from Washington State, his passion is picking the mandolin; his latest project is a bass / mandolin / guitar trio called the

Rain City Ramblers

.

Ben Peeler | Dobro and Guitar – Peeler is Shakira's guitarist who comes out to the inn to play at Christmas.
Visiting Asheville means not only exploring the city, but experiencing the culture. For us, culture means music and community. We are proud to support local artists and give them a platform (or at least our front porch) to perform.
So settle in, bottoms up, and boogie down with us at the 1900 Inn on Montford every Saturday evening from 6:00-7:00 PM. We can't wait to have you!