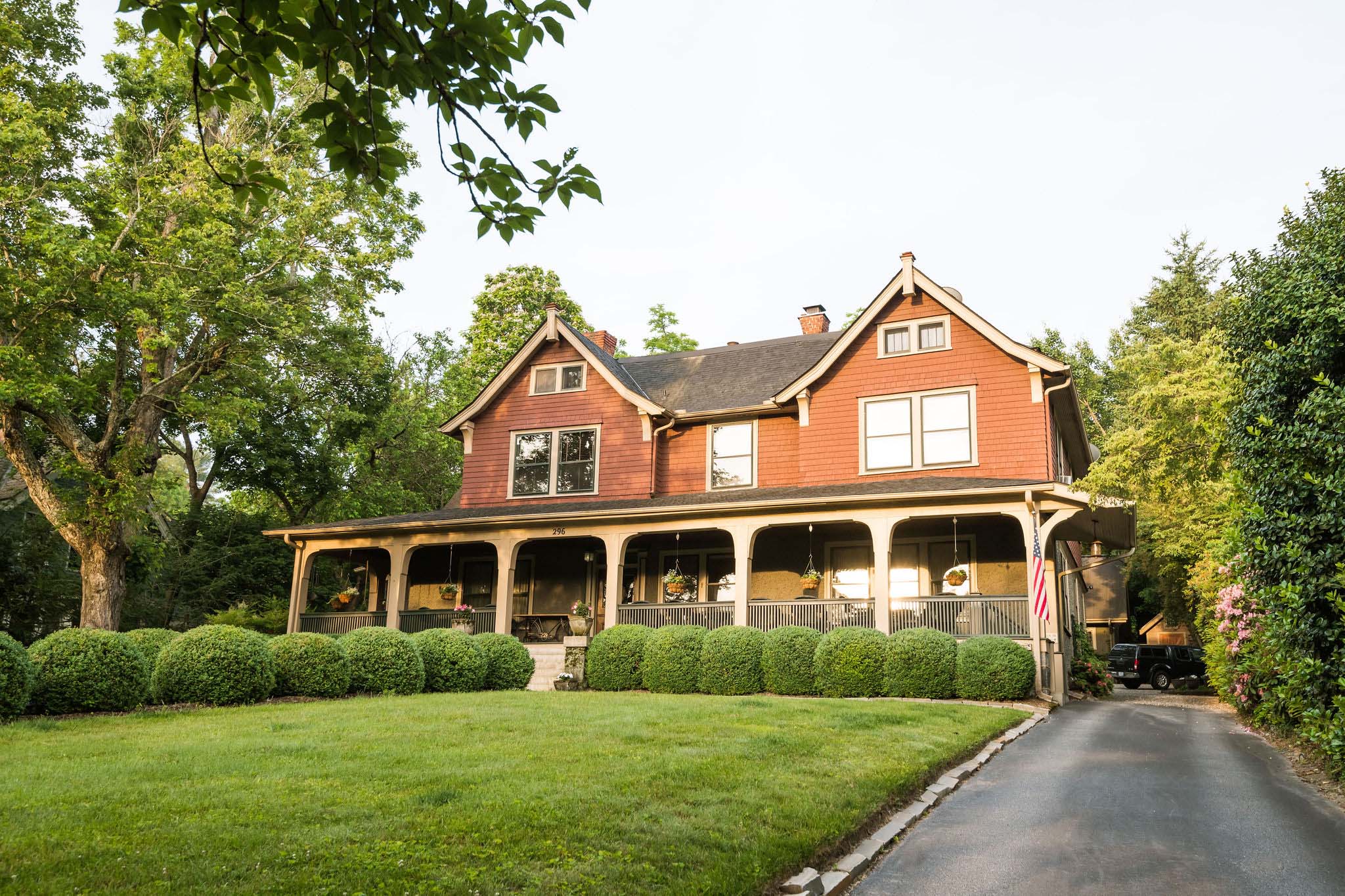 What do you look forward to when you visit a new city or town?
Unique arts and culture? Low-key sight-seeing?
Do you like to experience the spirit of a place and get a feel for the history that makes it special?
If you're nodding your head along, the historic Montford area of Asheville might be just the right place for your next getaway.
Innkeeper Shawnie grew up on military bases, which gave her an appreciation for historic homes as well as travel.
So it's not surprising that we (Shawnie and Willy) eventually found ourselves here, welcoming guests from all over the world to our historic Montford bed and breakfast.
We love that our inn is walking distance from downtown Asheville, for when we're in the mood for museums, galleries, and that city energy. But we also appreciate being tucked away in the sleepy, tree-lined Montford Area Historic District, which is rich with history and a culture of its own.
We wanted to share a few reasons why we love that our bed and breakfast is located here in historic Montford — and we hope that you will, too.
City meets country, the perfect mix
We love that our guests are able to enjoy a relaxing breakfast on our front porch and stroll around experiencing the Montford neighborhood, and then easily head a short distance to downtown to explore and enjoy all that Asheville has to offer.
Excellent food a short stroll away
Asheville has a reputation for delicious, high caliber food — and Montford certainly delivers. We have three beloved neighborhood restaurants to walk to (Nine Mile, Chiesa, and All Day Darling). 
Our spacious southern porch
Expansive front porches are common in Montford, and our inn is no exception. Porch time is usually a highlight of guest stays. It's where we host our popular mountain music Saturdays, and where most guests choose to enjoy our gourmet breakfast. We love to sit on our porch with guests and enjoy music, conversation, and wine!
Montford once had a mayor!
Today, Montford is an architecturally rich neighborhood known as a historic area in Asheville. But in 1893, Montford was actually a sovereign community of about 50 local business owners and their families. In fact, the 300 acre area even had a mayor (its first and only) — James E. Rumbough. (Learn more about Montford's history here.)
A designated historic area
In 1977, most of Montford was designated as a Historic District on the National Register of Historic Places. Imagine the treat of getting to see such a wonderful collection of historic homes dating from 1890 – 1920's — all as different and special as the owners that first lived and loved in them.
Trolleys were here
You can thank the trolleys for our roomy Montford main street. Throughout the late 1800s and early 1900s, streetcars ran right down the middle of Montford Ave., which is why it is so nice and wide. Wouldn't it be neat to still have that trolley connecting our guests to Asheville downtown, West Asheville, and the River Arts District?
Neighborhood arts and music
The Montford Music & Arts Festival is the longest-running (16 years) and only free-to-the-public festival in the greater Asheville area. What a wonderful thing to have some of the best local music and art in Asheville come to our street!
We love being Greek for a Day!
The Greek Festival is presented by The Holy Trinity Greek Orthodox Church of Asheville. It was founded in 1922 by a handful of Greek immigrants, and today there are over 150 families with many children. The food is as tasty as it smells. Don't fear the line, this community moves a que as fast as Chick-Fil-A. Activities include traditional Greek folk dancing, cooking classes, and jewelry and crafts. Relax and enjoy some imported Greek wine or expertly brewed Greek coffee.  Take a tour of the church, that is deep in history in itself. Learn about the history of the parish, church architecture and Orthodox liturgical practices.
Montford's Park
We love our neighborhood park, with all those great old trees that make it feel like a retreat. They neighborhood has recently renovated the tennis, pickleball, and basketball courts. The neighborhood and guest pets love it too!
Stroll through history
Dating back to 1885, Montford's Victorian Riverside Cemetery is a favorite walking spot for locals, with over 9,000 artistic monuments and family mausoleums. We love that just walking through the shady lanes, you get to experience the diversity of the Asheville community throughout the past 135 years. In the Victorian era people would have picnics and stroll amongst their ancestors. It's said that several ghosts haunt this cemetery, including two small children whose laughter can be heard on misty mornings, and an old man who wanders amongst the gravestones, even in the middle of the day.
We hope you enjoyed learning some of our favorite things about Montford.
What do you think? Anything pique your interest for your visit?
Have questions? Call us anytime – 800-254-9569. We can't wait to hear from you!
Feeling inspired to learn more about our inn? Explore our guest rooms here.