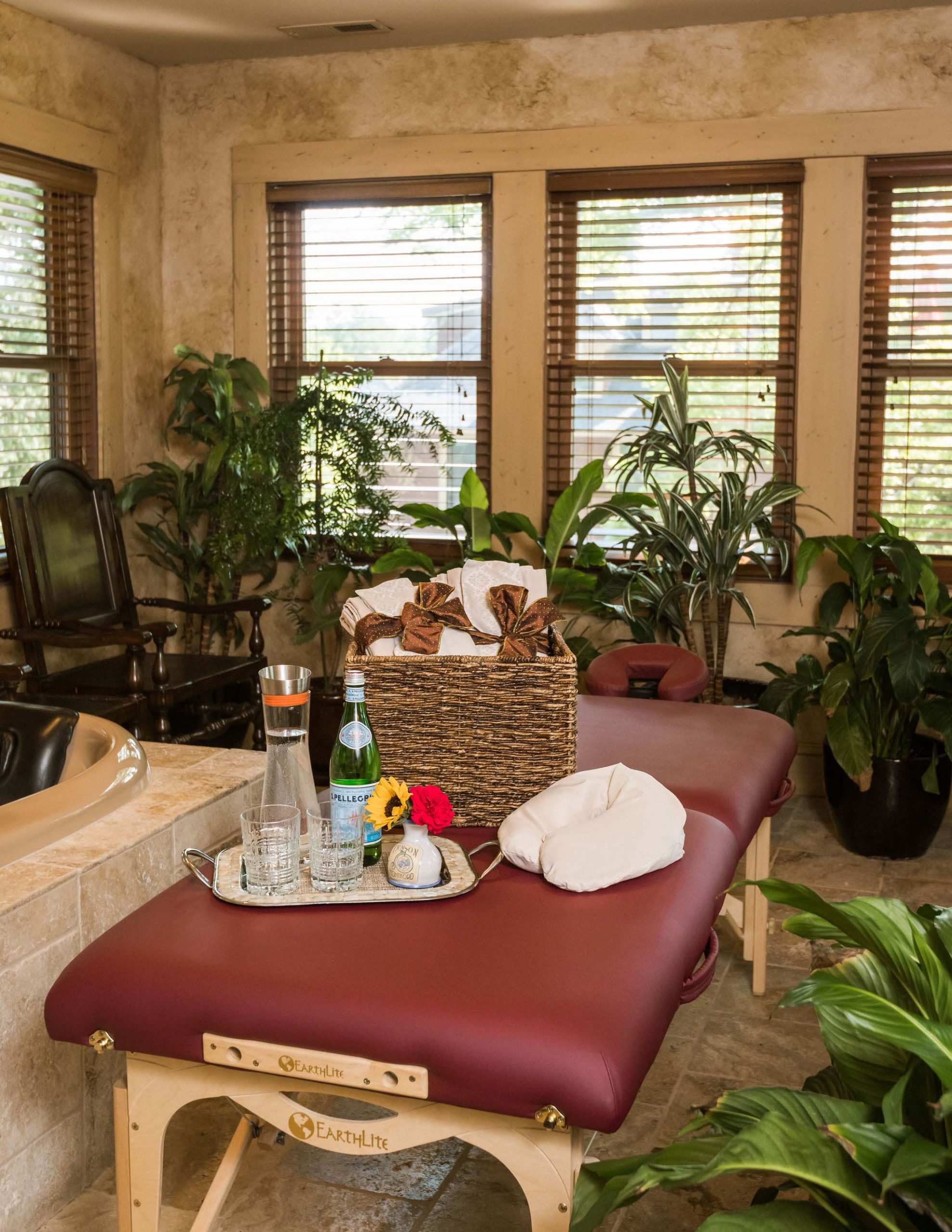 From stress management to boosting mental health, benefits of massage therapy are wide ranging.
Plus — looking past all the scientific benefits — massages are a real treat. If you're asking us, massage therapy plays a crucial role in a self-care focused getaway to help you relax, unwind, and let your tension float away.
If you've added an in-room massage to your stay here at the Inn on Montford, you may be wondering what exactly the experience will be like. And if you're still considering, let this be your guide to what to expect if you choose to add a massage session to your getaway.
How to prep for your in-room massage at the Inn on Montford
Drinks on us
First, you'll be treated to mineral water infused with lemon and lime, delivered straight to your room.
Delicious, yes. And also a crucial part of your massage experience. Enjoy a calming glass to start — and make sure you indulge after your massage, too. Your massage will release toxins, and hydrating will help rid the body of those impurities.
Along with the infused water, you'll be provided with heated Comphy neck wraps to help loosen up those neck and shoulder muscles.
Pre Massage Luxury in Your Room
A quality tub and shower experience can make or break a leisure getaway, which is why we've paid special attention to the bathrooms in each of our rooms. (Our Cloisters bathroom was even chosen by Smarter Travel as one of the top ten most gorgeous hotel bathrooms in the world.)
They're each a little different! From a Shiatsu whirlpool massage tub to a ceiling mounted "rain shower" — no matter which room you stay in, luxury is waiting for you.
Here are a few of the choices you'll have the opportunity to indulge in, so you can begin relaxing even before your massage.
Depending on which room you book, you can enjoy:
Shower scrub for cleansing and exfoliation

Steam Bath for pore extraction and revitalization

Soaking Tub with emollient salts for relaxation and restoration

Whirlpool Tub with exhilarating Shiatsu water massage

Chromatherapy to stimulate interactive brainwaves for the ultimate in relaxation

Aromatherapy
What to Expect During your Massage
The Main Event
Our massage tables are outfitted in luxury Comphy Sheet linens.  
We offer two massage types:
1 or 1.5 hour Swedish/Relaxation Massage
Designed primarily for relaxation, a Swedish massage includes long, gliding strokes in the direction of your heart. But beyond loosening up your muscles, Swedish massage also can help increase the level of oxygen in your blood, plus improve circulation — and even flexibility. 
1 or 1.5 hour Deep Tissue Massage
Deep tissue massage focuses on releasing chronic tension and pain through therapeutic massage. It includes more sustained pressure with deeper strokes designed to release tension and target deep layers of your muscles and connective tissues.
How to take care of yourself after your massage
Post Massage: Let Yourself Rest
After a massage, respect how your body feels.
If your body asks for rest, give into that demand and crawl back into our luxurious microfiber sheets for that much needed nap. Go with the flow and back off the to-dos for the afternoon. Take it easy, move slower and don't overdo it.
Enjoy that nap and allow your body to absorb the effects of your 1900 Inn on Montford Spa Experience and regain your vitality
Unwind With Your In-Room Massage
If you're looking to make the most out of your visit to the Inn on Montford, you can simply click the "add massage" box when you book your room.
Learn more about our massage package, including rates and how to book, here.