There is something so bewitching about walking through an old neighborhood, one that still echoes the times it was built in. Here you are, strolling along Montford's tree-lined avenues, where O. Henry might have walked dreaming up his short stories; or taking in the town Zelda Fitzgerald may have gazed upon while she recovered at Highland Hospital. 
And then you come upon 1900 Inn on Montford, a classic Asheville bed and breakfast. Once a surgeon's family home, this 120-year-old is one of Montford's finest, listed on the National Register of Historic Places. Montford was almost wholly built upon the vision of Richard Sharp Smith, a prolific architect who swept his signature style across Asheville, giving it its distinctive feel. This quaint building, a beautiful amalgamation of Arts and Crafts, Queen Anne, and Neoclassical styles is quintessential Smith and a lovely place to visit.
So well-preserved is this building (the Inn received the Griffin Historic Preservation Award from the Preservation Society of Asheville and Buncombe County) that stepping in, you feel as though you've entered a cusp in time, with one foot in the past and the other firmly rooted in the present. And that's because of the great care Willy and Shawnie take keeping the Inn updated with modern comforts while still retaining the essential character of its history.
How We're Making Our Asheville Bed & Breakfast Experience Intentional
Ever since we acquired the inn 5 years ago, we've committed to doing at least one renovation project each year to keep up with the times. And it's not just regular maintenance work—renovating the inn is very much an artistic endeavor, one that involves a lot of intentionality and attention to detail. "In keeping with the character of the inn as an old home, you do have to be careful with what you pick so it doesn't look too modern," says Willy. 
Our favorite focus is usually the bathrooms, as we've noticed that our guests often pick the guest room they want to stay in because of their unique features, like the steam showers, heated floors, and lavish jacuzzi tubs, just to name a few.
"People love to stay in old homes but don't necessarily want to shower in an old shower," says Shawnie. "Luxurious bathrooms add a lot of value to people's experiences. They get the culture of staying in an old home, but they also experience a modern, updated bathroom that they don't necessarily have at their home either." 
Renovating 1900 Inn on Montford's  Zelda Bathroom
Zelda's Retreat, at 1000 sq. ft., is 1900 Inn on Montford's most luxurious, secluded 5-room suite in the main house. And the bathroom, though it's served guests well for about a decade, needed a befitting upgrade. "About 8-10 years ago, the previous innkeepers installed a brand new steam shower," says Willy. "It's in great shape, so we didn't touch that during this renovation. But we decided to redo the rest of the bathroom." Our innkeepers retiled the bathroom, put in a new soaker tub, and a new, much larger vanity tub! Except for the steam shower, the bathroom is almost entirely new, and the gorgeous makeover gives the suite a luxury experience, one that flapper Zelda Fitzgerald would have enjoyed herself!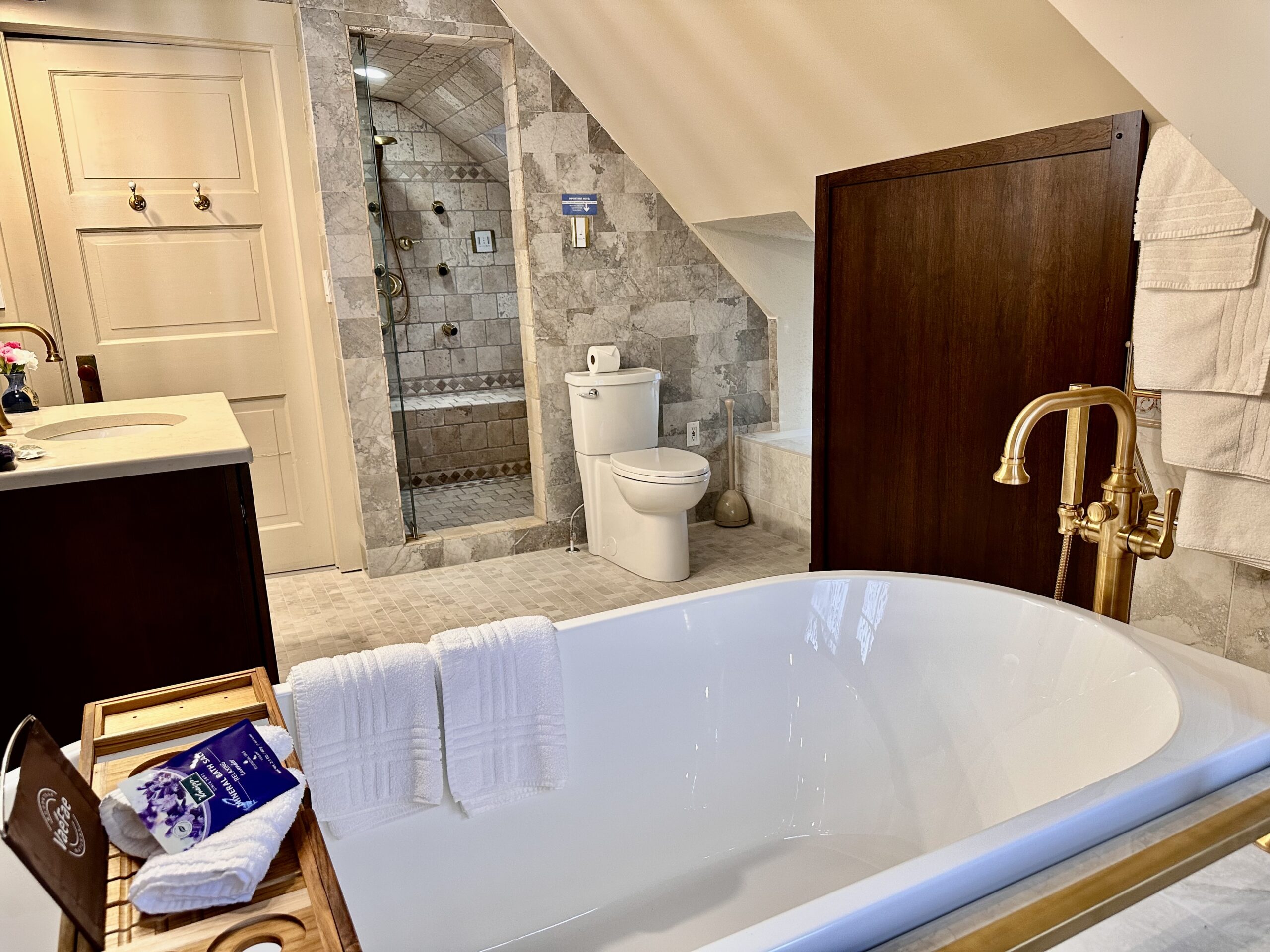 Design & Process
Redesigning anything at 1900 Inn on Montford is a creative thrill. From imagining new colors and materials to shopping for tiles, Willy and Shawnie are very deeply involved in the process, which starts at least a year before the renovation date. We work closely with a talented designer from Benbow Associates in Asheville to dream up and do up the spaces at the inn. But we're careful not to alter the entire character of the bathrooms or rooms we're renovating because history is the whole essence of the house's beauty.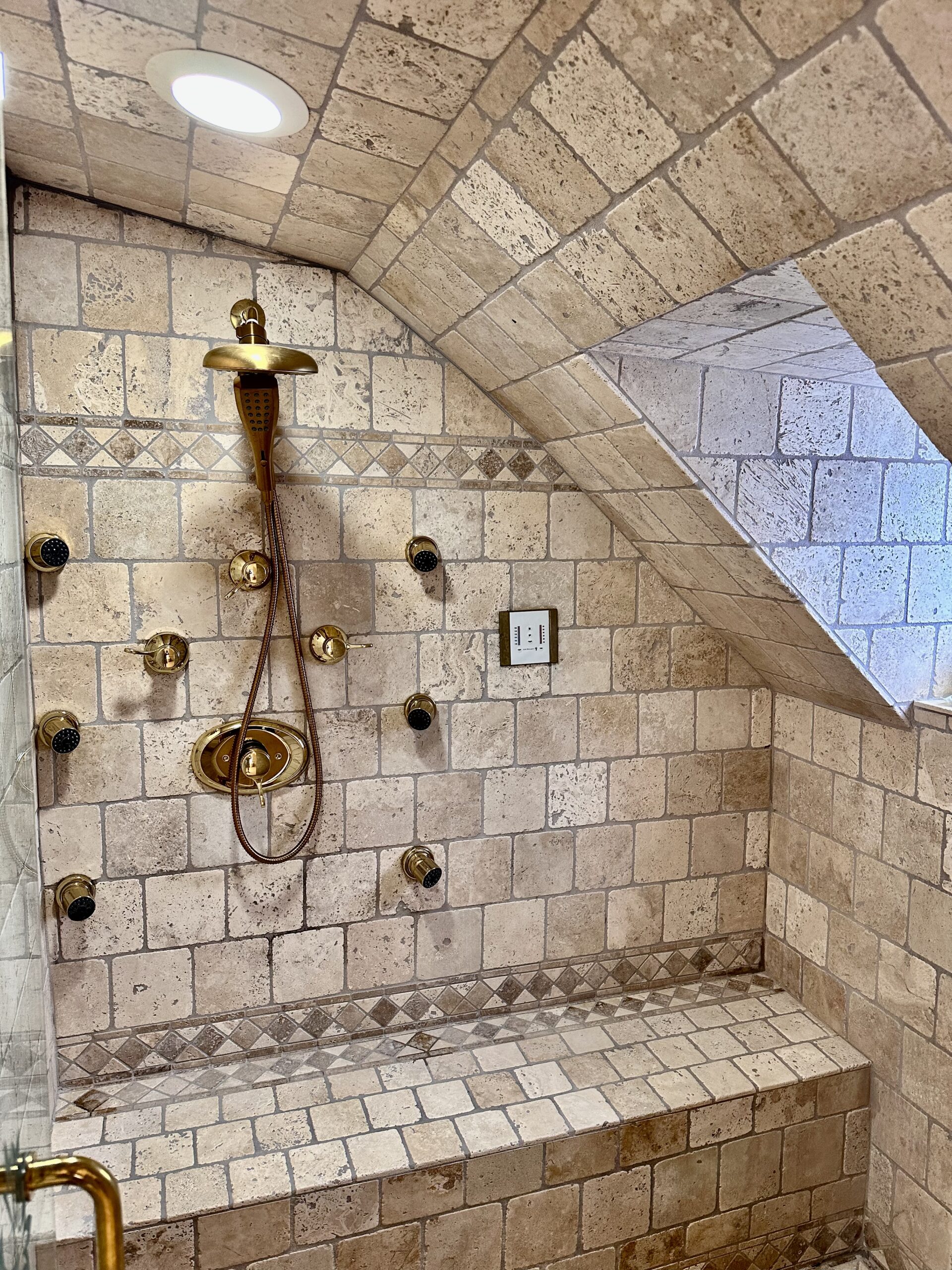 Come stay at the all-new Zelda's Retreat!
SO much love and energy have gone into making Zelda's Retreat the most beautiful it can be. Not only do you have a contemporary, upscale bathroom with a tub where you can luxuriate for hours, you also get FULL ACCESS to the entire floor and five rooms, with a lovely private sit-out where you can enjoy your coffee and nibble on Shawnie's legendary cookies. Spend some quality time with your loved ones or maybe even work on your personal project in peace and privacy at Zelda's Retreat. Book now!