The Inn on Montford: A Historic Inn of America
Hello and welcome! We're Shawnie and Willy, your innkeepers and hosts during your stay at the Inn on Montford.
One of the things we love most about the Inn is its rich history. There's a fascinating story behind just about everything here at the Inn! We love diving deep into these stories while you're with us, over coffee or a cocktail or one of Shawnie's delicious chocolate croissants.
But first, we can offer you a little taste here. (Of the history, not the chocolate croissant, unfortunately!)
Asheville's most historic neighborhood
There's a reason leafy, idyllic Montford is known as Asheville's most historic neighborhood.
In 1893, a small area one mile north of Battery Hill Park was incorporated, and Montford was born. It was autonomous from Asheville––and even had its own mayor!––before being annexed by the city in 1905. 
The neighborhood we now know as Montford was developed by George Willis Pack, a midwestern lumber magnate who had settled in Asheville. Today, Pack is best known for his philanthropy, including helping create the town's library and public square, as well as Montford Park. 
Little by little, the area became home to many of Asheville's doctors, lawyers, businesspeople, and architects, as well as many working-class families. 
A few local personalities were immortalized as characters in Asheville author Thomas Wolfe's debut novel Look Homeward, Angel, widely thought to be mostly autobiographical. One of our guestrooms is named in Wolfe's honor!
Another guestroom honors Zelda Fitzgerald, novelist, painter, and wife of author F. Scott Fitzgerald. She died tragically in a 1948 fire in the former Highland Hospital, which was located off the north end of Montford Avenue.
The Montford neighborhood earned its spot on the National Register of Historic Places in 1977, and it was designated a Historic District the same year.
Biltmore's architect opens an Asheville firm
Montford's rich history can be seen to this day in its mixture of architectural influences. Though people often call it "Victorian," you'll encounter a wide swath of styles here, including late Victorian, Greek Revival (found in Montford's oldest surviving home, the 1846 Rankin House), Queen Anne, Colonial Revival, Neoclassical, and more.
And perhaps no one influenced this diverse architectural history more than Richard Sharp Smith.
English-born Richard Sharp Smith, a mustachioed man with a penchant for bowler hats, served as the supervising architect for the construction of the Biltmore estate. 
Smith settled in Asheville in 1896 and opened his firm to resounding success: more than sixty commissions in just the first five years.
A historic landmark
One of those commissions came from Dr. Charles Jordan, a local surgeon who served in the Spanish American War. Jordan approached Smith to commission a family residence, and Smith accepted the job. 
As in many of his commissions, Smith combined various architectural styles when designing Jordan's home, including Arts and Crafts, Queen Anne, and Neoclassical. He also used earth tones and a combination of different textures, a signature style that can be found on many Asheville buildings to this day. 
Smith included the house in his 1901 publication My Sketchbook, and it's considered one of his residential masterpieces. 
You can browse through a copy of the plans in our sunroom. The originals are kept by the Historic Resource Commission of Asheville and Buncombe County. 
Want to read more about this story? Check out our app, where you can find more about Richard Sharp Smith and the historical figures behind the names of our guest rooms.
In 1993, the Inn was listed on the National Register of Historic Places. And in 2012, the Inn received the Griffin Historic Preservation Award from the Preservation Society of Asheville and Buncombe County. We're particularly proud of these honors, as they recognize the Inn as a place where history feels alive!
New life for a historic home
After its time as a family home, the Inn became a boarding house. Just over a quarter century ago, the Inn took on new life as a bed and breakfast. We––Shawnie and Willy––were thrilled to become the owners and innkeepers in 2017. 
We discovered this Inn after traveling the US in search of a charming city where we could fulfill our dreams of running a bed and breakfast. As soon as we set foot in this historic home, we knew we'd found our place. 
And we haven't looked back since! 
A story in every nook
We love feeling like a part of history here at the Inn. But history does need some upkeep every once in a while. The Inn has evolved over the years, and many of its rooms have, too. Here are just a few of the fascinating renovations that have made their mark on our Inn.
The semi-circular sunroom was added in 1905, not long after its original construction. It's believed that Richard Sharp Smith also designed this addition.
In the Thomas Wolfe bedroom, you'll find a closet that was converted into a bath. If you feel a slight elevation change in this space, you're not imagining it! A now-covered chimney used to be in the corner, and the renovation left this little quirk behind.
In the Edith Wharton bedroom, a previous owner added a spiral staircase while dividing the home into apartments. The staircase was later removed. 
But even as builders returned the wall to its original form, something changed along the way: the mantel's corners were rounded to avoid any close calls with sharp edges upon entering the room. We speculate that in the original construction, either Smith or the builder miscalculated the mantel's location.
The Inn on Montford has a story in every nook. Sharing these stories with guests is one of our favorite parts of hosting. So while you're here, let's sit on the veranda or in front of the fireplace and have a chat if you'd like to hear more!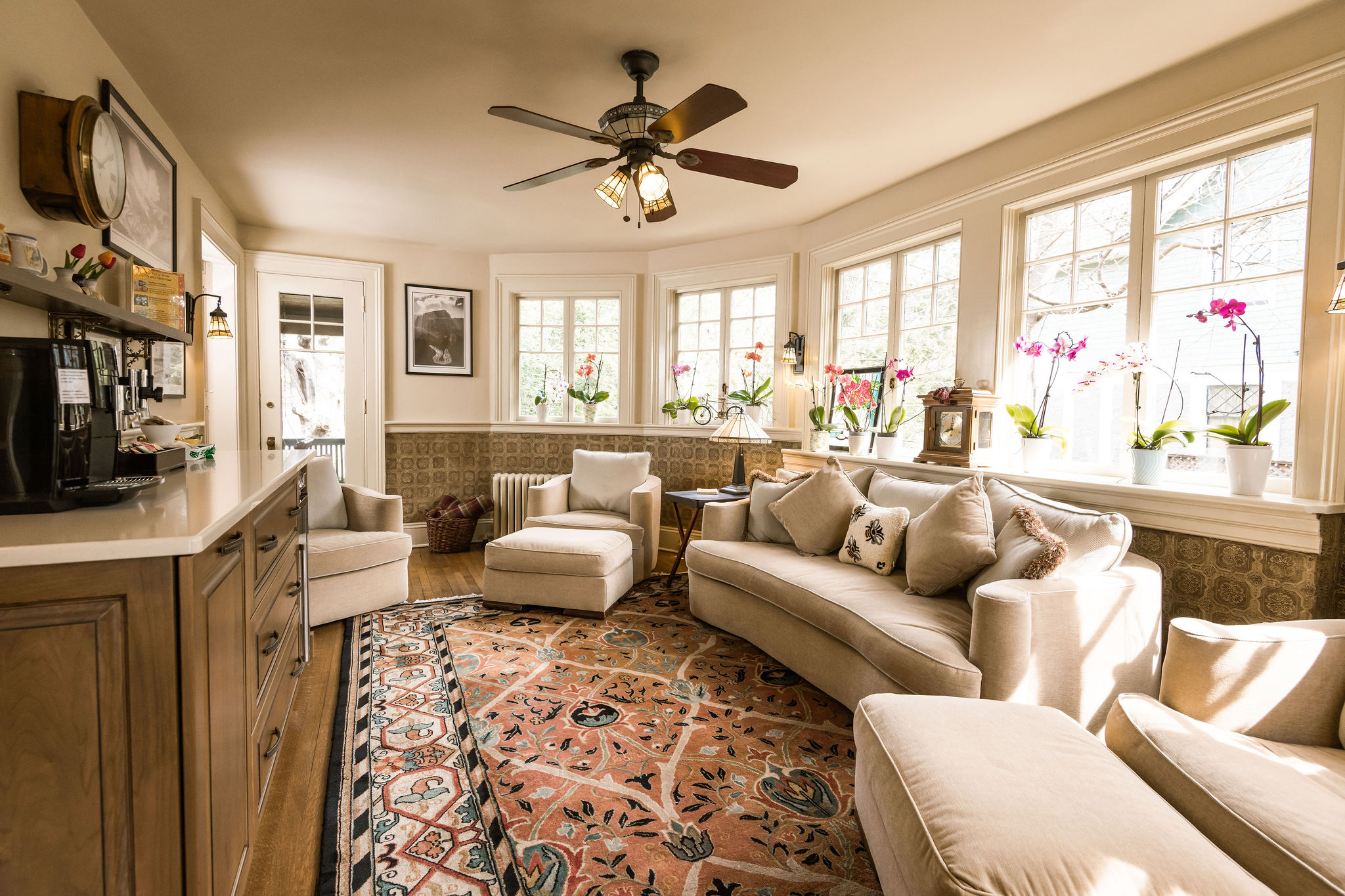 Come stay at our historic home!
Interested to find out what it's like to stay at this historic bed and breakfast? Check out our guest rooms here.
Ready to make a reservation? Great! Head to our book direct page to reserve your room in a few short clicks.