An Asheville Bed and Breakfast of Your Dreams
Have you ever had a stay so good, you can't stop thinking about it? Staying at 1900 Inn on Montford was one of those trips! The owners/innkeepers, Willy and Shawnie, have impeccably curated their inn to surpass your expectations of a bed and breakfast. We had a wonderful experience traveling as a couple with our dog.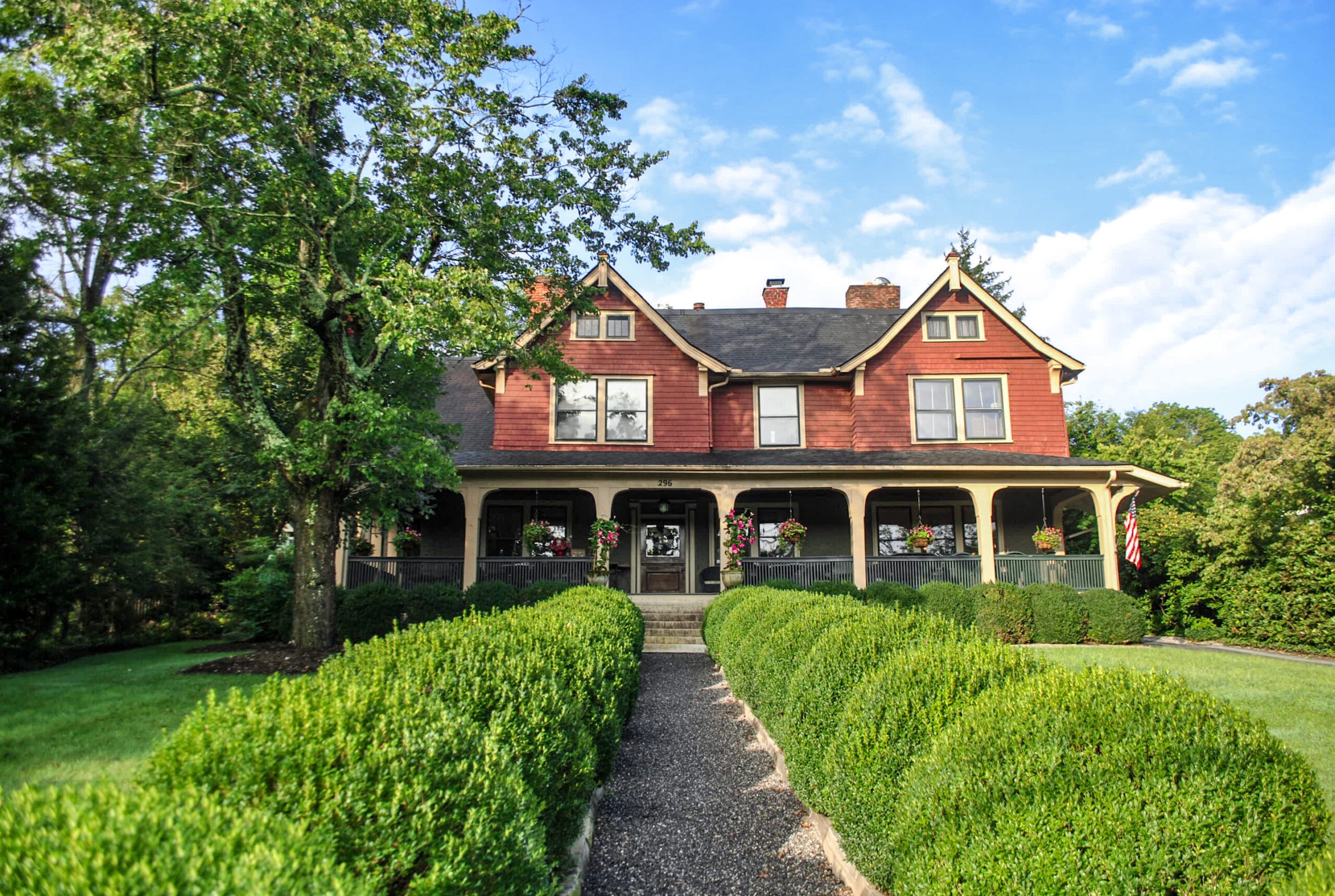 A big reason why we wanted to stay at this inn was for its fantastic location. Having visited Asheville a couple times before, we wanted to be close to downtown's vibrant scene, but far enough away to relax. We wanted to bring our dog, since Asheville is known for being dog-friendly. Cue a TripAdvisor search and 1900 Inn on Montford showed up as being the #1 bed and breakfast in Asheville! The inn provided a quiet neighborhood setting, just a 10-minute drive north of downtown Asheville with dog-friendly suites. The perfect choice for us!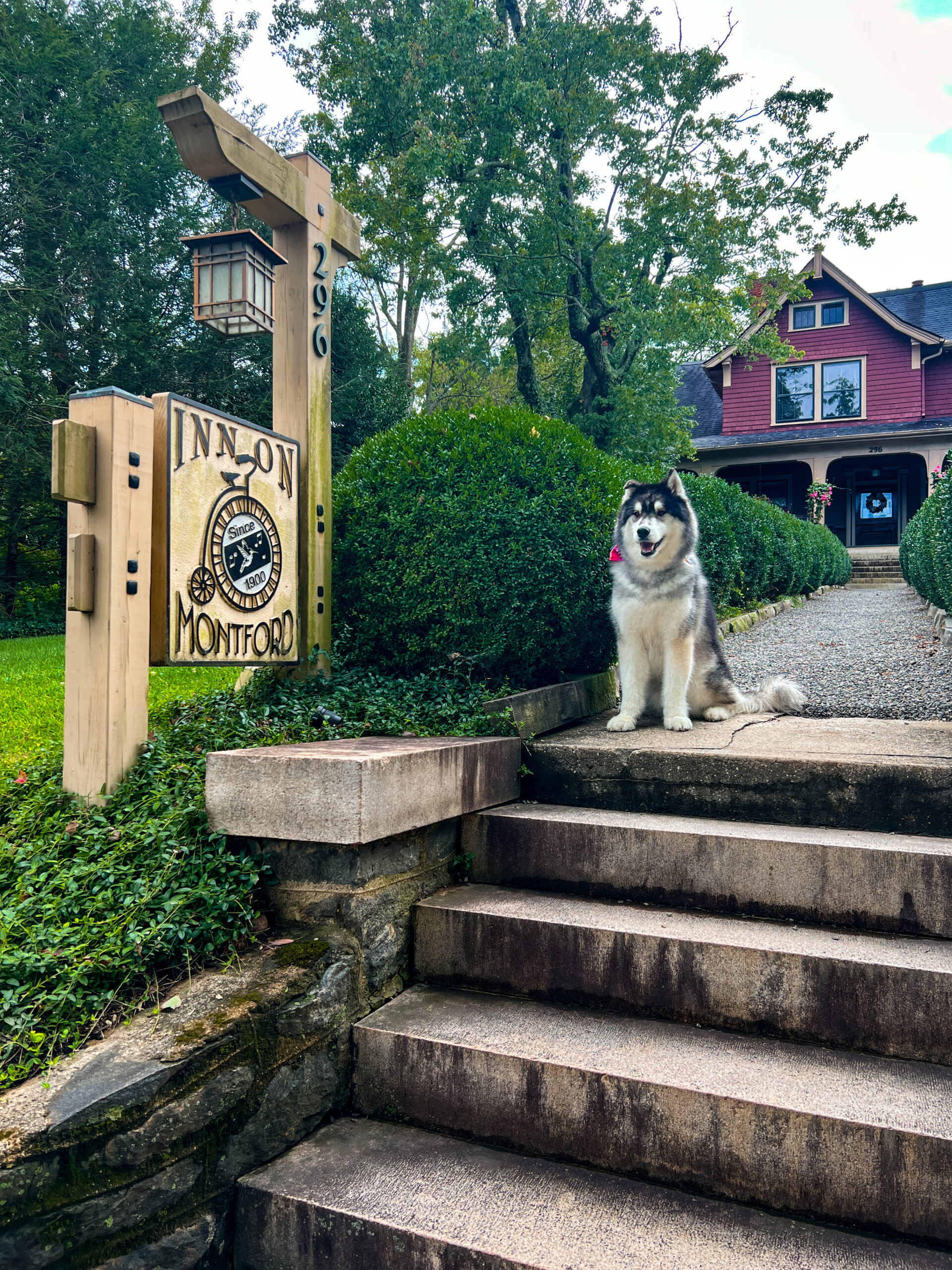 Checking In to 1900 Inn on Montford
1900 Inn on Montford had our suite ready for us upon our arrival. The location was easy to find and the reserved parking spot, labeled with our suite's name, was conveniently located just steps from our private entrance. Willy met us outside, offering a tour of our room and the gorgeous property. We were so impressed with what we saw, and loved the personal touches Willy and Shawnie have procured; photographs taken by their son, cross stitches done by Shawnie, custom stained glass windows, family heirlooms, rare typewriters, commissioned pieces to fit the Arts & Crafts style of the inn. Everything came together beautifully to create an inviting, homey atmosphere, where we instantly felt at peace. 
Staying at a Pet-friendly Bed and Breakfast: The Rossetti Suite
Typically, when we think of a suite, we think of a room with a bath, desk, TV, and kitchenette. The stunning Rossetti suite, located in the inn's dog-friendly carriage house, put our preconceived notions to shame. Every amenity, detail, and corner were thoughtfully crafted. Staying in this room feels decadent – such a treat compared to a hotel or AirBnB. 
Upon entering, Ani audibly gasped at the two-person Whirlpool jet tub. It's a centerpiece in the main living area, boasting views to the private back garden. The butler's pantry was stocked with drink and dishware, cutlery, and a chilled bottle of champagne waiting for us! Locally sourced treats, Asheville Chocolates and Poppy Handcrafted Popcorn, were welcomed surprises. A stunning bouquet, locally sourced from Encompass Farm, added such a thoughtful touch. The fireplace was its own main event; a beautiful gas feature with Inglenook seating. Another part of the large living space included two comfortable leather chairs set up in front of one of two televisions in the suite. The TV stand had a surprise dog feature; a hidden drawer revealed a trundle bed and built in food and water bowls. Kato, our dog, was in heaven! As were we. We felt quite spoiled!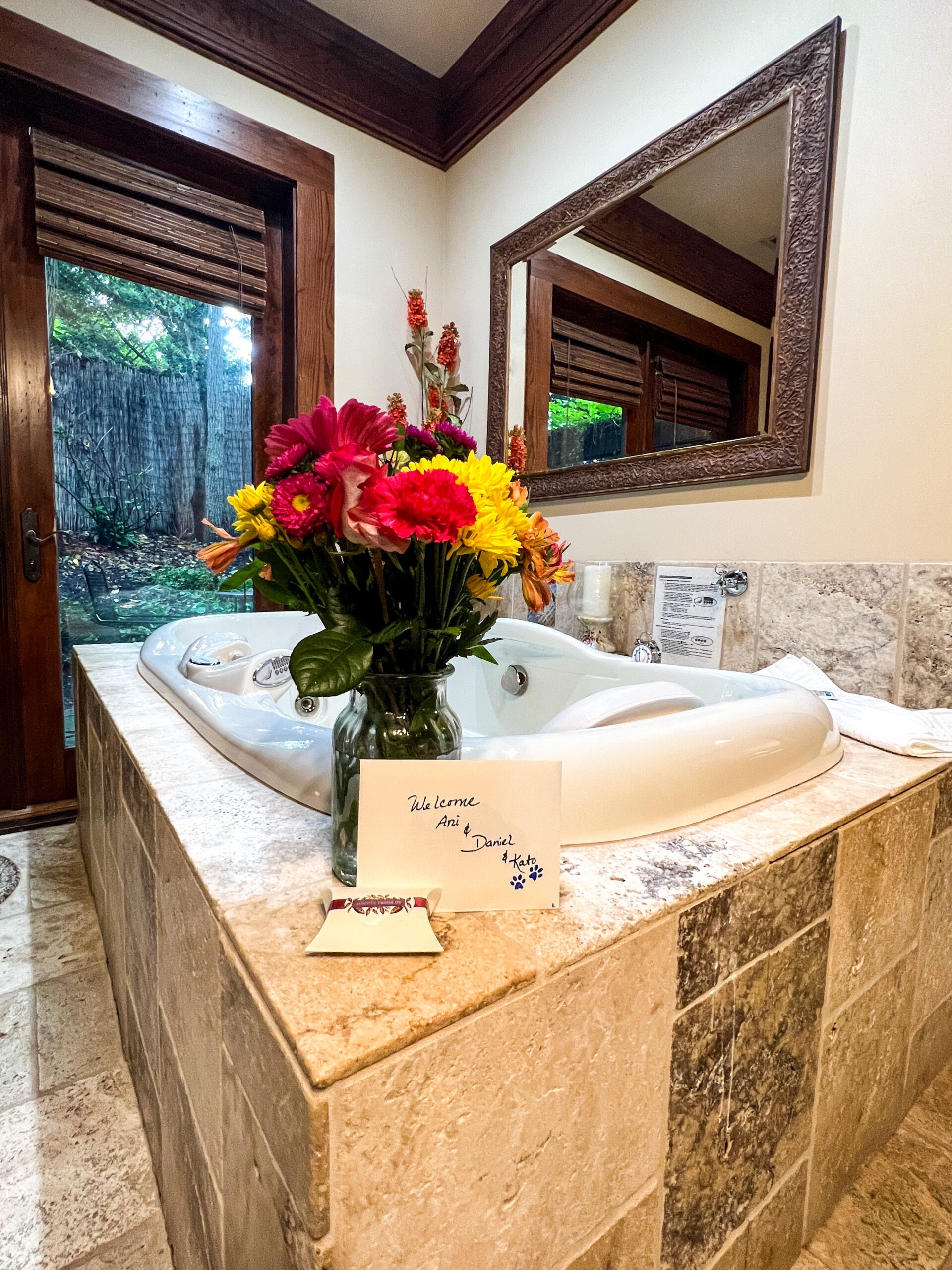 The bedroom was another masterpiece. Occupying an area separate from the living space, the king-sized bed adorned in sheets sourced from Comphy Bedding looked as inviting and comfortable as it proved to be for our restful sleeps. The bed divides the room into two spaces; to its left, the shower and storage space, and to its right, the toilet, closet, and armor with the second television. The steam shower with a heated towel rack and high end L'Occitane amenities was so luxurious! Everything we needed was provided, from a body scrubber to shampoo and conditioner, and the most comfortable robes. The storage area was the perfect place to stow luggage and find extra amenities. We loved the bathroom's lighted make-up mirror and products. The large closet was a bonus to tuck away our remaining luggage. We're still gushing about the room!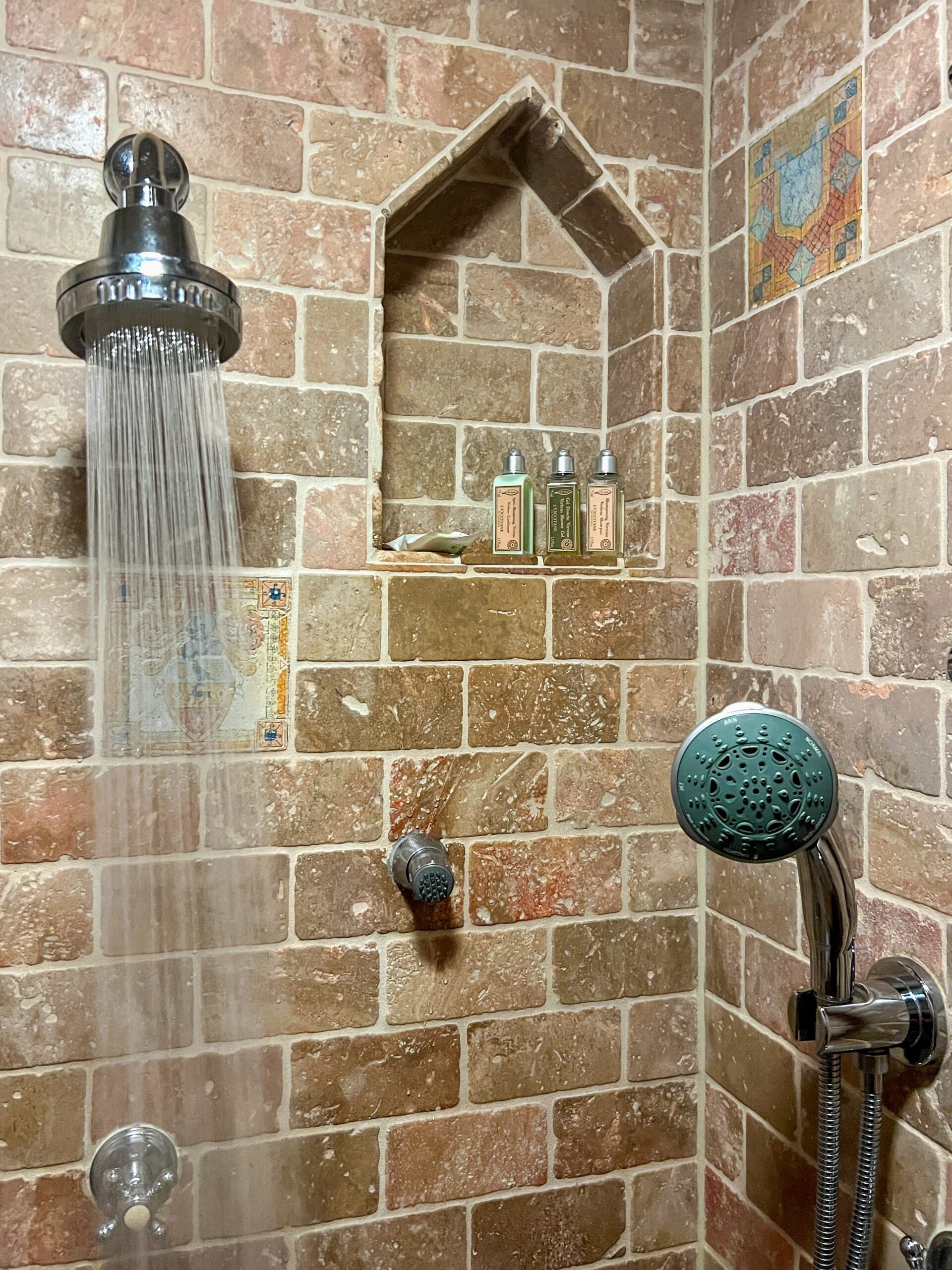 Rossetti has set the bar so high, we're not sure we'll find anything else as lovely. Guess that just means we'll be returning soon! 
1900 Inn on Montford's Breakfast & Treats 
The 1900 Inn on Montford's breakfast is the most delightful three-course meal. Whatever you're imagining, we promise it's better! We thoroughly enjoyed three breakfasts during our stay. Since the weather cooperated, we opted to have breakfast on the front porch each morning. Should we have wanted a private breakfast, Shawnie would have delivered to our suite. We saw the tray she prepared for other guests and it was lovely. For us, the views and company were too tempting not to take a comfy seat on the porch!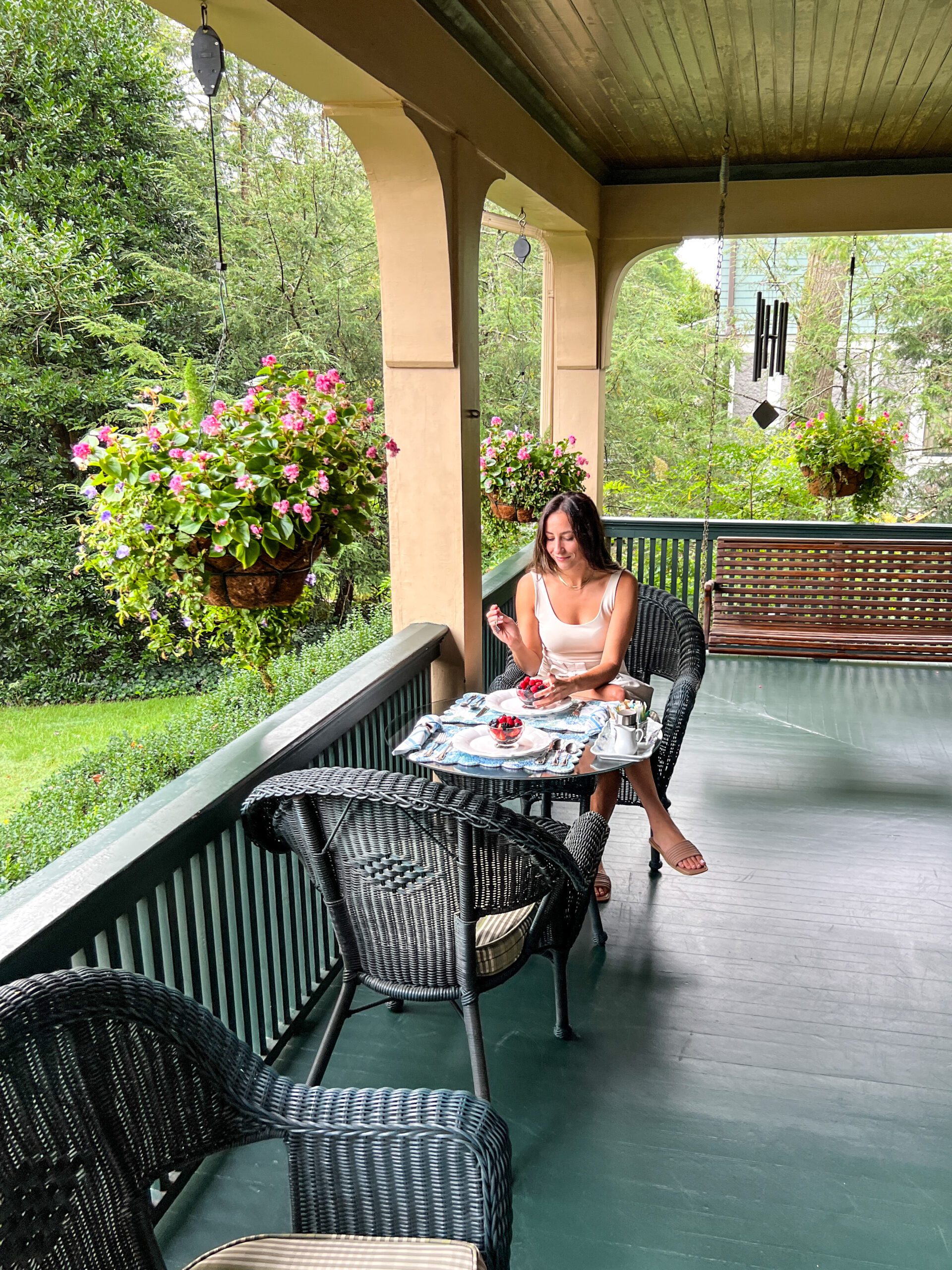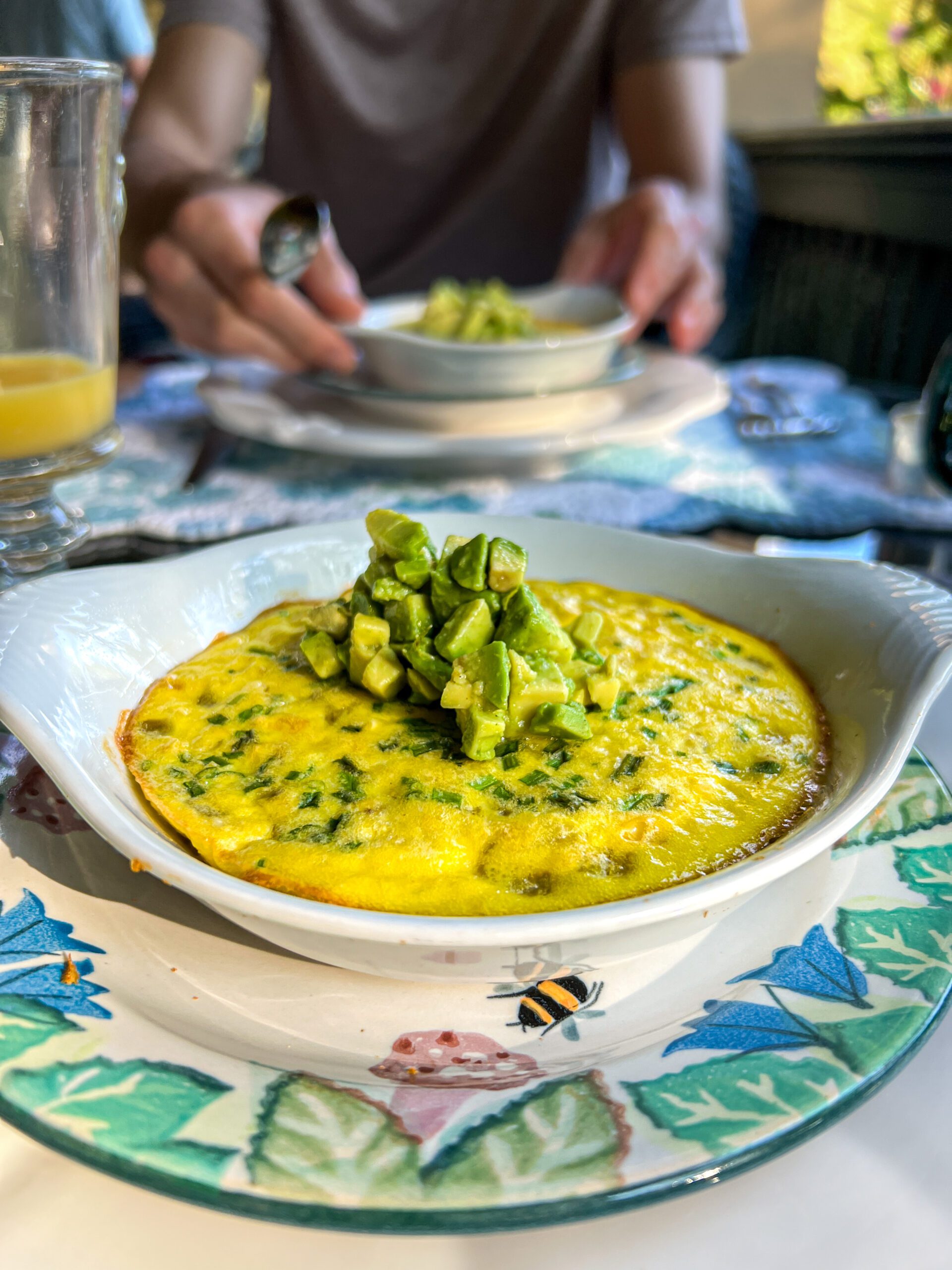 The first course was always a fresh fruit dish. Our three days of breakfasts included berries with a cinnamon essence, peaches with mascarpone cream, and mint infused watermelon with strawberries. The second course was a hot, savory dish. We enjoyed a perfect omelet with Gruyère, ham, and chives; a play on a BLT, a frittata made with Heirloom tomatoes, bacon and spinach (in lieu of the lettuce, of course); and an incredible corn pudding with avocado salsa. The first two courses were amazing, but the third course was the star! 'Breakfast dessert' is certainly going to become our new staple. Over the course of our breakfasts, we had peach and berry pie, chocolate croissants, and Swedish creme with raspberry coulis. Shawnie and Willy truly work their magic in the kitchen!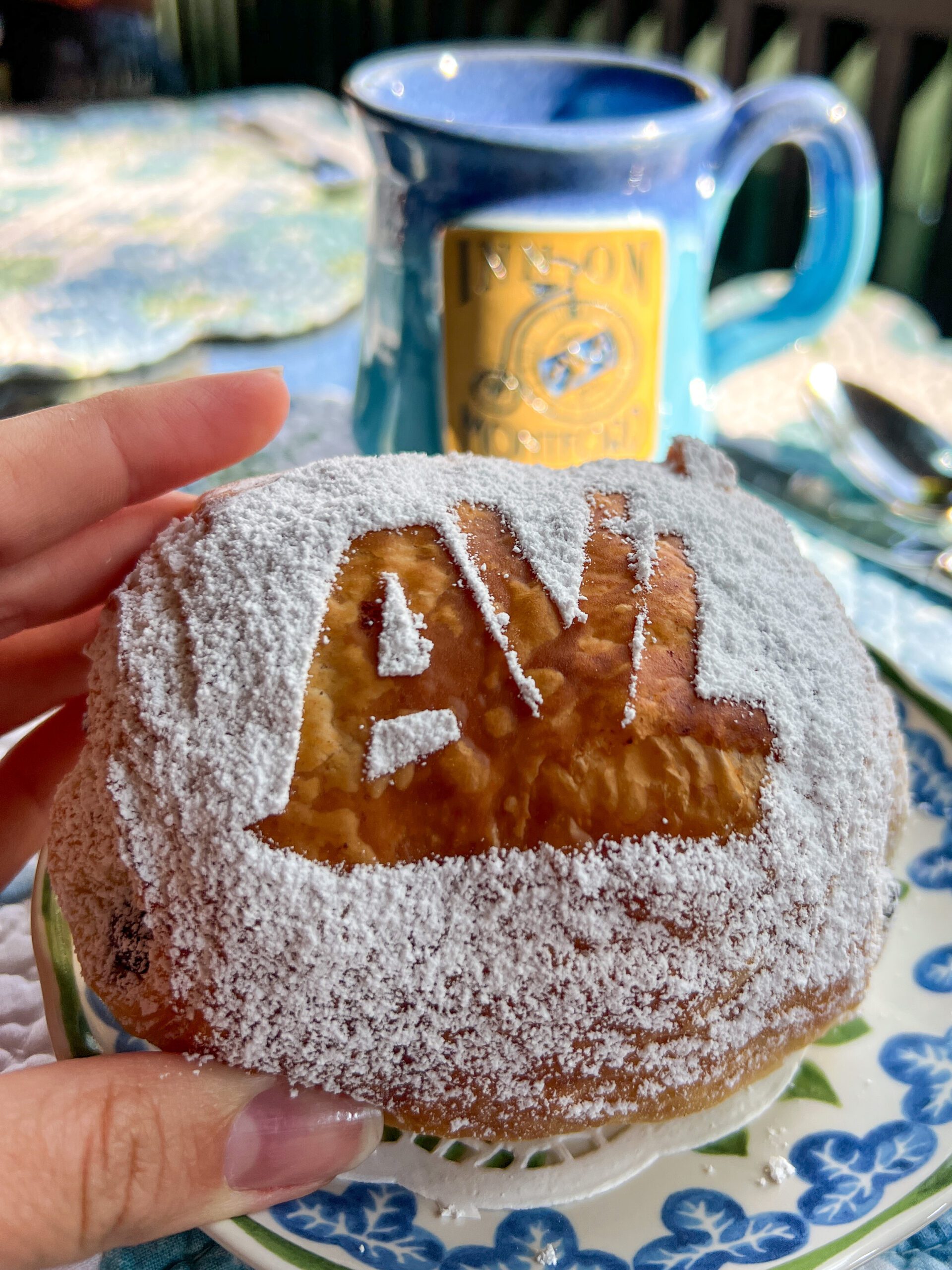 In the main house are two industrial grade espresso machines in a lovely sitting room. You have your choice of drinks, from lattes and cappuccinos to ristrettos and macchiatos. Best of all, the beans used are a special blend made just for the inn in partnership with Cooperative Coffee Roasters Asheville. The blend, called Penny Farthing Perk, is always fresh, and the machine grinds the exact amount needed for your drink, which ensures the highest quality. If you fall in love with the coffee's notes of dark chocolate, almond, and caramel, take home a couple bags to hold you over until your next visit, because you can only get this special blend from 1900 Inn on Montford.
Now, if you're anything like us, and do your homework before traveling, you'll have read about the cookies. They're certainly worth the hype. Shawnie and Willy have perfected many cookie recipes and keep an entire shelf well-stocked in the living room. Cookies are available 24/7 and change with the seasons. Our summer favorites were Oatmeal Scotchies and Double Chocolate Orange. We're already planning a comeback – we must try every cookie!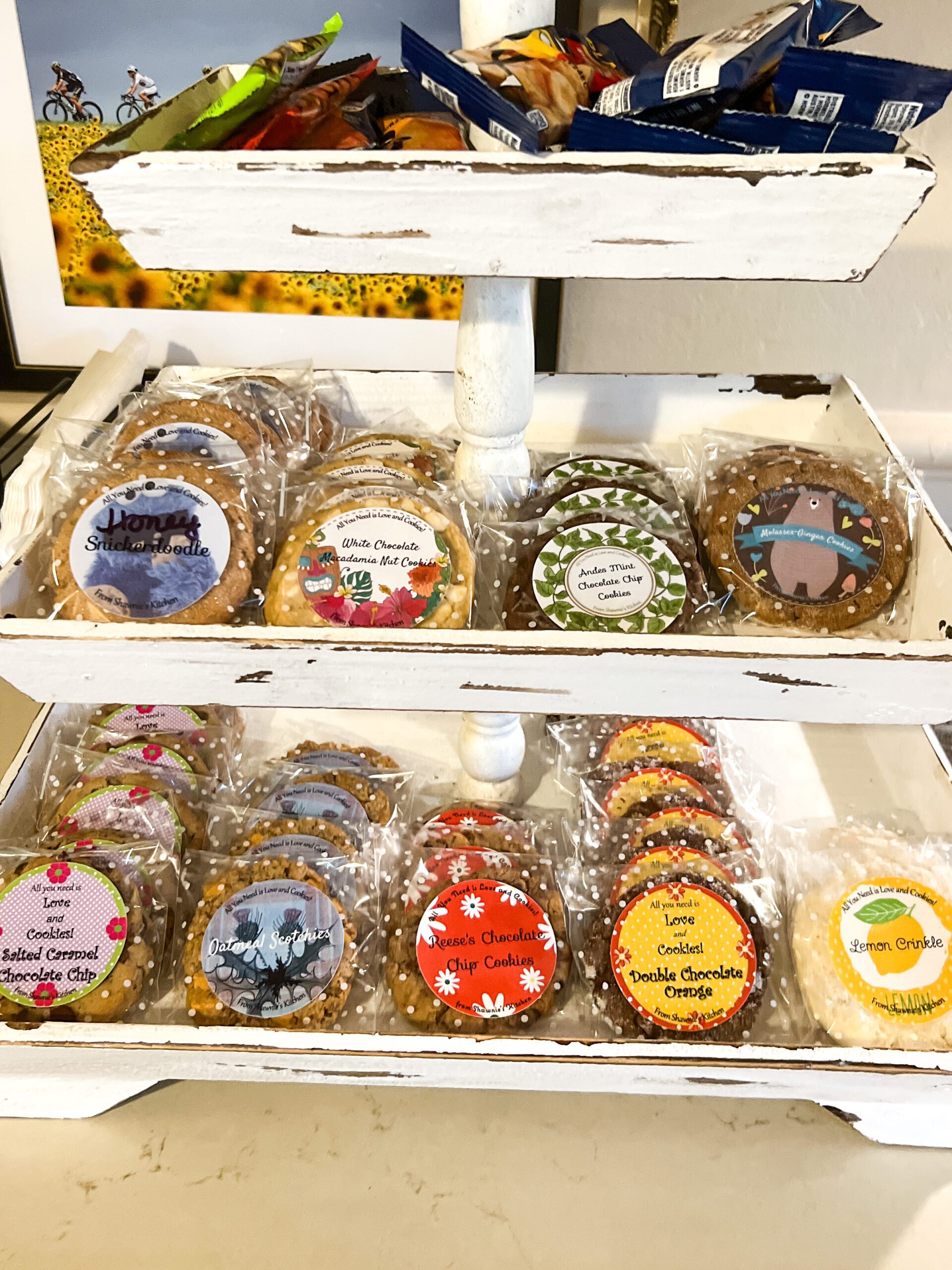 Entertainment at 1900 Inn on Montford
We had the best time listening to some bluegrass music, both covers and original songs, from a three-person band. Emeline Scales, Bill Scales, and Rudy Cortese were really something. It felt like we were at a small, intimate venue for a private viewing. Technically, we were! The music is provided courtesy of the inn for guests to enjoy. Porch concerts happen every Saturday, with the occasional weeknight surprise. Wine and beer, good company, and live music? Perfection!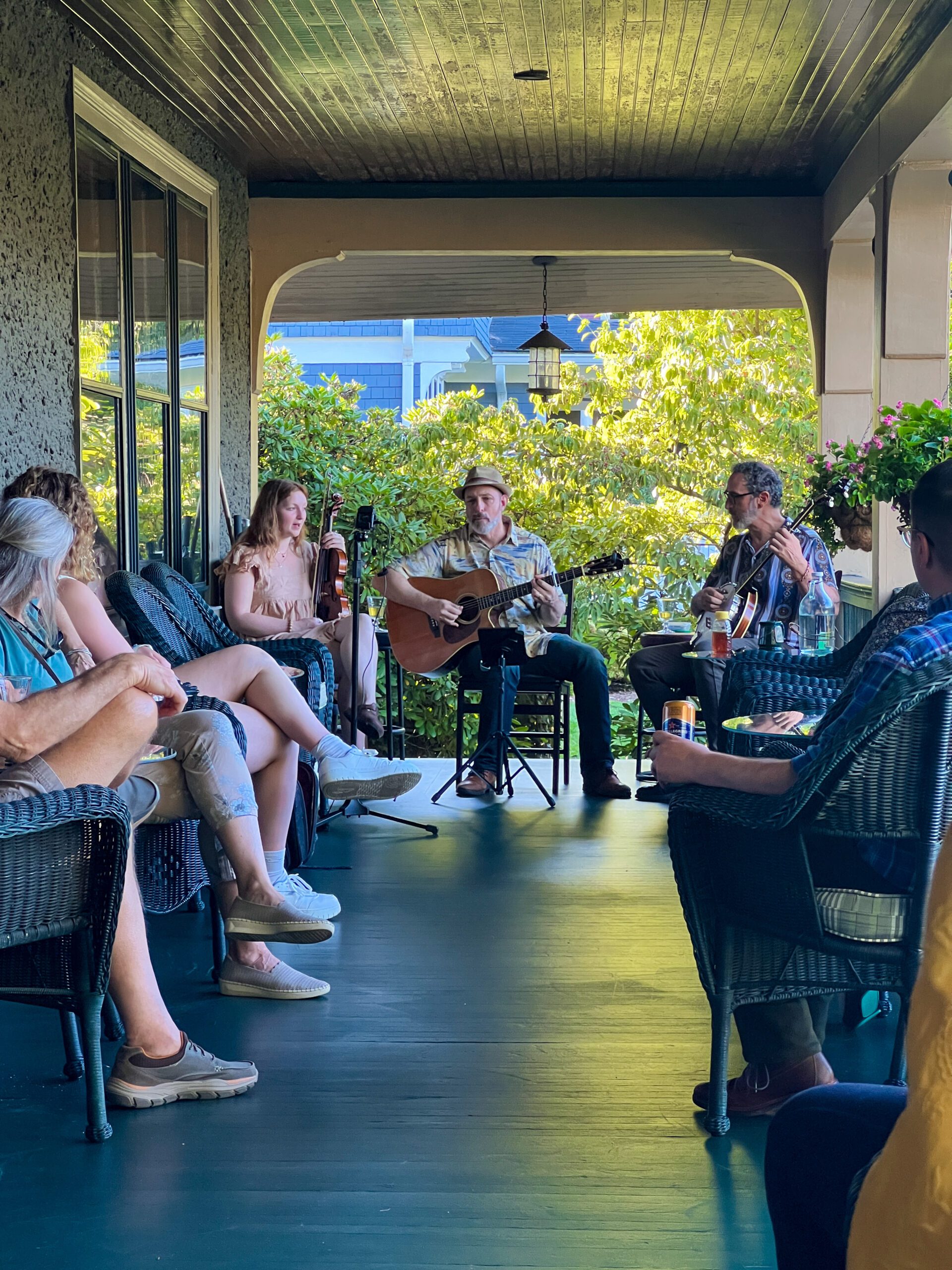 Checking Out of 1900 Inn on Montford
Leaving the inn was so sad, as we wished for more time (more coffee, breakfasts, and porch lounging). We can't get over how kind and accommodating Willy and Shawnie were. They are sunshine in human form! We agreed we'd never seen such a clean, well-taken care of property. The sweet, personal touches around the inn, and the stories that accompanied them, really made us feel like we were part of something special. That's what 1900 Inn on Montford is – a truly special place. Our three-day stay flew by and we enjoyed every moment. We know we'll be back!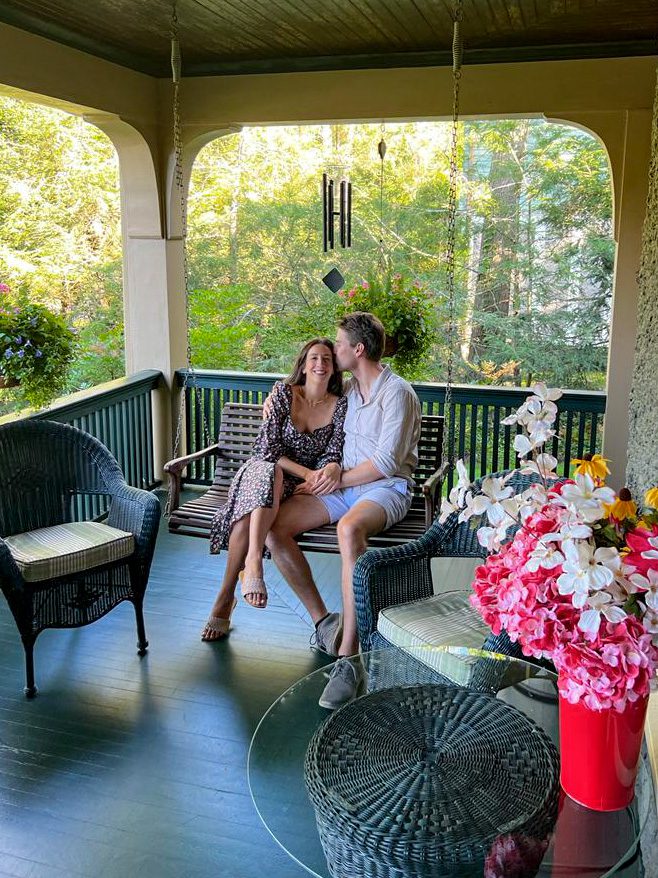 Written by: Ani and Daniel of Try This There