After a bare, cold winter, there's something magical about the springtime. The sun brings new warmth, the birds are singing their familiar tunes, the cherry blossoms are full of vibrant pink blooms, and the air just smells sweeter here in the heart of the Blue Ridge. 
We look forward to this season every year, not just because of the new life and rejuvenation, but for the bright energy that flows into every corner of our inn. 
For us, celebrating springtime starts with our kitchen. Through the flower stained glass windows, you'll see Shawnie rolling up her sleeves as she takes the flavors of the season and turns them into culinary treats. Vibrant hues of red, pink, and yellow from berries and other seasonal fruits fill our breakfast trays as we start our mornings with a little spring sweetness. 
If you stay with us at the inn, you can savor these delicious spring flavors with us on the porch. And if you're at home, we hope you'll celebrate the season with us with a few of our favorite recipes — sent with love from our kitchen to yours.
Mixed Berries with Cinnamon Essence
Fresh and sweet with a hint of spice.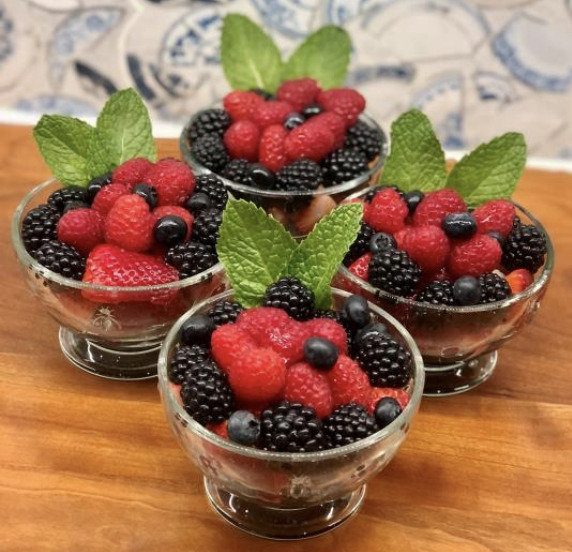 Ingredients
Raspberries, strawberries, blueberries, and blackberries (pick the freshest you can find)

Mint for garnish
Cinnamon Syrup
1 cup sugar

1 cup hot water

4 cinnamon sticks
Instructions
Put the cinnamon sticks in a container and add sugar and water. We use one with a spout that has a cap/lid. 

Shake or stir until dissolved.

Refrigerate for use in the morning.

Wash berries thoroughly

Just before serving, divide the fruit into individual serving dishes. Lightly pour the simple syrup over the top, garnish with mint, and serve chilled.
Tropical Fruit with Orange Zest
Drift away to the tropics with this fruit-filled treat.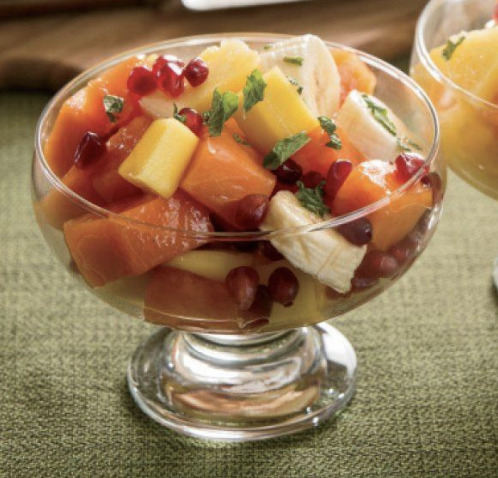 Ingredients
1 orange

1 pineapple

2 mangos

6-8 kiwis

Strawberries, bananas, and grapefruit (if you like)

Mint for garnish
Instructions
Zest one orange

Extract the juice from the orange and set aside

Wash and cut up all the tropical fruits

Put all the fruit in a large bowl and add the orange juice and zest

Just before serving, divide the fruit into individual serving dishes

Garnish with mint and serve chilled
A note from Shawnie: Use a tablespoon to peel the kiwi to make it easier. 
Strawberry Tiramisu 
A fluffy, decadent dessert that'll take center stage at your next spring party.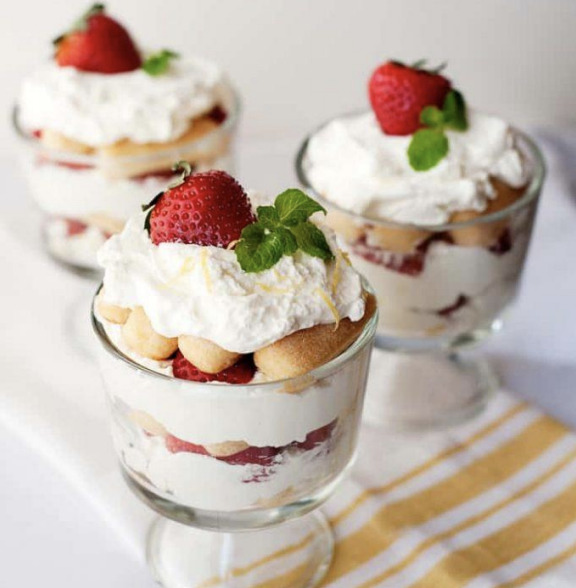 Ingredients 
3 large eggs

3 TBSP granulated sugar

9oz mascarpone cheese

16 lady finger cookies

Strawberry liquor (can also be substituted with thin strawberry jelly)

1 container (9oz) of fresh small strawberries
Instructions
Separate the egg yolks from the whites

Whisk the eggs yolks and the sugar just until lightened. Whisk in the mascarpone.

Beat the egg whites into stiff peaks and gently fold them into the mascarpone mixture.

Halve the cookies and briefly dip them into the liqueur. 

Transfer them into the individual glasses with the strawberries and cream mixture. 

Refrigerate for 2 hours and serve
A note from Shawnie: Make ahead tip — this dessert likes to have time to infuse flavors overnight in the refrigerator. 
Orange Dreamsicle Cupcakes
The kind of dessert that dreams are made of.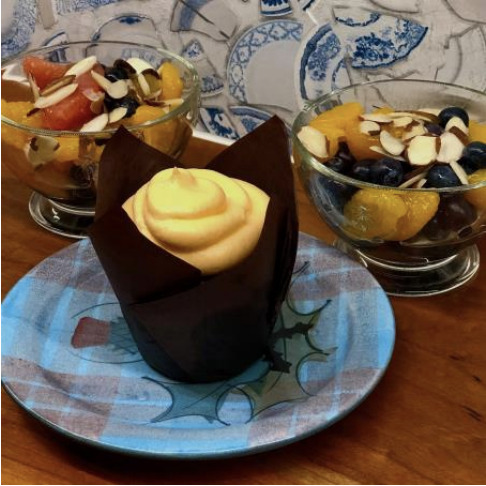 Most of us grew up loving the Orange Dreamsicle ice cream in the pushup containers sold from the local ice cream truck. These cupcakes are a happy reminder of warm, spring days!
Ingredients
For the cupcakes
1-½ cups all purpose flour

1-½ teaspoon baking powder

½ teaspoon salt

2 large eggs separated 

½ cup (1 stick) unsalted butter, softened 

1 cup granulated sugar

1 TBSP finely grated orange zest

1 teaspoon orange oil (I use LorAnn available at specialty stores or on Amazon) 

½ cup orange juice (from 2 oranges)
Ingredients
For the frosting
1 cup (2 sticks) unsalted butter, softened 

1 teaspoon pure vanilla extract

1 teaspoon orange oil

4 cups confectioners sugar 

2-3 TBSP whole milk or heavy cream

Mandarin oranges or candied orange slices for garnish
Instructions
Preheat oven to 350F

Sift flour, baking powder, and salt into a medium bowl; set aside

Beat egg whites in a large bowl with a mixer on medium high speed until peaks form (about 4 mins); set aside

Beat butter, granulated sugar, egg yolks, orange zest, and orange oil in a separate large bowl on medium-high speed until smooth and combined (about 4 mins). Reduce speed to low and add in the flour mixture gradually alternating with the orange juice. 

Fold in the beaten egg whites

Spoon the batter into parchment paper baking cups, filling each halfway

Bake until a toothpick inserted into the center comes out clean (about 15 mins). 

Let cool for 10 minutes in the pans and then remove to cool further on baking racks. 
Make the frosting
Beat the butter, vanilla, and orange extracts in a large bowl with the mixer on medium-high speed until light and fluffy. Load the frosting into a pastry bag with your choice of piping tips. 

Top with mandarin orange slices or candied oranges. 
A note from Shawnie: For the frosting, we use disposable pastry bags that are available on Amazon.