Where there's music, there's magic. 
How many times have you been transcended to a place or a special moment in your life when a certain song plays? Music has a way of doing that — touching our souls and creating memories.
From the front porch of our Asheville bed and breakfast to the buzzing streets of downtown Asheville, music comes in all forms and styles. Bluegrass, folk, country, jazz, you name it and our little mountain town has it. These sweet melodies bring people together from near and far, building memories, one after another. So whether you're here with us at 1900 Inn on Montford or you seek out tunes in the area, music is right at your fingertips.
Mountain Melodies: Porch Music at Our Asheville Bed & Breakfast 
The sounds of the Appalachias come alive at our Inn every Saturday evening. From the steps of the front porch of our bed and breakfast, a musical serenade begins at 6pm that celebrates the history, culture, and beauty of our area. 
Take your seat, enjoy a complimentary pour of beer or wine, and tap along to folk songs played by some of Western North Carolina's most talented musicians.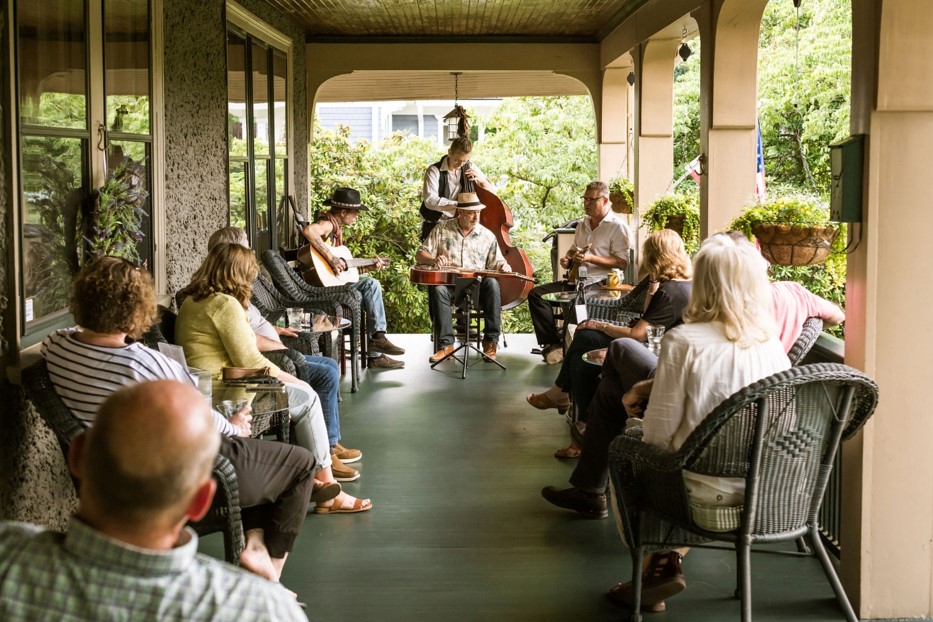 Ben Scales, local dobro player, guitarist and dear friend, makes porch music happy hour possible every Saturday. He doubles as our lead musician and wedding officiant. Week to week, Ben assembles local musicians to play a compilation of their favorite tunes. And now, after many years of offering this special evening, we're grateful to say we've been able to host 40 different local artists! And all you have to do is walk a few steps, for a concert that's truly feels like your own.
Our 5 Favorite Music Venues for Live Music in Asheville
Not only does music give us a taste of culture and a way of connecting, but listening to music is actually good for us too. Research shows that music benefits the brain, our sleep, and even our health. So while you're here in Asheville relaxing on vacation, enjoy a variety of music shows for a night out and a nice health boost too. Here are our five favorite Asheville music venues to check out as you start planning your trip.
The Orange Peel 
Photo: The Orange Peel
For a taste of Asheville, catch a show at the Orange Peel. It's been named one of the top five music venues in America by Rolling Stone magazine and has hosted well-known acts such as Modest Mouse, Umphrey's McGee, and the Black Keys. The Orange Peel is located right next to Wicked Weed Brewing, so you can even grab dinner and a craft brew before your show. Check out who's playing at the Orange Peel here.  
The Grey Eagle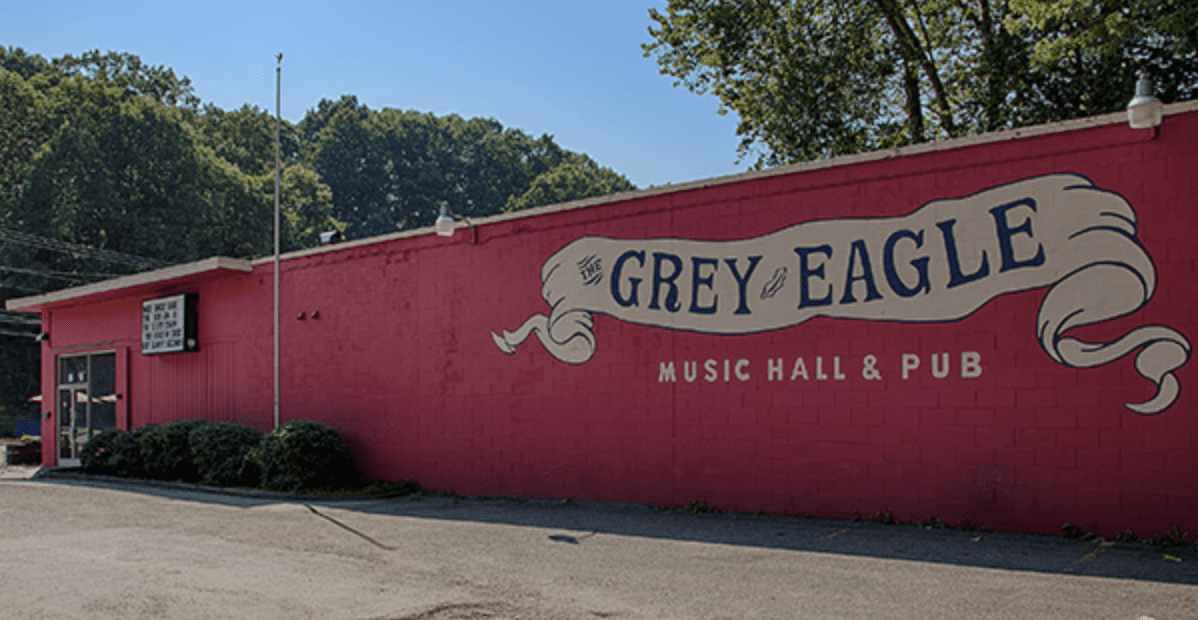 Photo: Go Local Asheville
If you want to be in a smaller, more intimate indoor venue, The Grey Eagle is your place. As Asheville's longest-running, all-ages venue, this music hall has hosted over 10,000 different bands and artists including the Avett Brothers and Sharon Jones. Located in Asheville's River Arts District, you'll find yourself surrounded by good food and art galleries just down the road if you feel like exploring. If not, The Grey Eagle also serves food, so you can grab a bite there at your convenience.  
Rabbit Rabbit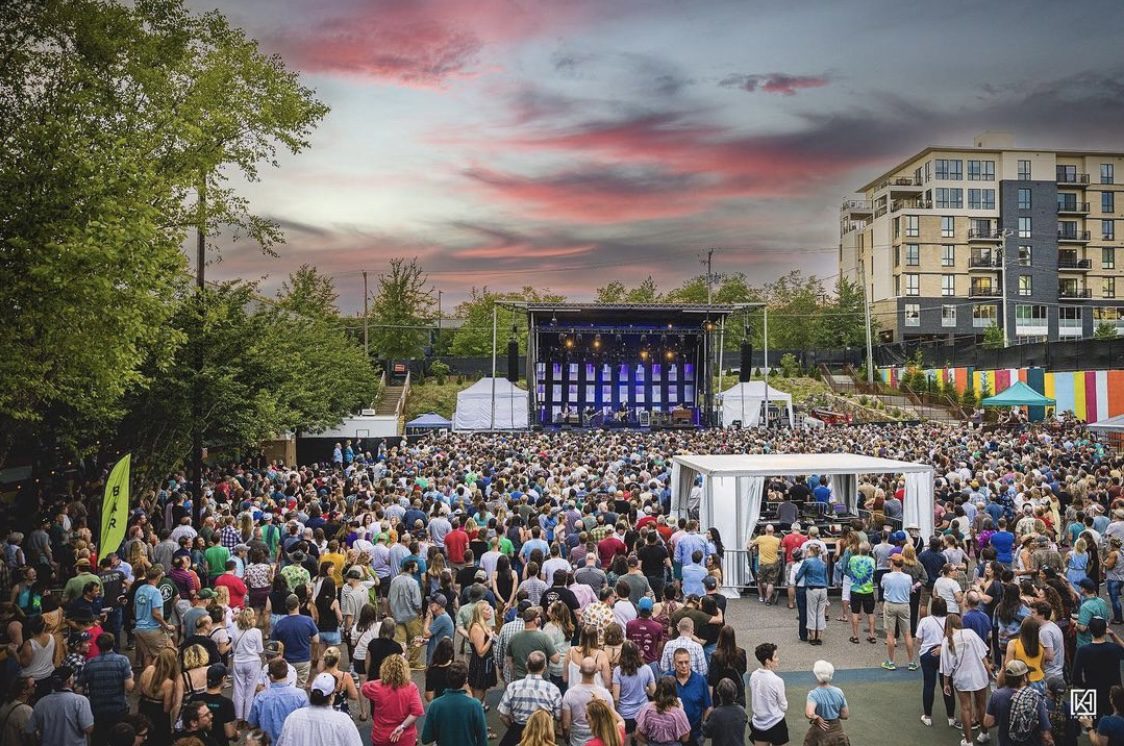 Photo: Rabbit Rabbit
Next on the list is Rabbit Rabbit — an outdoor concert venue in the heart of downtown Asheville. This new outdoor venue gives you all the things you want – music, movies, tacos and local beer and beverages. This Asheville music venue opened in 2020 and has already seen some big artists like Marren Morris and Leon Bridges. 
Salvage Station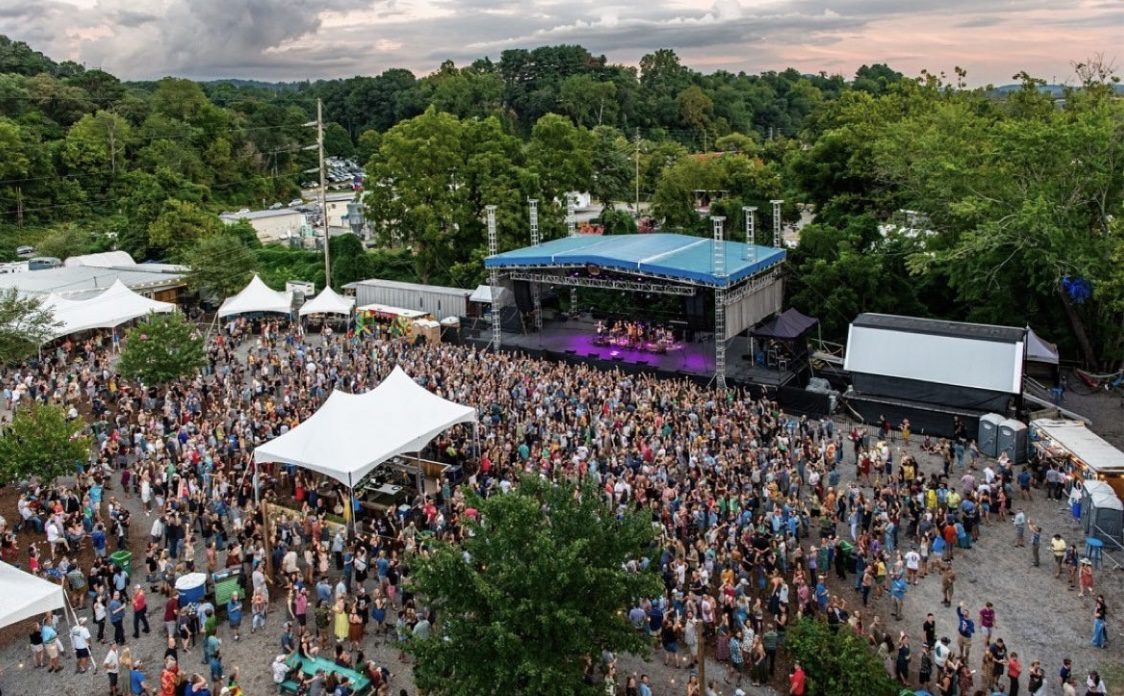 Photo: Salvage Station
From hosting nationally-touring headliners to up-and-coming acts on indoor and outdoor stages, Salvage Station is a great place to catch live music. This spacious, riverside venue offers a hangout for drinks, live music, and casual outdoor dining.
Salvage Station offers a rotating menu of Southern/New Orleans bites from its on-site restaurant, Root Down Kitchen. And yes, you'll also find remnants of its past as a salvage yard creatively incorporated in and around the property and at the multiple outdoor bars.
Harrah's Cherokee Center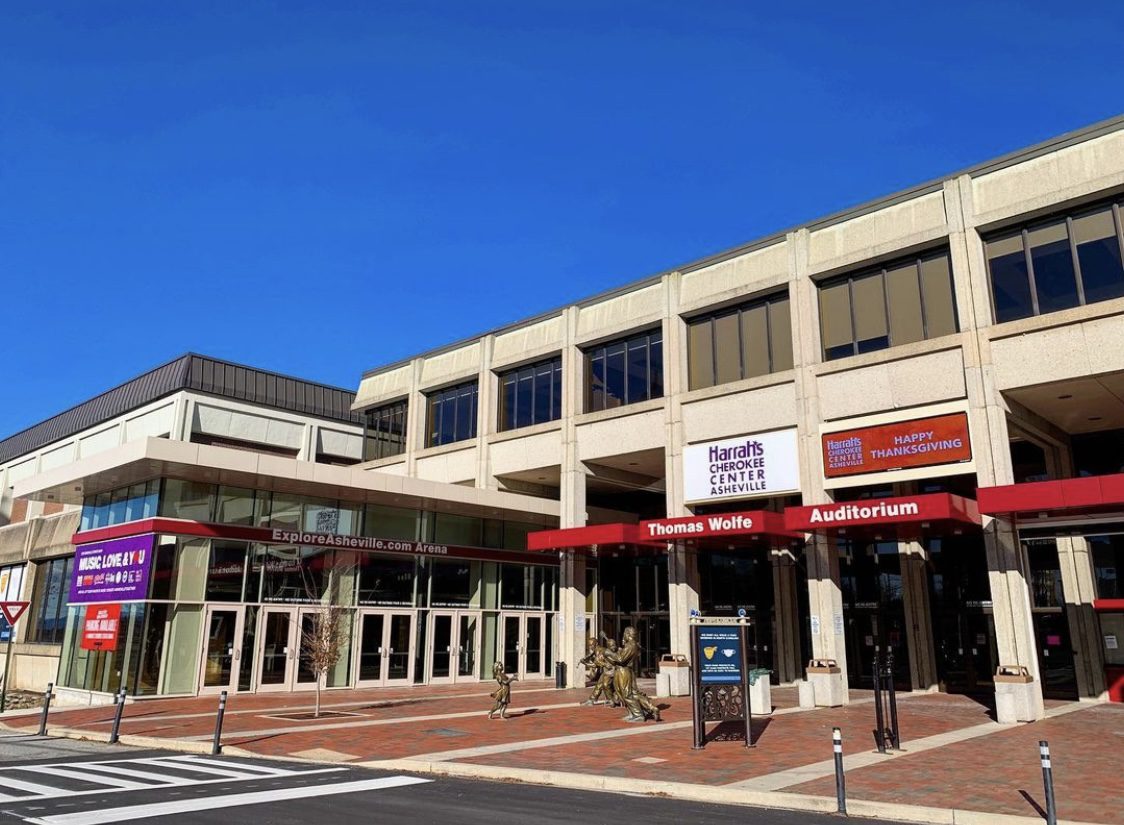 Photo: Harrah's Cherokee Center
This venue is a multipurpose entertainment center in downtown Asheville. Opened in 1974, the complex includes an arena, auditorium, banquet hall, and meeting rooms. Here, you can see anything from ballet to symphony to comedy to concerts. Harrah's Cherokee Center's 25,000 square foot arena has had past performances by Dolly Parton, Alicia Keys, Chris Rock and many more. 
Whether you want to enjoy live music at our Asheville bed and breakfast or see a show at one of Asheville's many music venues, there's no shortage of tunes and fun in our mountain town! We hope this list will help you determine where you want to see some exceptional live music in Asheville.