When the evening sun softens and glows, a glass of wine is the perfect end to a day of vacation in the Blue Ridge mountains. Crisp and bright, bubbly, or rich and full bodied, wine ignites the senses and sends us into relaxation.
When it comes to the world of wine, California, France, New Zealand, and Italy are some of the most well known areas for their vino, but it may surprise you to learn that North Carolina also has a rich history of wine making. And in Asheville, you can experience and taste a piece of history. 
Since the early days of European settlement, Asheville and the surrounding mountain areas have been producing wine. In the 19th century, wineries in the area cultivated the Scuppernong grape (a variety of the muscadine grape) which supplied a large part of the American wine market. Fun fact: it's had such a prominent impact that it was also named the state fruit of North Carolina in 2001.   
So if you're staying with us here at our bed and breakfast in beautiful Asheville and want to try some local wines, we've got you covered. For your planning convenience, we've come up with a roundup of what we think are the best wineries in NC to help you decide where you want to sip and explore.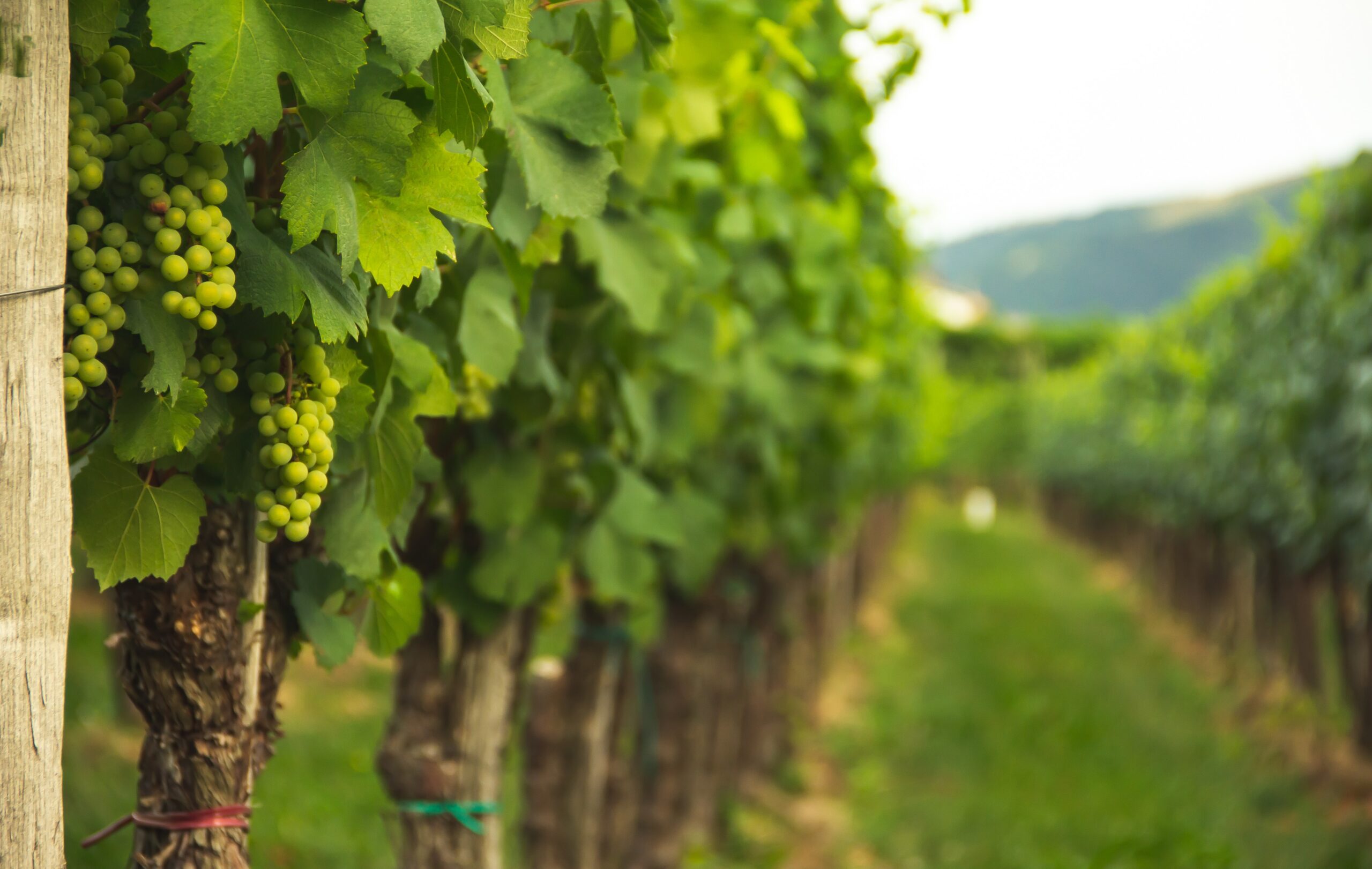 4 of Our Favorite Asheville Wineries 
From mountain views to urban settings, Asheville wineries have it all. Here's a look at what you'll find at our four favorites.
#1. Biltmore Estate Winery  
Nothing beats a trip to the beautiful and historic Biltmore Estate. From views to dining, a day at Biltmore is a truly magical experience.
The Biltmore Estate, known for its 250-room home, has many attractions nestled among its 8,000 acres of grounds. From tours, horseback riding and biking trails to restaurants and hotels, there's a little something for everyone. But our favorite part about a day at Biltmore is a trip to the working winery.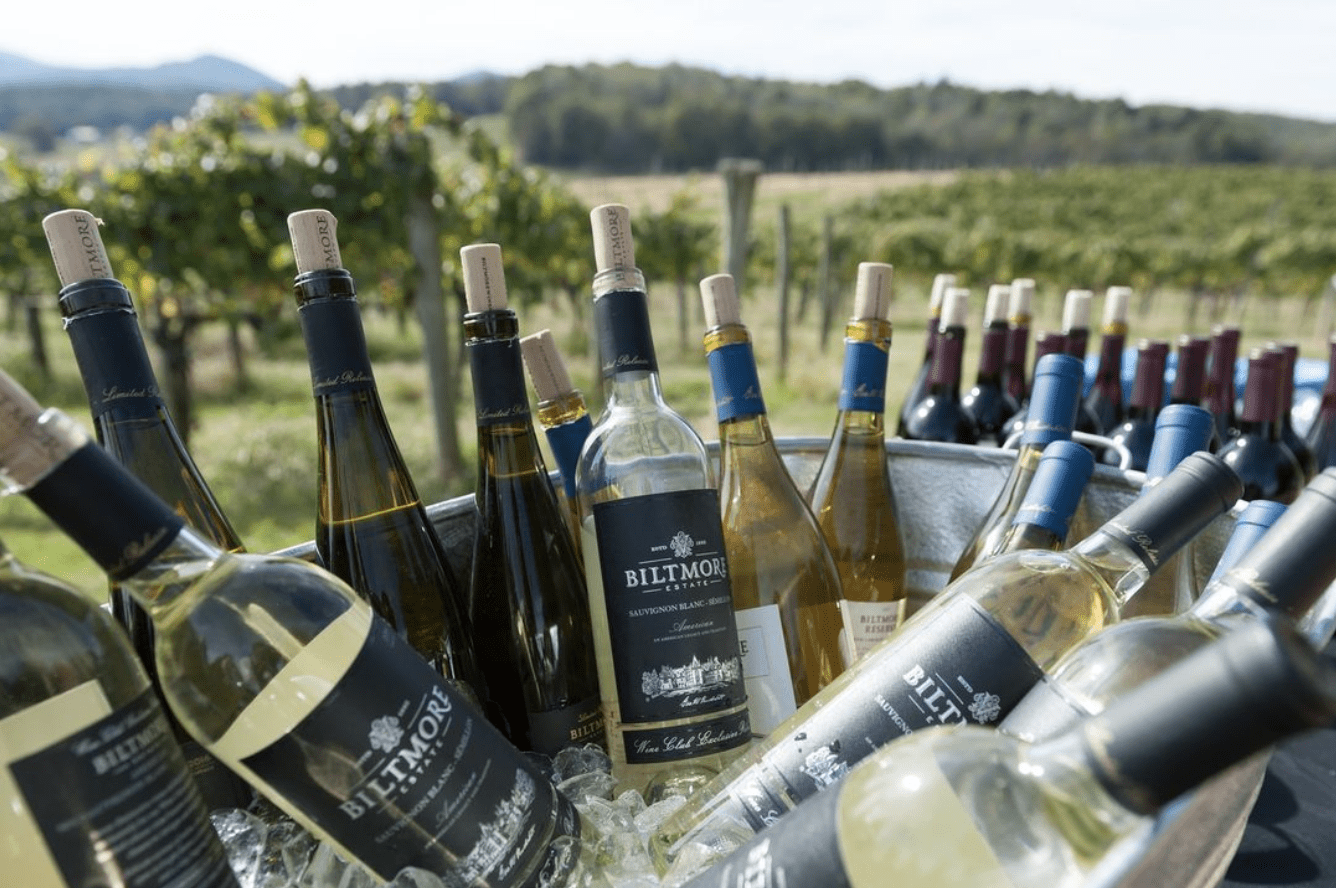 Photo credit: Biltmore Wines
Enjoy a complimentary wine tasting in the Tasting Room or grab a drink and some charcuterie and locally-made truffles in the indoor/outdoor Wine Bar. Whatever you prefer, you can relax with a glass of handcrafted wine from Estate-grown grapes. 
#2. Stone Ashe Vineyards
With panoramic mountain views and delicious wines, you'll soon see why Stone Ashe Vineyards is one of our favorites. Specializing in Bordeaux-based grape varieties, this vineyard has sourced grapevines from various regions of France that mimic the environment and climate of the NC mountains. So while you may be in the Blue Ridge, this wine will transcend you to the vineyards of France with just one glass.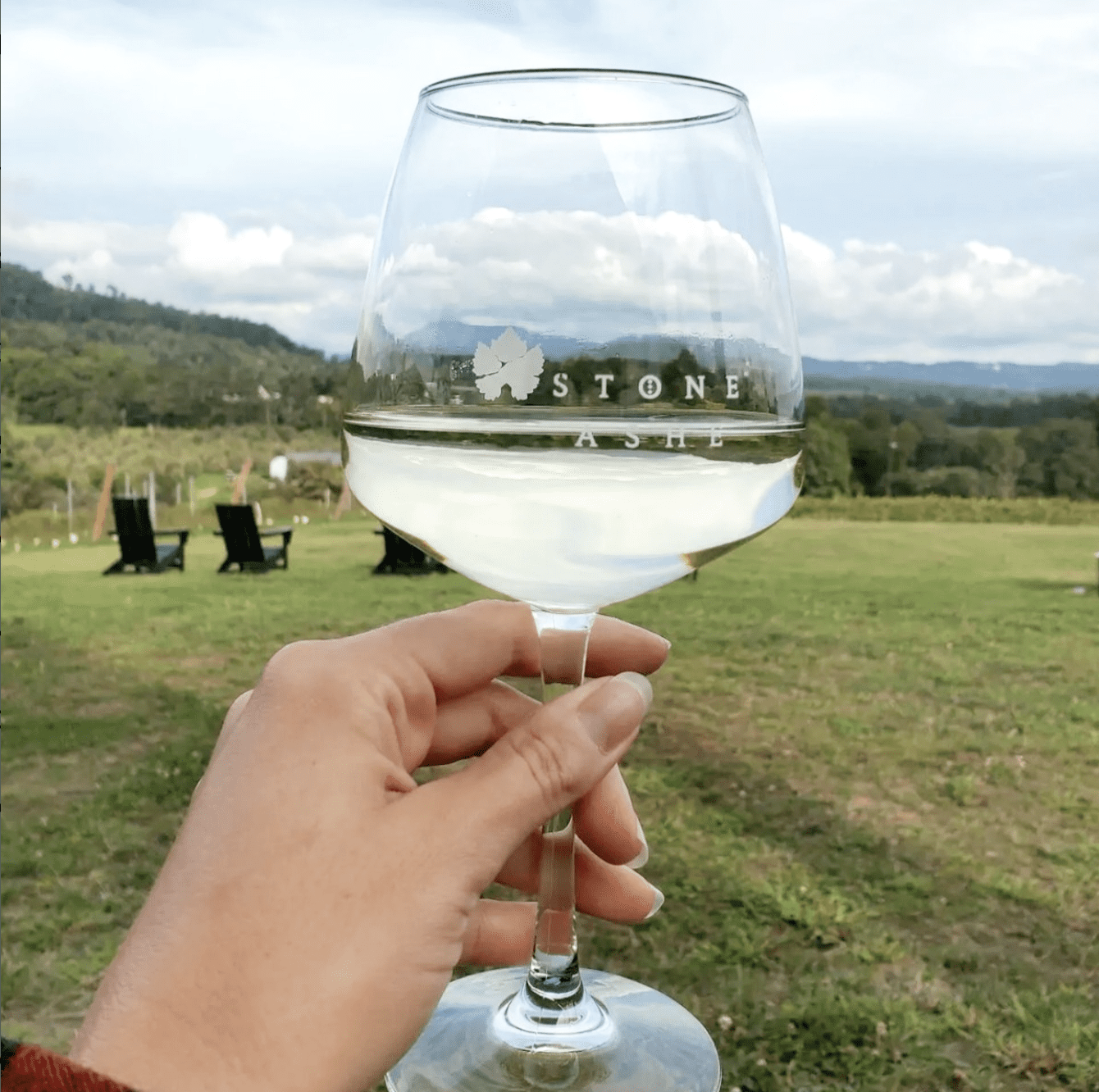 Photo credit: Stone Ashe Vineyard
Enjoy a flight inside their beautiful, modern tasting room or bring your own picnic and blanket and enjoy sitting among the mountains. 
#3. Plēb Urban Winery
Nestled in the River Arts District is Plēb Urban Winery, producing small batch, craft wine using local grapes. Whether it's just you and your loved one, or you're with a large group, you can enjoy a glass of wine in this quaint urban setting.
Photo credit: Plēb Urban Winery
Once you're done, we recommend taking some time to explore the local art in the River Arts District and grabbing a bite to eat at Vivian or The Bull and Beggar.  
#4. Burntshirt Vineyards
Mountain legend has it that farmers would burn their fields to clear the land on Burntshirt Mountain for planting. They tossed their shirts into the flames for good luck, resulting in a bountiful crop. The story lives on today at Burntshirt Vineyards, a family-run wine company.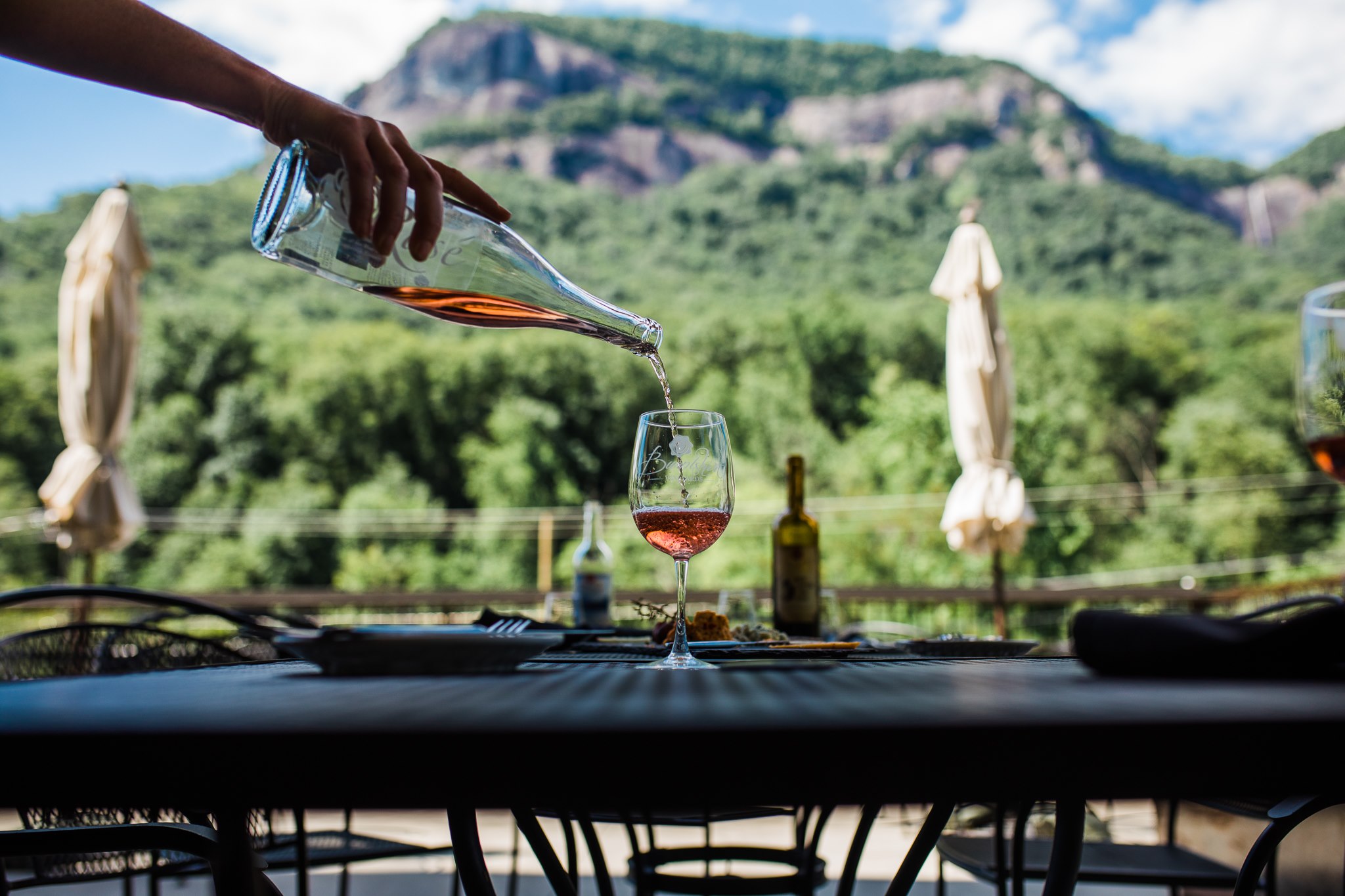 Photo credit: Rutherford County Tourism
Stop by their tasting room in Hendersonville to try a tasting flight on the stone terrace or take a tour of their state-of-the-art winery nestled between acres of grapevines and apple trees. 
Enjoy a Glass of Wine and Relax at 1900 Inn on Montford
At our Asheville bed and breakfast, we're all about relaxation! When you stay with us, you can enjoy a complimentary happy hour every night from 6-7pm. We have delicious wines that we source locally from Metro Wines. And if you're staying with us on a weekend, you can also enjoy a glass of wine at our special porch music event on Saturdays from 6-7pm. Be whisked away to the sounds of mountain folk music while you sip on a beverage and relax.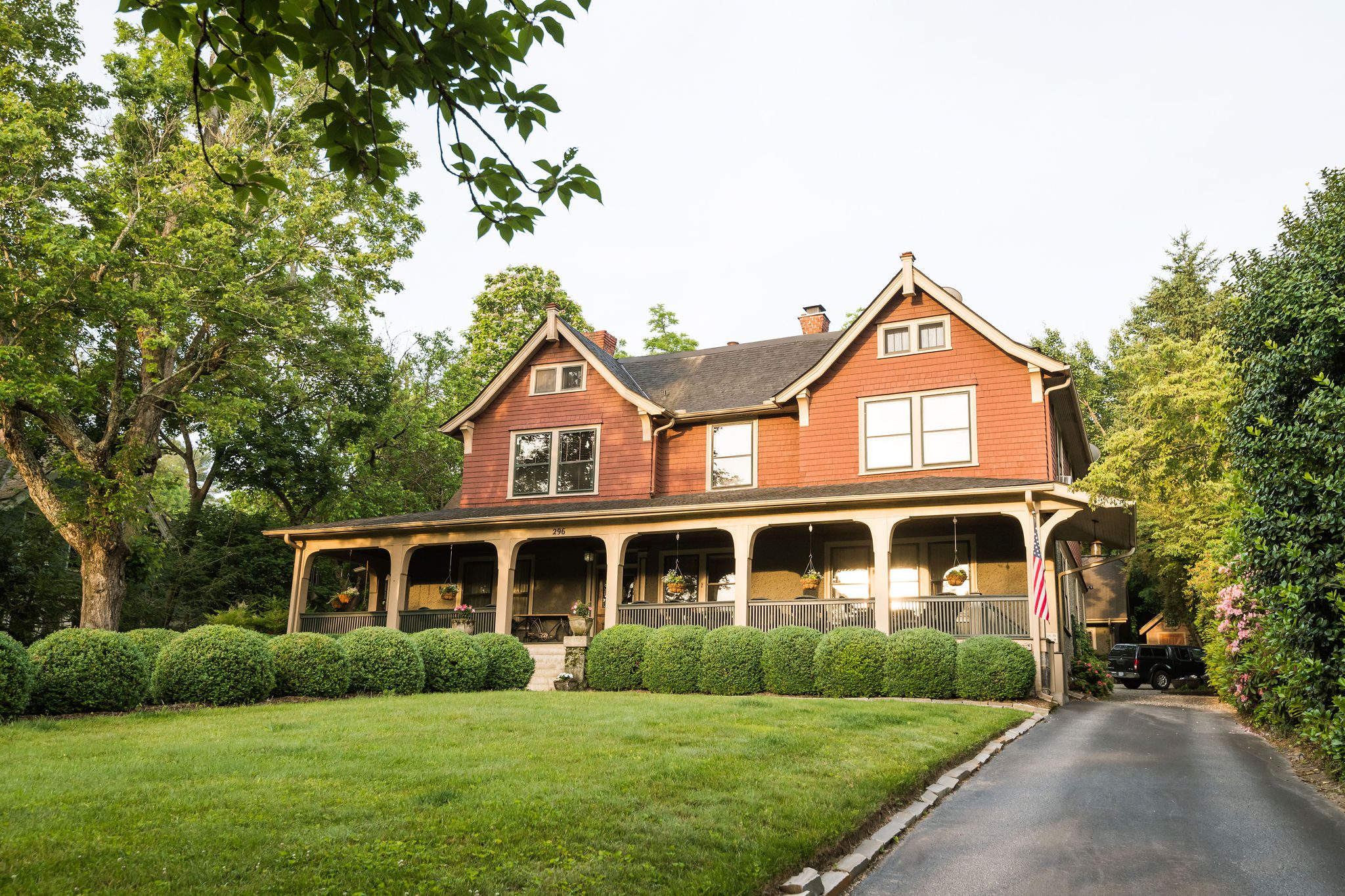 Feel Rejuvenated with a Stay at 1900 Inn on Montford in Asheville
Are you ready for a vacation? Enjoy a trip to the mountains to rejuvenate at our luxury Asheville bed and breakfast. Just minutes from downtown, you can explore the city, dine at some of our award-winning farm to table restaurants, and visit the beautiful wineries in the area. Book your stay today!