Written by: Ani & Daniel of Try This There
The 1900 Inn on Montford is the most charming dog-friendly bed and breakfast we have ever had the pleasure of staying in! It's located in the heart of Asheville, North Carolina and we came across it while searching for a dog-friendly getaway. Typically, options that allow pets are run-of-the-mill hotel chains that charge extra per night for dogs or places really far off from the destination we're trying to visit. This historic inn solved all of those problems. Not only do they welcome dogs of all sizes, they are also perfectly located. Honestly, between being dog-friendly, looking absolutely stunning, and the glowing five-star reviews, it was an easy choice to make. We can't say enough good things about our wonderful three-night stay with our dog, Kato, but we'll try!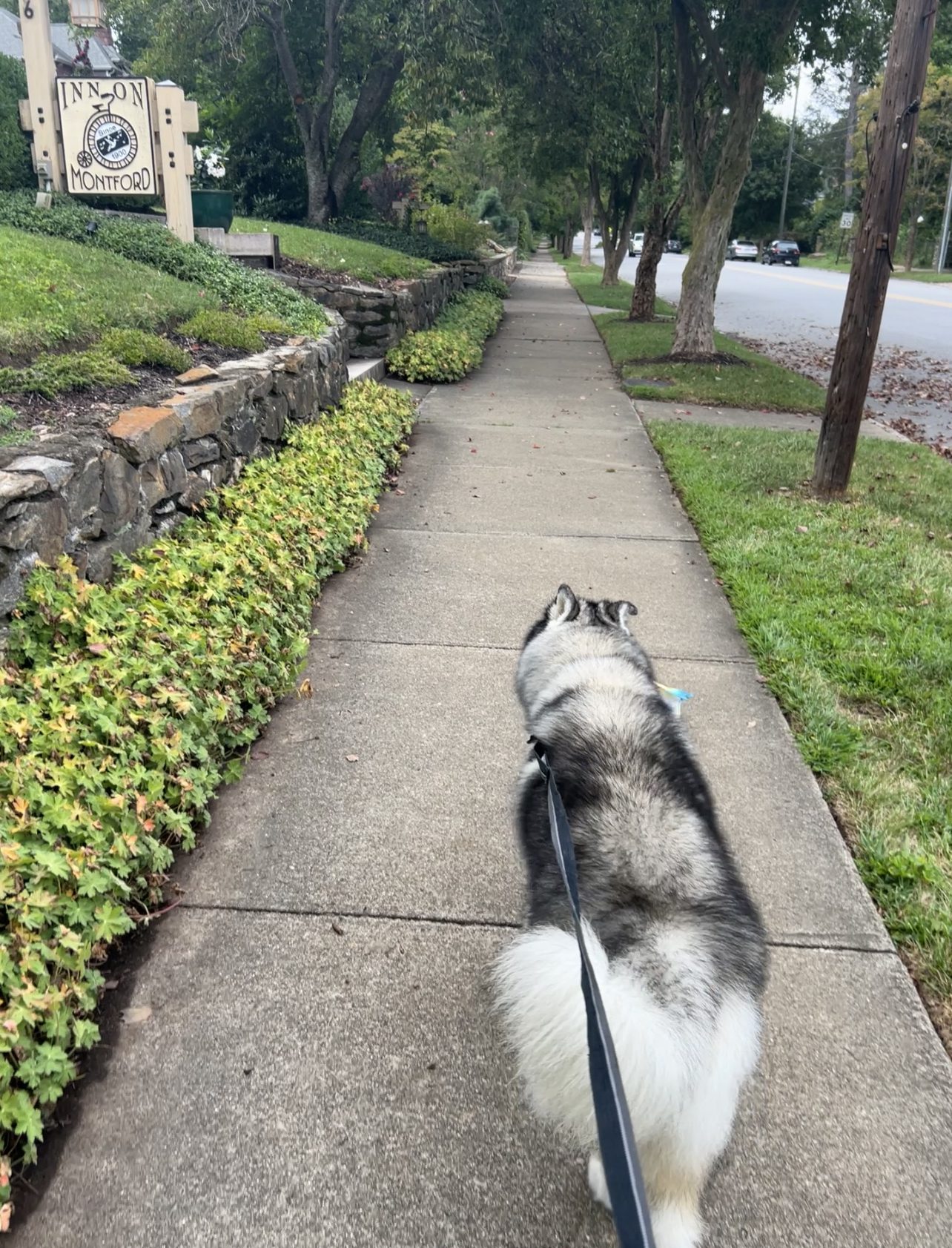 Pet-friendly Suites to Suit Your Every Need
The inn has its own private guest house, dubbed "The Carriage House," which boasts three pet-friendly rooms: the Rossetti Suite, the William Morris Suite, and the Cloisters Suite. All three suites have private entrances, enclosed rear gardens with tables and chairs, and "doggy" boxes full of necessities to help make your pet's stay great. The Rossetti Suite is located on the ground floor of the carriage house behind the main house. This suite is perfect for couples or small families, and it is a popular choice for guests who are celebrating their elopements or intimate weddings, or just looking for a lovely getaway, like we were. The gorgeous fireplace, amazing soaking tub, and luxe amenities make this suite an ideal getaway for humans, while the doggy trundle bed, enclosed outdoor space, and roomy suite make it perfect for dogs! Rossetti is where we stayed with Kato and we can vouch for its perfection!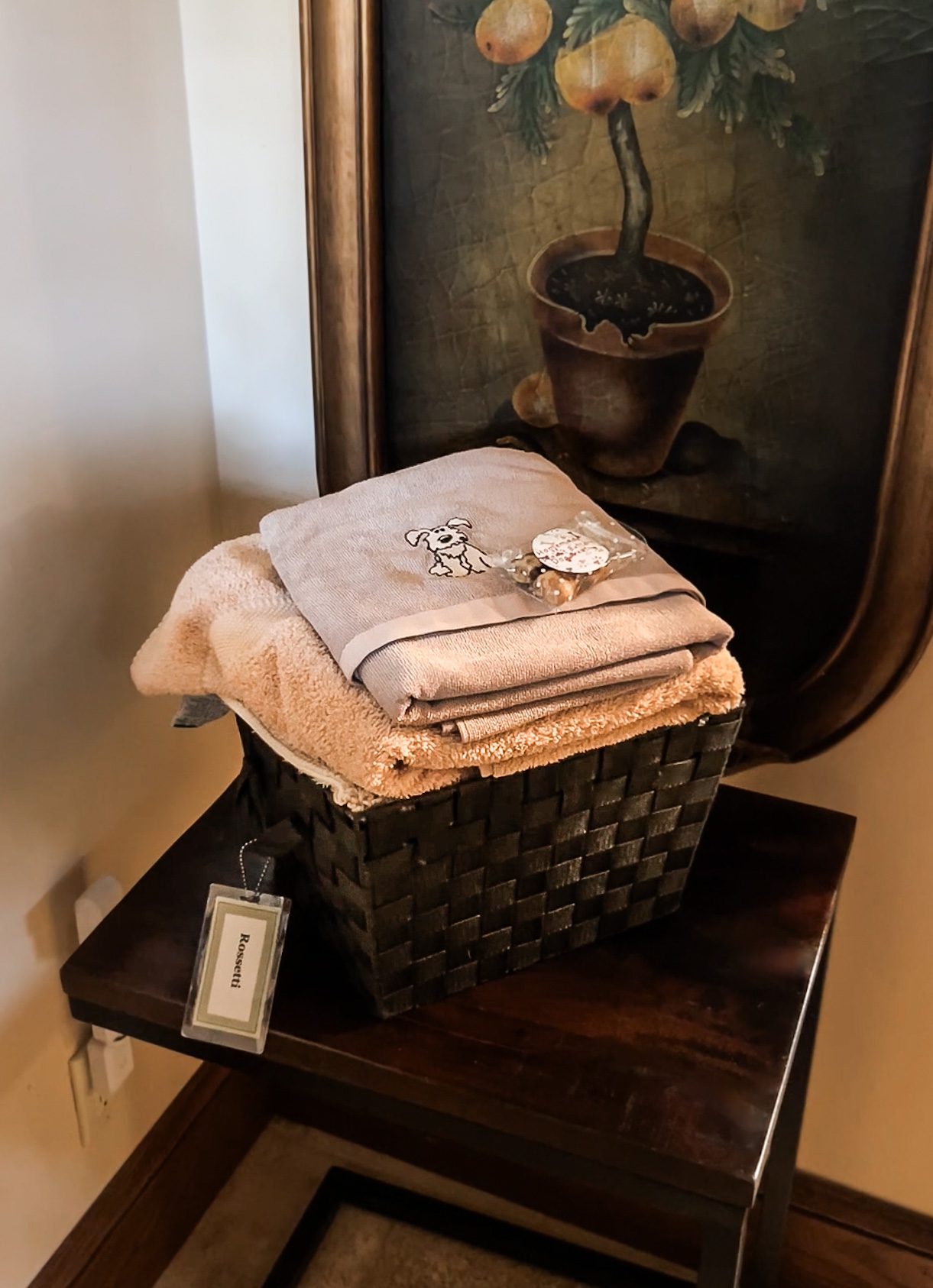 The William Morris Suite is also located on the ground floor of the carriage house. It has a fireplace and a soaking tub. Like the Rossetti, it includes a doggie trundle-bed for your pet to relax peacefully. The Cloisters Suite is located on the first floor of the carriage house. It is the largest of the three pet-friendly rooms, with one and half baths, and a two-person Whirlpool in the master bath. With three dog friendly suites to choose from, we've made a note to travel with friends next time. There is certainly a room here to fit everyone's needs, both human and canine! 
Best of all, the innkeepers, Willy and Shawnie, love dogs and have one themselves. Sweet Clementine is an adorable lab full of energy! She is the taste tester for all of Shawnie's homemade dog treats. There were treats waiting for Kato in the room when we arrived. How sweet is that?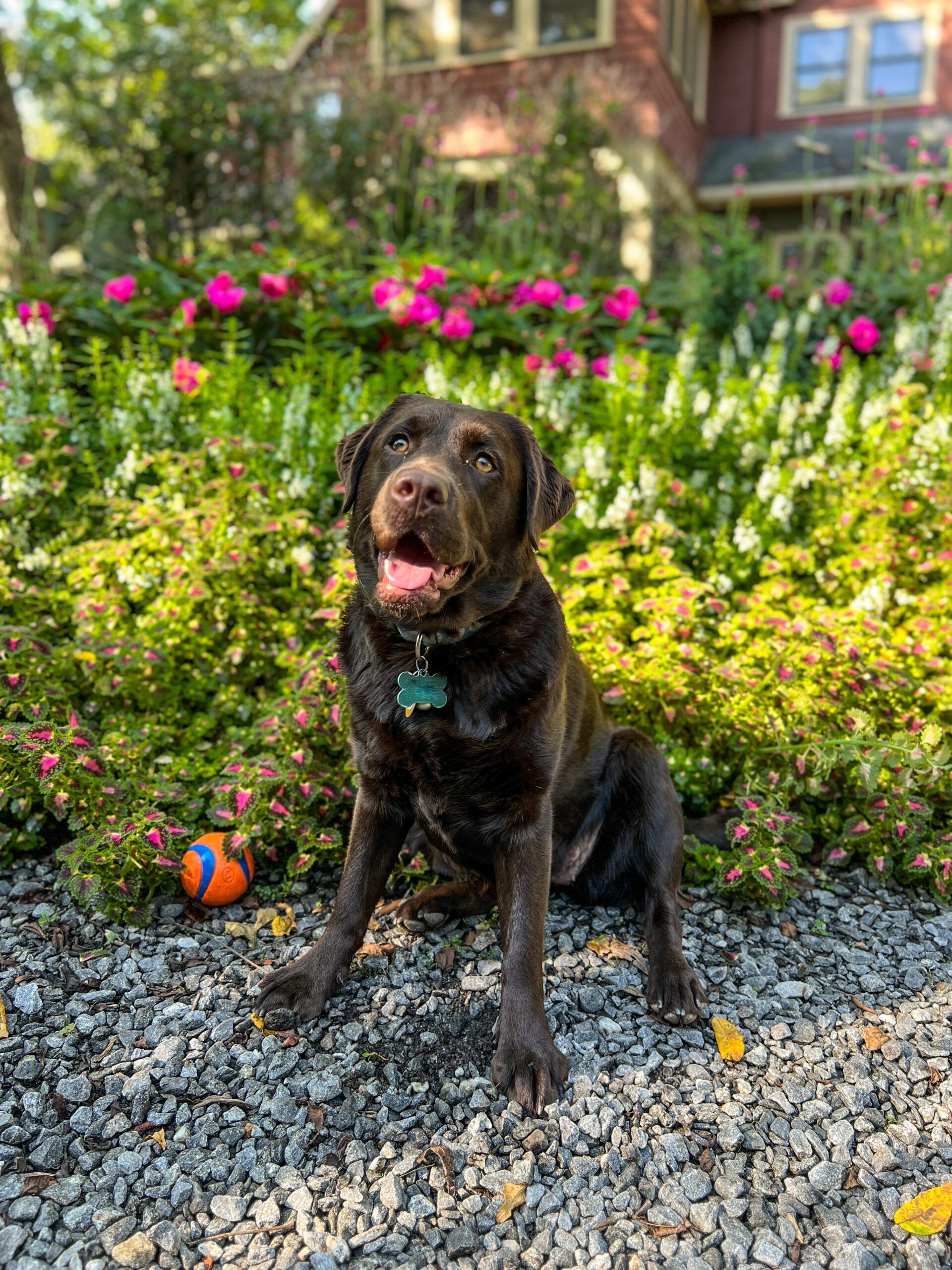 The Perfect Dog-Friendly Place to Stay
If you are looking for a dog-friendly bed and breakfast in Asheville, the 1900 Inn on Montford is the perfect option. The inn is located in a convenient location, and it has everything you need for a relaxing and enjoyable vacation with your pet. We felt safe walking the dog around at all hours of the day and night and were greeted often by friendly passersby. Kato was even able to enjoy the inn's lovely porch with us! 
Montford Park is a public park nearby, accessible from the inn via a 3-minute walk. We often walked Kato around this park to burn energy while enjoying nature in the middle of a city! The French Broad River Dog Park is an 11-minute car ride from the property, offering another great place to let your dog run around. These parks are just the beginning of the convenience of having a pet with you in this amazing area!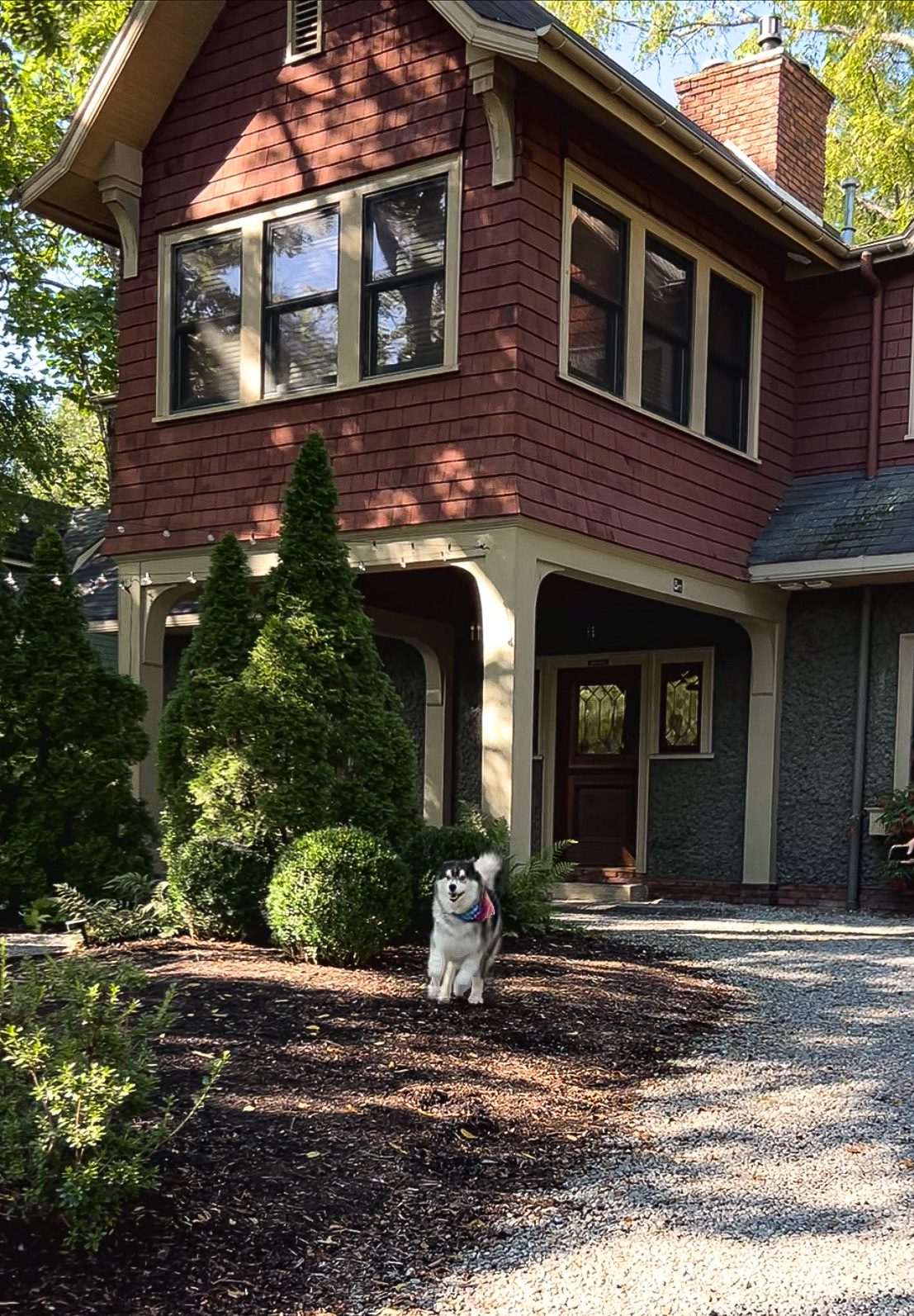 Asheville Really Loves Pets 
Asheville is a dog-lover's paradise. There are dog-friendly restaurants, breweries, parks, and hiking trails all over town. And with the mild climate, you can enjoy the outdoors with your furry friend year-round. Willy and Shawnie, the amazing innkeepers, will provide you with all their best, personal recommendations to ensure you and your dog(s) have an amazing time. We took so many of their suggestions and loved each one of them! 
During our stay, we visited a few dog-friendly breweries and restaurants near 1900 Inn on Montford. We really loved Wicked Weed Brewing's Brewpub. Kato enjoyed their patio while we enjoyed their food and drinks. The pizza at White Labs Brewing Co. Asheville Kitchen & Tap were really unique and delicious. They make it with fermented dough and we may have even dropped some crust for Kato to try too. His puppy eyes at restaurants are too hard to say no to! Our favorite restaurant of the trip came highly recommended by Willy. It was a place called Tall John's. Kato loved the lit up patio and we loved the squash and burrata dish. This restaurant was less than a 10 minute walk from the inn! 
Staying at 1900 Inn on Montford also provided us access to a lot of dog-friendly parks, which was amazing for letting Kato burn energy each day. As we mentioned earlier, Montford Park was practically across and provided so much room for walking and picnicking! We also enjoyed going to Pack Square Park, which is located in the heart of downtown Asheville and has a large fountain where Kato could cool off. 
No matter what you're looking for, you're sure to find something dog-friendly in Asheville. We had absolutely no problem finding places to enjoy with Kato each day, from cafes to restaurants. Willy and Shawnie were always at the ready with great suggestions. Next time we're visiting, we are certainly going to stay at 1900 Inn on Montford again.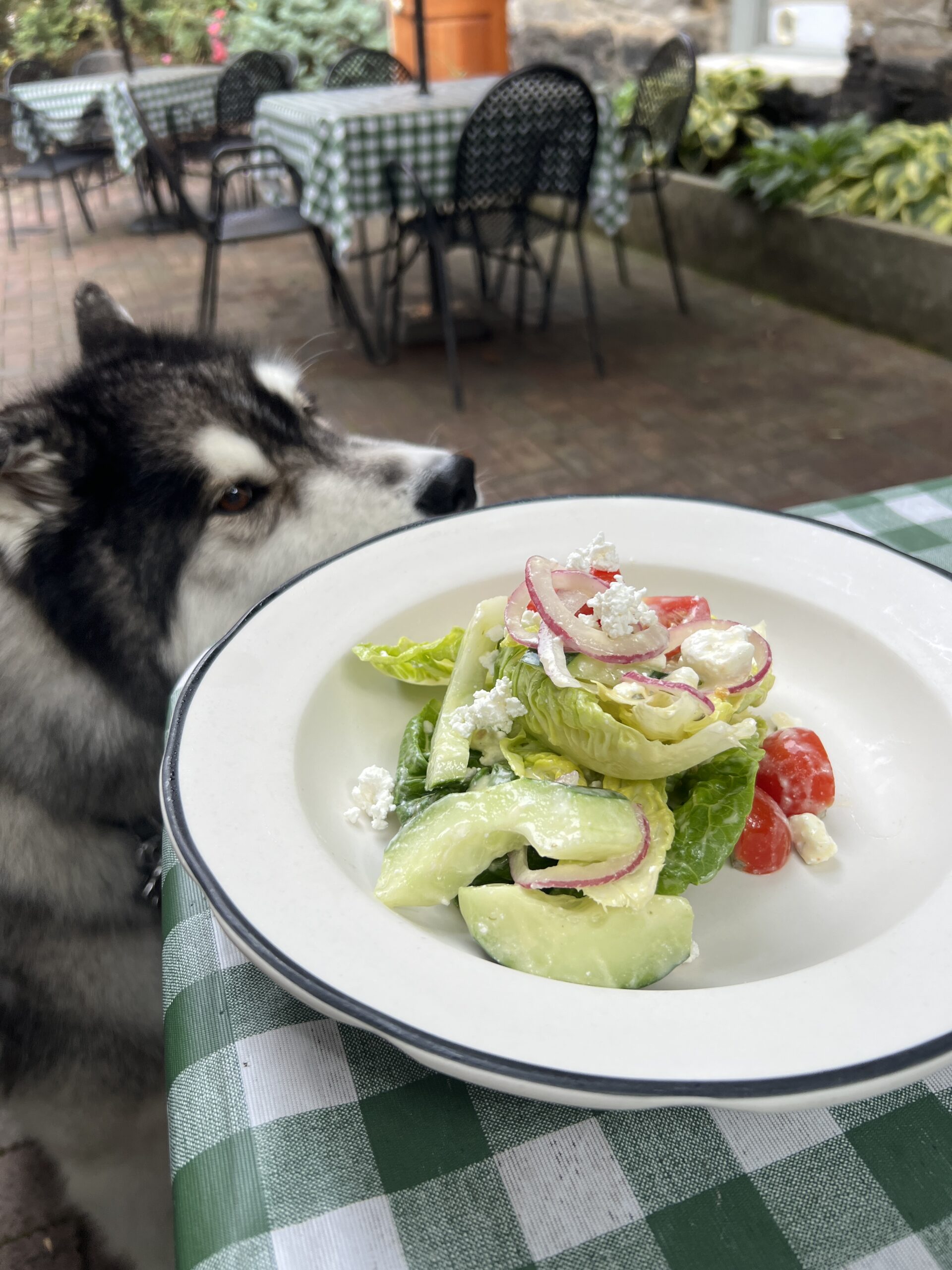 Book Your Amazing Dog-Friendly Stay Today 
If you are planning a trip to Asheville with your dog, we highly recommend staying at the 1900 Inn on Montford. The inn is pet-friendly and in a great location. The innkeepers, Willy and Shawnie, go above and beyond to guarantee a fantastic stay for you and your pet(s). From their homemade breakfasts and cookies, to the luxurious amenities, impeccable attention to details, dog-friendly perks, and incredible access to the best restaurants and breweries, we think this inn is your best option in Asheville! It exceeded our expectations. We had the absolute best time bringing Kato on our trip and will be forever grateful for the memories made. 
You and your furry friend will have a wonderful time, especially if you stay in the Rossetti Suite like we did! We knew based on the reviews that the inn was going to be fantastic, but it truly surpassed our wildest dreams. This is truly a haven! Kato is still begging for Shawnie's homemade dog treats.
Ready to make your own reservation? Head to our book direct page to reserve your room in a few short clicks.