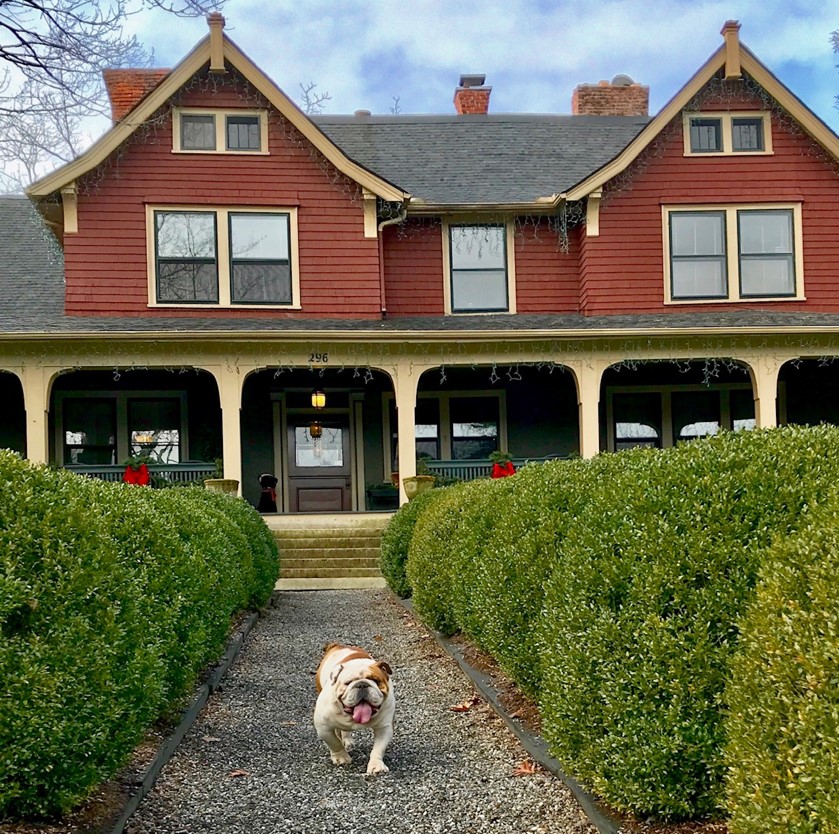 Pets are family. 
That's especially true here at the Inn on Montford. We know it can be hard to leave your dog or furry loved one behind when you travel, so we invite you to bring your pet along with you. After all, we're proud to be dog friendly, and we love meeting new guests just as much as we love meeting furry friends. We even have our own pup that would love to make a new friend! 
When it comes to a vacation in the mountains, it doesn't get much better than Asheville. From the outdoors to live music, to shopping to food, there's something here for everyone. Best of all, we are a pet friendly city with some amazing breweries and restaurants you definitely won't want to miss. 
To help your planning go as smoothly as possible, we've put together a guide to some of the area's best pet-friendly brews and bites so you and your furry loved one can enjoy the city together. 
Enjoy Dog-Friendly Asheville with a Tasty Brew
If you love craft beer, there is no shortage of breweries here in Asheville to explore. Each one of our breweries brings its own flare and unique twist to your drinking and dining experience. So whether you're a fan of light beers, sours, or prefer something that's heavy on the hops, you'll have plenty of options to choose from.
Burial Beer Co. 
A favorite among locals. Burial Beer Co. is nestled in Asheville's South Slope District. New beers are released weekly and feature the flavors of the season. Burial Beer Co. also has an extensive outdoor patio which makes it a perfect place for you and your pet to relax. 
Bhramari Brewing Co. 
Named for the Hindu goddess of bees, Bhramari Brewing Co. stays buzzing with activity. The brewery offers seasonal and small batch beers, featuring its Lorelai IPA. You won't find your average pub food here either with menu items like pickled eggs and patatas americano. 
Wedge Brewing Co.
Take an hour or two to explore the River Arts District and end your visit with a stop at Wedge Brewing Co. This Asheville brewery boasts two locations — Wedge at Wedge Studios and Wedge at Foundation — just a mile apart from one another. Wedge at Foundation has a daily rotating schedule of local food trucks. We recommend trying a gourmet grilled cheese from Melt Your Heart on Thursdays. Trust us, you won't regret it. It's the perfect compliment to a Wedge craft beer.   
Wicked Weed Brewing
Founded in 2012, Wicked Weed Brewing has grown to be a highly recognized brand in the southeast, thanks to its wide variety of sour and barrel aged beers.
Stop by the brewpub to try the award-winning Pernicious IPA and enjoy a seat on the covered patio. If you prefer sour beers, we recommend visiting the Funkatorium — Wicked Weed's sour house — for a flight and a bite to eat outside. 
Treat Yourself to a Meal at One of Asheville's Dog-Friendly Restaurants
For the picky eaters, adventurous foodies, and sophisticated palettes alike, there's no shortage of amazing restaurants in Asheville, NC. Better still, there are a lot of dining options that are also pet-friendly, so your sweet furry loved one can join you for your culinary experience. 
Forestry Camp
Located in a refurbished building built in 1933, Forestry Camp offers a farm to table menu with items featuring local, seasonal ingredients. Picnic tables fill the outdoor patio for a cozy, camp-style dining experience. 
Sunny Point Cafe
Nothing says vacation like a fabulous weekend brunch, and you're in for a memorable one at Sunny Point Cafe. Indulge in a cinnamon roll or a big stack of house made french toast while you relax outside. This quaint West Asheville restaurant has a large outdoor patio and garden area for seating, perfect for you and your pet.
Nine Mile
Close your eyes and float away to the Caribbean at Nine Mile with one of their signature jerk chicken dishes that comes jam-packed with flavor. Choose from fish, chicken, seafood, or vegetarian options while you enjoy the outdoor patio in historic Montford. The best part is Nine Mile is just a short walk from the Inn on Montford.
Jargon
This quaint restaurant is located in a small historic building in the heart of West Asheville.  Jargon offers amazing ingredients from local farmers to wow your palate and intrigue you with culinary delights. Their lovely patio provides the perfect place to dine with your furry loved one.
Ready to Plan Your Vacation to Asheville? You Deserve It.
Are you feeling a little burnt out? Ready for a break? We're ready to spoil you and your furry loved one here at the Inn on Montford! 
We want nothing more than for you to feel right at home during your stay. Relax in one of our pet friendly rooms in the carriage house where you'll have access to a private entrance, an enclosed rear patio garden, and even a doggie "trundle bed." Embrace time to press pause, rejuvenate, and enjoy your visit exploring our beautiful, pet-friendly city and all that it has to offer.
If you have any additional questions or need some other pet-friendly recommendations, we'd love to help. We're looking forward to seeing you! 
Our Pet-Friendly B&B FAQ
How big of a dog do you allow?

At our pet-friendly Asheville bed and breakfast, we welcome all well-behaved dogs, regardless of size.

How many dogs can we bring?

If you're looking to bring multiple dogs, please call our front desk at

(828) 254-9569

to speak to our innkeepers.  

What amenities do you have for dogs?

At our pet-friendly b&b, we have a welcome basket that includes towels, entry mat, spare leash, poop bags, and water dishes.

Are there places to walk the dog nearby?

Yes! We have a beautiful city park just one block away to walk your dog. We're also located in a historical neighborhood with lots of sidewalks.

Are dogs allowed in downtown Asheville?

Yes! Asheville prides itself on being dog-friendly.

There are lots of dog-friendly restaurants in Asheville where you can take your furry loved one too.

Are dogs allowed on the grounds at Biltmore? If you're planning on going to the Biltmore, you're welcome to bring your dog to walk the grounds. Dogs are also allowed on the patio of Bistro and Cedric's tavern, but please keep in mind that dogs (except service dogs) are not allowed in any building at Biltmore.